18th November 2015
African overnight safari tour, African overnight safari tours, African safari, African safari tour, African safari tours, African tours, Big 5, Durban, Durban Safari, Durban Safari Tour, Hilltop camp, Hluhluwe Game Reserve, Hluhluwe Imfolozi game reserve, Isimangaliso wetland park, safari, Safari in Africa, South Africa holidays, St Lucia, Tour from Durban, tour in Africa, Umfolozi game reserve, Zulu dance, Zulu people
African overnight safari tours
It was to be quite an interesting African overnight safari tour! Right from the outset my clients which were arriving on a cruise ship were forced into being late due to bad weather off the coast and this could have been a big problem had we had other clients on the same tour. Fortunately it was just this couple and we could be very flexible enabling what turned out to be a great African overnight safari tour.
We departed Durban a little later and decided to skip visiting the Cat rehabilitation center to give us more time in the game reserve of Hluhluwe Imfolozi.
We had a great start and found Rhino which my clients had not seen before. Even after an East African safari it just goes to show that even Africa has so much diversity and some parts of Africa on safari you will find one animal easily and some other parts of Africa you will not.
African safari tours; Rhino
This was great start an put a smile on our faces! We continued further south in the Umfolozi game reserve and stopped at a view point spotting an Elephant in the distance. We managed to get closer and and where we stopped we also saw another Rhino in the mud and a bachelor herd of Buffalo coming to join him!
It sometimes is crazy to think that just 2.5 hours from Durban you have the possibility to do a Durban safari tour in Africa deepest secret the Hluhluwe Imfolozi game reserve!
Durban is surprisingly well locates to the worlds oldest game reserve and being home to the "Big 5" make a it a place to visit on your South Africa holidays!
African safari tours; Buffalo give a Rhino a fright
After this amazing sighting of this bachelor herd of Buffalo coming around the corner in the dry river bed and this Rhino which was resting in a small mud wallow jumping up with fright we really knew our luck had turned for the better! Our African safari tour would get better from this point on and it was not long before we found an Elephant nice and close!
African safari tours; Elephant
This great big bull Elephant was drinking from a hole he had made in the river bed and then proceeded to walk to the side of the Umfolozi river bed and wonder up the hill. This was very exciting and an Elephant is one of those animals which screams out "Safari"!
It was time for us to turn back and head north into the Hluhluwe game reserve to see if we could find more animals before checking into our lodge.
As we continued with our African safari tour we found Giraffe near the road which was amazing!
African safari tours; Giraffe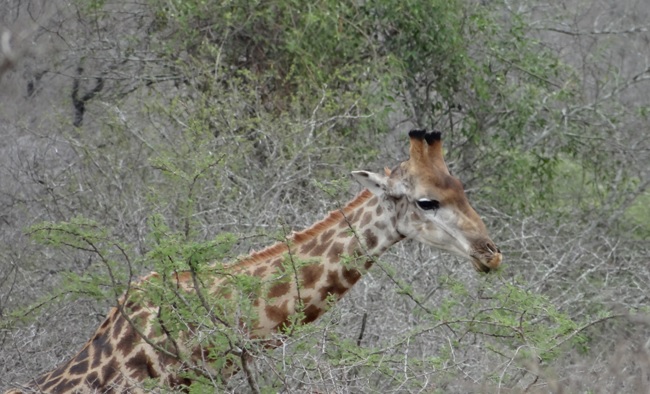 Wow! Our African safari tour was really hotting up and who doesn't like to see Giraffe! We watched them feeding and moving around before we continued on with our safari in Africa.
It had been a bit surprising that we hadn't seen Zebra but it was a cooler day and the rain was on its was so understandable why. We did however manage to find Kudu, Nyala, Impala and Water buck as well as Warthog!
With luck having turned in our favor we found some Zebra!
African safari tours; Zebra
We were feeling pretty complete at this stage with 3 of the "Big 5" and all the rest we had seen. We made our way up to Hilltop camp in Hluhluwe where we would be spending the night as the rain began to fall and the mist set in.
We arrived and checked in and at this stage we had no chance of getting out again on our African overnight safari tour due to heavy rain. This didn't bother my clients as they relaxed around the bar with a good bottle of Red Wine in the lovely setting that is Hilltop camp.
Hilltop camp is the place I always take my clients and in 5 -6 years of taking them there have never had a complaint over the place. Hilltop camp is a lovely 3 star facility and the rooms are lovely, set in the forest and some with views over the rolling hills of Hluhluwe game reserve.
I would never again pay to stay at a 5 star lodge as you only really spend a couple hours a day at the lodge and then to sleep.
Hilltop camp is my choice so join me, Tim Brown on your South Africa holidays! I will collect you from Durban where we begin our safari tour to Africa's Oldest game reserve, Hluhluwe Imfolozi!
Later I met my clients for some dinner and it was lovely with a great atmosphere, the staff even came out and did some Zulu dance and song for us!
The Zulu people are from the area and song and dance is in there blood no matter what the age or size of the person.
It was now time for bed for me so I bid farewell to my clients as we would start at 5am the next day with another crack at Hluhluwe game reserve and later Umfolozi game reserve.
Day 2: African overnight safari tours
We woke early and began at 5am from Hilltop camp where we would see if we could find cats. We had an amazing start as we found Elephant, Buffalo and Rhino in the first 20 minutes.
African safari tours; Buffalo
This morning brought new life as in the above picture you will see a new born baby Buffalo with its umbilical cord still intact! This was exciting for us to see as we got to enjoy them crossing the road with a very protective mother. This was a great way to start a morning on an African safari tour from Durban.
Next was the Rhino and then Elephant but we needed cats so we had to keep working. We located Lion tracks and then more tracks from another direction meeting but we could not locate the Lions. It seems that they lay down in the thicket and we could do nothing about it but we tried.
We needed to get back to camp for some breakfast so we arrived at 08:30 am. Breakfast at Hilltop camp was enjoyable and then we checked out making our way to the Umfolozi game reserve in the south to see if we could get lucky with cats.
It was one of those African safari tours where you just can't seem to get it 100% right!
We did have some amazing sightings like these Water buck posing for us and they looked like one animal with 2 heads.
African safari tours; Waterbuck
The sun all of a sudden came out and we had a great sighting of Giraffe and Zebra.
African safari tours; Giraffe and Zebra
We continued our African safari tour and tried to get to where Lions had been seen but time just wasn't on our side but funnily enough as we made our way back we did see a Lion but he was sitting far in the thickets south of the Umfolozi river and it photo was so bad that I would not post it here. Alex, I will email it to you!
We had a 12:30 appointment in St Lucia – Isimangaliso Wetland park and a boat cruise to view Hippos and Crocodiles! Wow, the things you can do and see on a Durban safari tour!
We arrived and began a great boat cruise and even spotted a fin of a Bull Shark! Our first close up sighting was of Crocodile and a Goliath heron almost to closer to one another.
African safari tours; Goliath heron and Crocodile
It was minuted later and we spotted a huge pod of Hippos in the water this trend would continue for the rest of our boat safari! This pod of Hippos got a big fright from one of the other Hippos and made some splashes.
African safari tours; Hippos get spooked
Our African safari continued and we enjoyed so much bird life even an African fish eagle catching a fish and feeding off it.
Video: African fish eagle feeds on a fish during our safari in Africa
A bit further up stream we found some baby Hippos playing in the Estuary. At one point they put there heads in a row.
African safari tours; Hippo heads in a row
After an amazing time out on the St Lucia estuary we made our way into St Lucia town for some lunch it was a quick one and we then got back to the Ship in Richards bay by 5pm.
It was a wonderful African overnight safari tour and I am sure that my clients will be back in Africa for some more of the same.
If you would like to join on of these African safari tours please click on the link below: