19th November 2014
5 Day Durban Safari Tour, Big 5 Safaris, Cultural and Natural Tour of KwaZulu-Natal, Dlinza Forest, Durban Guides, Durban Overnight Tours, Durban Safari, Durban Safari Tour, Durban Safaris, Durban Tours, Emdoneni cat rehab centre, Eshowe, Fort Nonqgayi, Historical, Hluhluwe Imfolozi game reserve, safari, safari Tour, Safaris from Durban, Shaka Zulu, Shakaland, Tour near Durban, Tours from Durban, Tours in KwaZulu Natal, Zulu
Durban 5 Day Safari Tour – Historical, Cultural and Natural Tour of KwaZulu-Natal, South Africa with Tim Brown Tours; 12th -16th November 2015.
We began the first day of our 5 Day Tour experience of KwaZulu-Natal in Eshowe at Fort Nonqgayi and the surrounding Museums.
Fort Nonqgayi was first built in 1883 by the British and was used as a stable and offices as the area of Eshowe became the capital of Zululand in those days.
Fort Nonqgayi was never attacked probably because it was deep in Malaria and Sleeping sickness country as well as being on a Hill surrounded by thick vegetation.
Nonqgayi was the name given to the Zulu "Soldiers" manning the Fort and assisting the British in their take over of Zululand which really began on the 11th of December 1878 with the Ultimatum which was handed to the Zulus.
Fort Nonqgayi in Eshowe on our 5 Day Durban Safari Tour
With in Fort Nonqgayi today there is a lot of Historical things to look at. The Fort contains furniture and pictures of the famous John Dunn the only western man to ever become a Chief in the Zulu Nation.
There is also Bead work, the structure of a traditional Zulu hut as well as the original wheel Chair that the Norwegian missionaries constructed for the immobile King Mpande! Mpande Suffered with his health and obesity and was the only one of his fathers sons to die of "Natural Causes".
Model of King Mpande and his original wheel chair built by the Norweegion Missionarys seen on our 5 Day Durban Safari Tour
Where the stables used to be there is again a wide range of artefacts but the most interesting to me is this image below which is a copy of the cup which was presented to King Cetswayo the son of Mpande KaSenzangakhona by queen Victoria of England in 1882.
A carbon copy of the Cup presented to King Cetywayo by Queen Victoria if England see in Eshowe on our Durban Tour
There is also a recent addition to the museum grounds a church build to commemorate the work a Norwegian missionary did in Eshowe – Bishop or Reverend Schreuder.
Honestly I have never been to a better museum if you are in any way interested in Zulu Culture. It is amazing!
We departed and had some time to kill so I took my clients to the Dlinza forest board walk it was incredible. Apart from the views and the call of nature we spotted a Narina Trogan Male which is such a rare forest bird that it felt like I had just seen a Leopard! I could not believe our luck and I got a great photo. This was only the second time in my life to see this bird!
Narina Trogon found in the Dlinza forest in Eshowe on our Durban Safari Tour
We exited Dlinza forest and I have to admit I took a wrong turn and I ended up taking my clients on a lovely scenic route through rural Zululand. All the kids were happy lots of people were fetching water and when we got back to the main road we continued to Shakaland.
We Checked in at Shakaland and had some lovely lunch before we began the first part of our Tour at Shakaland.
We began with a short clip of the moved "Shaka Zulu" to wet the taste buds before heading to a depiction of and Umuzi or a Traditional Zulu Village so we could learn the structure of it. We then visited an Isivivane (pile of stones used as a burial stop during battle. You are meant to pick up a stone, spit on it and throw it on the pile of rocks if it stays up you will have good luck if it rolls off you will have bad luck… It's a bit more complicated than that.
We moved into the real Zulu Cultural village and began with watching how the Zulu make grass sleeping mats, then Zulu Beer (Umqomboti).
 Zulu lady demostrates how to make umqomboti or Traditional Zulu beer on our Durban Tour
After this we saw the ladies demonstrate how to carry the different Zulu Clay pots.
Zulu girls demostrate how to carry the Zulu pots during our Tour from Durban
As we moved up into the heart of the Umuzi we met with the Chief who showed us the change in strategy of attack between King Senzangakhona and King Shaka his son.
Demonstration by a Zulu Impi on how to fight seen at Shakaland in Eshowe on our Durban 5 Day Safari Tour
The next stop was the tasting of the Zulu Beer it was lovely as I didn't need to drive the rest of the day I felt a sip of 2 % beer would be fine. What and experience for my clients I was thrilled!
The Tasting of Zulu Beer on our 5 Day Tour from Durban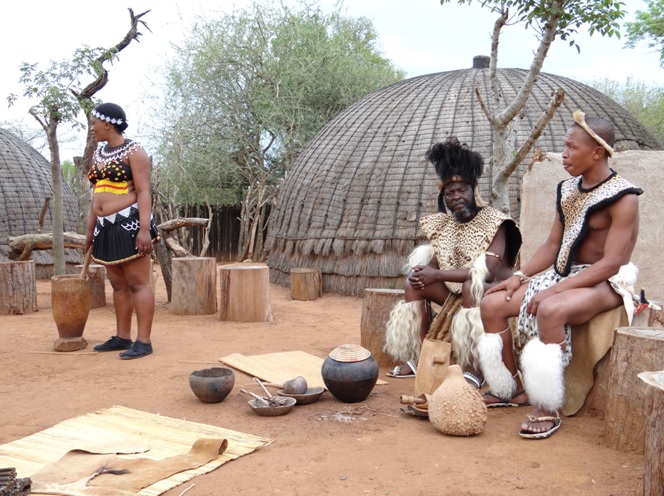 We then moved out of the village for a rest before meeting at 6pm for some lovely Marimba playing and then headed back through the village to the main hut for the Zulu Dancing and singing! It was out of this world, what a performance!
Zulu dancing seen at Shakaland during our Durban 5 Day Safari Tour
It was now time go get some dinner and some sleep as we had another big day coming up.
Day 2: Durban 5 Day Safari Tour – Historical, Cultural and Natural Tour of KwaZulu-Natal, South Africa with Tim Brown Tours.
We began with breakfast at 8am and at 9am we went through to meet Joe for the second part of the Cultural tour. We starting with watching "Ushela" or the wedding proposal.
 The proposal to a Zulu girl seen at Shakaland on our Durban 5 Day Safari and Tour
After the proposal we walked up into the village to watch the young men throwing the spears or Isiphaphas at a target. This is always great as you know you are up next and I naturally volunteered to have a go. I must say I think I did ok.
Zulu spear throwing demonstrated for us on our 5 Day Safari tour from Durban
It was at this point we got to see how the spears were made and then we entered the Sangoma and Nyangas hut.
Inyanga the traditional healer seen on our Durban 5 Day Safari Tour
That was now the end of our cultural tour and we checked out and headed to Hluhluwe Imfolozi game reserve for the next part of our tour a 4 day Safari.
We got to Nyalazi gate around midday and at the gate we were greeted with 5 Bachelor Elephant drinking and mud wallowing, some Buffalo Bulls doing the same and a Dazzle of Zebra.
What a start to our Durban Safari.
Bull Elephant chases a Buffalo Bull away from a mud wallow during our 5 Day Durban Safari Tour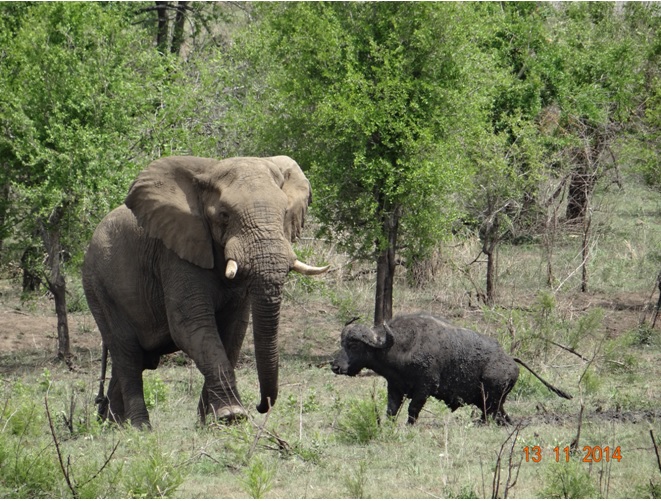 As we made our way up into the Hluhluwe Section one of my clients spotted a Rhino Laying down next to the road. We stopped and had a great look at a big territorial male Rhino.
Rhino Bull seen close up on our Durban 5 Day Safari Tour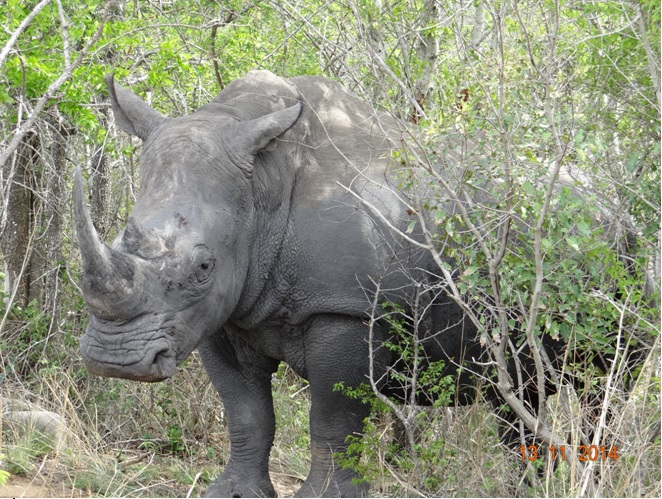 We finally got to Hilltop camp for lunch and check in. After a quick lunch we headed back out onto the game reserve and spotted some Zebra near the lodge.
Zebra seen on our 5 Day Safari Tour from Durban
We had to keep our foot on the gas as we had a 16:30 appointment at the cat rehabilitation centre. Once we got to Emdoneni Cat rehab centre, we began our Tour with the feeding of the African wild cats and then the Caracal.
Caracal leaps for it food at a Cat rehabilitation center during our 5 Day Tour from Durban
The Caracal can jump over 3 meters and the highest recorded jump is 6 meters.
The next enclosure was the Cheetah were my client got to interact with the Cheetah hands on and experience these amazing creatures.
Cheetah at Emdoneni Cat rehab center on our Durban Safari Tour
Next was the Serval which where so beautiful and interactive. We first however fed the adults and only interacted with the younger cats that had been fed earlier.
Serval waiting in a tree for her food at the Cat rehab center during our Durban Safari Tour
After we had finished up with this amazing Tour we returned to the game reserve where we found some Buffalo close to the road. Our Safari continued…
Buffalo bull in Hluhluwe on our way back to Hilltop camp Day 2 of our 5 Day Durban Safari Tour
Next was a Bull Elephant which was in Musth and was not interested in moving off the road, we waited and followed him along until he decided he would let us past.
Elephant bull in Musth taking up the road on day 2 of your Durban Safari Tour
We arrived at the camp and I got everyone settled before dinner which was great as usual. At this point it was time for bed after a bit of a sing and dance from the staff for us.
Day 3: Durban 5 Day Safari Tour – Historical, Cultural and Natural Tour of KwaZulu-Natal, South Africa with Tim Brown Tours.
We began our day very early as the clients were booked onto the evening open vehicle game drive (Safari) at 04:50 am.
Once they were all aboard I got some admin work done and at 8am met with them again to see how it went and for breakfast. During the game drive I could not believe my luck as in the camp I spotted a pair of Narina Trogons which was just crazy to see two days in a row!
Narina Trogon at Hilltop camp Hluhluwe on our Durban safari tour
We all decided on a rest and after lunch we headed back out to see what we could find. I had heard that the Lions were around and being a cool cloudy day we may have a chance of them not seeking dense cover.
We spotted some Rhinos and Elephants in the distance but our main goal was to get to the Lions. We arrived and they were lying on there backs as if they had eaten a big meal.
 

Lions with young cub seen on our Safari from Durban
After this we continued on feeling very lucky indeed. We found a lovely relaxed bull Elephant which made his way towards the road and crossed in front of us for the perfect photo.
The next major sighting as some Giraffe and one Elephant chased the Giraffes a little.
Giraffe with an Elephant behind it on our Durban 5 Day Safari Tour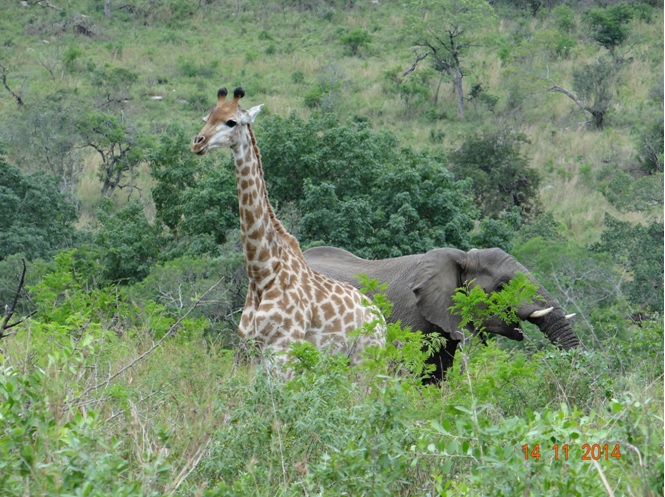 We then decided we would return to the Lions and while we were there a Bull Elephant in Musth walked passed the Lions clearly frustrated and heading for a herd of Elephant on the hill in the distance. We gave him some room but had 3 vehicles behind us so couldn't really go anywhere as the vehicles in front had moved forward but blocked our way out. This left me trying to push an inexperienced rental car to reverse back to give the Elephant and ourselves more space.
This did not work to well and in the end I had to go with our safety first and I rev'd this Bull to get him to change his line he was walking in. This did the trick and we were able to get by with a few clients and others feeling very stressed. I would not normally do this but when our safety is in jeopardy I will do what I have too.
This is also a lesson to never go to a game reserve without a guide. "Durban" Guides have the experience and knowledge to deal with situations through there experience and studies of animal behaviour. This is the same as me operating on a person but not being a qualified doctor/surgeon!
Bull Elephant in Musth walk past Lions towards the road on our Durban Safari Tour
We made our way back to the lodge and got everyone ready for the evening open vehicle safari Tour which began at 5pm.
I met the group again at 8pm for dinner and then a well deserved rest; we had achieved a huge amount in this day and seen so many wonderful animals.
My clients got on really well and they also agreed to walk to the next morning which meant I could have a little sleep in instead of getting up at 04:30 am.
Day 4: Durban 5 Day Safari Tour – Historical, Cultural and Natural Tour of KwaZulu-Natal, South Africa with Tim Brown Tours.
The next morning I met my clients at 8am and we had some breakfast before relaxing.
After lunch our Durban Safari continued and we headed out after a huge storm had stuck and still were able to do well on the game viewing front.
One of the best sightings we had was a herd of Elephant crossing the road right in front of us, they were very relaxed and just moved on to feed.
Herd of Elephant in Hluhluwe game reserve during our 5 day Durban Safari Tour
As we continued we past a Land Rover that was about to be towed by his friend, every one seemed pretty happy about the whole thing.
We came across a nice Rhino sighting with the Red Billed ox peckers on its back removing ticks.
Rhino with Red Billed ox pecker on its body during our 4th Day of our Durban Safari Tour
Later we spotted some Buffalo bulls near the road they always look like judges to me with there horns looking like a judges hair do!
Buffalo Bull during our Safari from Durban
We returned to the camp to cancel the evening game drive as it was raining. We stopped to have a cup of coffee before heading back out in my vehicle to see what else we could find. We did well again with a troop of Baboons. One of which was a real poser!
Baboon posing after the rain on our 5 Day Safari from Durban
We also spotted a lovely Dazzle of Zebra before we went to try find some cats. We had no luck this time but were all pretty content.
Zebra on the 4th Day of our Safari Tour to Hluhluwe Imfolozi game reserve
After this great Safari experience we headed back to camp as the sun was coming down and we settled back in for some dinner.
Every night we had been away we had the staff performing Zulu Dancing and singing, we were very lucky.
Dinner was great as always and it was time for bed and get ready for the final day of our Durban Safari Tour.
Day 5: Durban 5 Day Safari Tour – Historical, Cultural and Natural Tour of KwaZulu-Natal, South Africa with Tim Brown Tours.
We began later this morning at 6am, well I did not sure about the clients but we did meet for a lovely breakfast at 7am before we checked out and hit the road for our final Safari through Hluhluwe Imfolozi game reserve.
During this final Safari we found 3 of the Big 5 but didn't really have too much time to stop as we needed to get to St Lucia for the 10am Estuary cruise.
Rhino seen on Day 5 of our Safari Tour from Durban
We also managed to spot some Zebra, Buffalo and Impala as we rushed off to the gate to St Lucia.- Isimangeliso wetland Park.
As we neared St Lucia I briefed my clients on the area which is 3 x the size of Hluhluwe Imfolozi game reserve.
The boat cruise began at 10am and we had a great time. There was Hippos Galore and we had some very good sightings.
Hippos at St Lucia estuary on our 5 Day Durban Safari Tour
One of the other major features at St Lucia is the Mangroves and they litter the Estuary with there beauty.
Mangrove Swamps at St Lucia estuary on our Safari Tour from Durban
We also had a special sighting of a Giant King Fisher which stayed focused on fishing just long enough for us to take a picture.
Giant Kingfisher see at St Lucia Estuary on the boat cruise During our Durban Safari Tour
It had been a great cruise and it was now time to depart and end our 5 Day Natural, Historical and Cultural Tour of KwaZulu Natal from Durban.
We stop on the way back to get some lunch and then later arrived back in the hustle and bustle of the city. This was sad to be back in the city but we had all experienced an amazing 5 days.
If you wish to experience much the same as we did on this tour you can contact Tim Brown Tours to arrange this. We run not only 5 Day Safaris but also Day Tours and Day Safaris from Durban.