Durban private tour to Tala game reserve and valley of 1000 Hills
I met my client from Scotland at his hotel in Durban for his Durban private tour to Tala game reserve and the Valley of 1000 Hills.
On route we chatted about some of the History of Durban and KwaZulu Natal but mostly chatted about general things that we are going through as a country as we would be spending 4 days together.
We began at Tala game reserve one of the most highly populated smaller private game reserves I know of. It was animals galore as usual and our first sighting was of 3 Rhinos which were being watched very closely by the Anti-poaching team.
Later we would return there and see the 3 of them resting.
Durban private tour; Rhino resting
You may see the Red Billed Oxpecker near the eye of the Rhino removing ticks of the Rhinos body, this is a lovely symbiotic relationship where the animal get his health back and the bird gets a meal!
We also waited patiently for some Zebras to cross the road and the did but in the same area was Wildebeest, Ostrich and a range of other animals.
Durban private tour; Zebra
As we continued with our Durban private tour we managed to find some Impala and Nyala but the weirdest thing happened as we spotted this female Impala with horns. This is a genetic abnormality and is probably caused by inbreeding in these smaller game reserves.
Durban private tour; Impala female with Horns
Above you will see 2 pictures the top one being the female with the thin horns and below the male with what the horns should normally look like. Nature is always amazing as this male Impala kept chasing the female away as if he felt it was another male.
We stopped for a rest and then went on with our Durban private tour to find some Giraffe! We eventually did and they were very beautiful and right next to the road.
Durban private tour; Giraffe up with the Aloes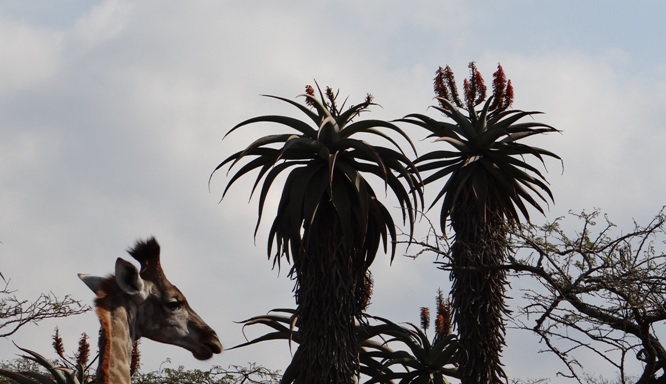 The Giraffe we especially beautiful as they were walking among the Aloes and this picture just looked really amazing!
There was one more major animal we need to go see and that was the Hippo. We really had it made today as we spotted them standing the the shallow dam and the one mother had her little baby with her.
Durban private tour; Hippo mother and baby
The mother Hippo gave a great big yawn and the baby was just behind her bum hiding away it made for a great picture on our Durban day tour.
It was now time to depart Tala game reserve and head the scenic route to the Valley of 1000 Hills. We enjoyed the drive with the rolling hills and the townships all over this amazing place. We reached our destination in the valley of 1000 Hills, Phezulu safari park and it was here we had a great lunch with a view!
We then went to the reptile park and learned more about these amazing Crocodiles and snakes before our meeting with the Zulu village at 2pm.
Durban private tour; Crocodile at Phezulu
The Zulu Cultural village was amazing and we enjoyed the great dancing and singing of the Zulu people on this Durban private tour.
Durban private tour; Zulu dancing at Phezulu
I figured you would not know what I was talking about unless I shared a video with you so you can watch it below!
Video: Durban day tour; Traditional Zulu dancing
Finally it was time for entering of the Zulu meeting hut and the cooking hut before making our way back to Durban. I also had to explain to James my client about the 3 different clicks in the Zulu Language and why they are in existence.
It had been a beautiful Durban day tour and the clouds were now beginning to blow over the Valley of 1000 Hills. I will leave you with this great photo of my client with the Zulus.
Durban private tour; James with the Zulus