11th November 2014
2 day Durban Safari Tour, Durban 2 Day Tour, Durban Big 5 Safari, Durban Safari, Durban Safari Tour, Durban Safaris, Durban Tour, Hluhluwe Imfolozi game reserve, Hluhluwe Imfolozi Safari Tours, Hluhluwe Safaris, KwaZulu Natal Tours, safari, Safari from Durban, Safari near Durban, Safari Tour from Durban, St Lucia, St Lucia wetland park
Durban Safari Tour 2 Day Package with Tim Brown Tours – 6-7th November 2014
I collected my clients from a couple of different stops in the Durban area and after a briefing of the itinerary of the 2 day Durban Safari Tour we began our 3 hour drive to Emdoneni cat rehabilitation centre. (Hluhluwe)
On route I covered some of the major history of Durban, KwaZulu-Natal and South Africa and some issues and concerns we have in South Africa moving forward as a democratic country. This is always a bit on "Sitting on the fence" but you learn how to get your point across over the years.
When we arrived at Emdoneni we began a lovely tour of the Cat rehabilitation centre to discover that the 2 new cheetah cubs will soon be available for interaction with the public. They will be used for breeding purposes and will not be released back into the wild.
We began with the African wild Cats which is almost a disappointment but this only makes it that much more special when you see the Caracal, Serval and the Cheetah.
Cheetah at Emdoneni on our Durban Safari 2 day package tour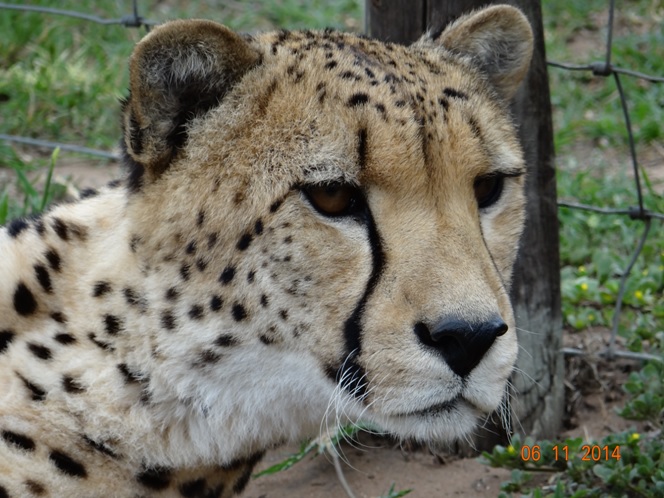 The Cheetahs were a little agitated this day which was very unusual but we all had some time to interact with them before moving on to the Serval cats in another enclosure.
We always need to keep in mind that the cats we interact with will never be added back to the wild due to hand rearing etc and are merely being used as ambassadors for there specie in educating us on there plight in the wild.
Serval at Emdoneni on our Durban Safari 2 day package tour
After this part of our Durban Safari Tour we headed on to Hluhluwe Imfolozi game reserve. In 20 Minutes we were there and we entered the gate and very quickly saw 3 new born Impalas with there mothers. They would have only been 3 days old. Very exciting!
I didn't take any great photos as they were so far away and lying down.
As we continued we hit the jackpot with a Crash of Rhino and herd of Buffalo resting and feeding next to one another.
Rhino and Buffalo resting during our Durban Safari Tour
After spending some quality time watching these amazing animals we continued on and found a warthog and a herd of Elephant in the distance. We were lucky as not far from there we got another Elephant closer to the road and then nailed 2 male Elephants crossing the road which was great for such a short time into a Durban Safari Tour.
Elephant bull seen on our Durban Safari to Hluhluwe Imfolozi game reserve
After spending some time with the Elephants we moved on to the lodge for a late lunch and checked into the rooms. At 16:15 we headed back out with the luxury of an extra hour on the reserve due to the 1st November time changes for summer!
As we entered Hilltop camp we came across and endangered forest monkey, the Samango monkey. He was just posing in the tree for us.
Samango Monkey an Endangered forest monkey seen on our Durban 2 Day Tour
I first wanted to follow up on the African wild dogs that we seen in the morning but they had not become active and were not visible from the roads, so we continued on and found  a huge herd of Buffalo on and next to the road.
Herd of Buffalo during our afternoon Safari drive with Tim Brown Tours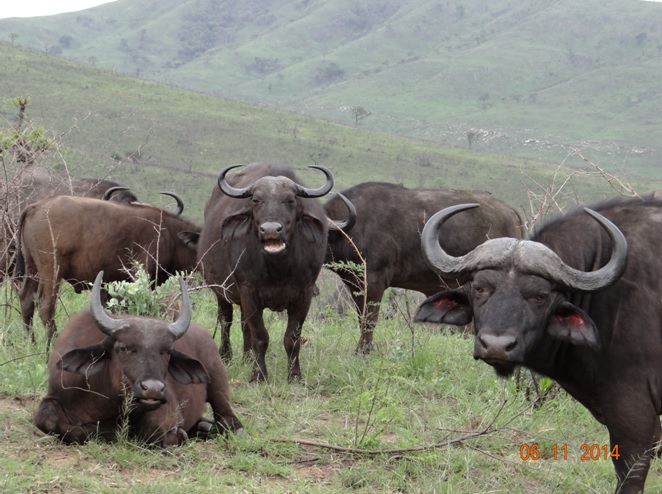 After enjoying the moans and groans of the Buffalo herd and all the odd stares we continued on to find a lovely herd of Elephant with some young babies. Unfortunately the mothers with the small babies kept moving away but the others hung around for a while.
Elephants crossing the road on our Durban Safari tour
After watching a young Elephant suckling and having a section of the herd cross the road in front of us we continued to the Hluhluwe river. We again spotted more Elephants and some down by the river.
We stopped at a view sight to see what we could spot and as the Elephants were a safe distance away we could enjoy them away from the noise and comfort of a vehicle. We just listened to the sounds of nature and feeding Elephants, one was even wallowing in the river.
Again another animal to add to the list was a Nile Crocodile basking on the river bank.
Crocodile seen in the Hluhluwe river at a view point during our Durban Safari Tour
The sun was setting but that was not it for the day. As we continued on in low light we spotted a Red Duiker, Grey Duiker, Nyala, Zebra in the distance and even a Large spotted Genet.
As we drove back into the camp at 7pm I was so happy as in the tree as we drove in was a Thick Tailed Bush Baby which I haven't seen so clearly for a while. Sadly no picture.
It was now time for dinner and we would need an early night due to a 04:45 start the next day on the open vehicle safari tour.
It had been a great Durban Safari Tour so far and we were hoping for much the same the following day.
At Dinner the staff got up and did some singing and dancing for us which my guests really enjoyed. This sort of this just adds that little bit extra touch to a stay in the African Bush. Very special experience.
It was time for bed.
Day 2: Durban 2 Day Safari Tour package
We got up bright and early and I made sure the clients were awake and on the open vehicle game drive for 5am which I knew they would enjoy. If the just saw the same animals it would still have been an experience to be in an open vehicle in the African Bush.
They returned at 8am and we settled in for some breakfast.
After the morning open vehicle Safari my clients returned after a great experience and saw the same animals that we had already seen on our first day. Its always nice to have the open vehicle experience if possible and to see animals with out the windows on a Durban Safari.
We then had some breakfast and I popped out to see if I could locate any giraffe as the client were getting there bags ready before we left the lodge. I was lucky and located some Giraffe to show them after we left the lodge.
Giraffe seen on our Durban Safari to Hluhluwe Imfolozi game reserve with Tim Brown Tours
After enjoying our first journey of Giraffe we headed down South to see what else we could find on our way out of the game reserve of Hluhluwe Imfolozi.
We found more Warthogs with tiny babies and more giraffe.
Warthog with Piglets on our Durban 2 Day Safari Tour in Hluhluwe Imfolozi game reserve
Our Safari continued and we had a special sighting of a Female Baboon with a baby who was grooming the little one! It was a great sight to behold.
Durban Safaris can be very special and are well worth taking a guided Tour of the area to maximize the experience.
Baboon mother grooming her baby on our Hluhluwe Imfolozi Safari Tour with Tim Brown Tours
It was time to depart the famous Hluhluwe Imfolozi game reserve. We began the one hour drive to St Lucia estuary in Isimangeliso Wetland park.
The clients took the opportunity to rest before the boat cruise to see Hippos and crocodiles.
Our first sighting at St Lucia was some Hippos and this lovely Crocodile.
Crocodile seen at St Lucia estuary with Tim Brown Tours on our Durban Safari
As we continued up stream we spotted some beautiful pods of Hippos and were so lucky as on pod kept yawning so we could see the perfect Hippo Shot.
Hippo with her mouth open at St Lucia estuary on our Durban 2 Day Tour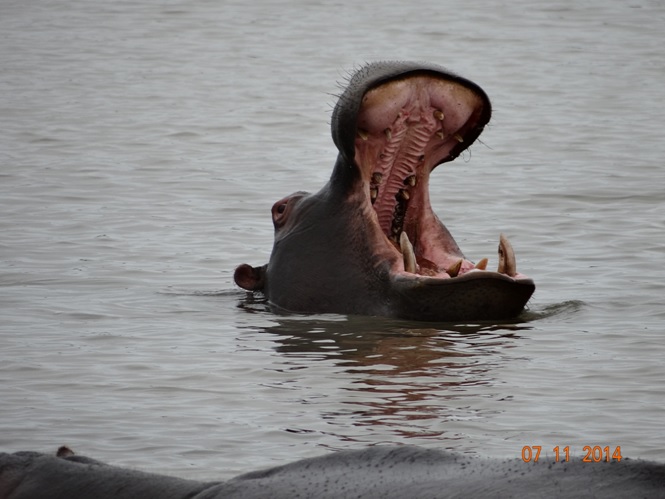 Our Safari Tour from Durban was coming to an end but we did stop in the town of St Lucia for some lunch before I drove my clients back to the big city of Durban.