Hluhluwe safari
I met my clients in Durban for our 3 day safari to the Big 5 Hluhluwe Imfolozi game reserve and we began our safari. I covered some of the major history of South Africa, KwaZulu Natal and Durban before we stopped for coffee and to stretch our legs.
Once we were done we made our way to the Cat rehabilitation center where we interacted with Cheetah and three other species of endangered or threatened cats.
Durban Big 5 safari; Serval
We then made our way into the Big 5 Hluhluwe Imfolozi game reserve and managed to find some Rhino resting before we spotted some Rhino and Zebra together.
Durban Big 5 safari; Rhino and Zebra
We then made our way to Hilltop camp where we had some lunch and checked in before heading back out onto Hluhluwe Imfolozi game reserve just in time for the first Spring rains! Well that was a bit frustrating as it made it very hard to see.
We did find Rhino and four of them at that which crossed the road in front of us.
Durban Big 5 safari; Crash of Rhino
It took us some time before we found anything else of great significance but when we did it was a herd of Buffalo all around us and one the road in front of us.
This was the second of the Big 5 that we had found and it was a great sighting.
Durban Big 5 safari; Buffalo
We kept trying to see if we could locate these Lions I had seen the day before but the visibility was not so good. This would not stop us and even though we got a tip off we eventually spotted them but to far away for a good photo.
This is Nature though and we can never expect this to go as we would want them. Nature shows up the way it want to.
Durban Big 5 safari; Lion in the distance at dusk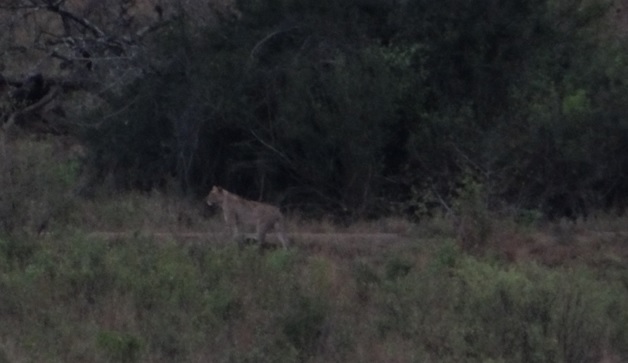 It was very dark now and time to get back to camp for some dinner. We all met at 7pm and enjoyed some good food as well as some singing and dancing from the kitchen staff.
My clients really enjoyed the evening and it was then time for me to go and get some work done before bed.
Day 2: Hluhluwe safari
We began the day with news for Lions having killed a Giraffe on a bridge and we made our way their after we had some breakfast. The Giraffe was on the bridge and had been pregnant and had one foot of the baby sticking out of the rear as the Lions had opened her up. Sadly for us with the pressure of vehicles the Lions moved away so we did not see them.
Durban Big 5 safari; pregnant Giraffe killed by Lions
We drove around a section of a loop to see if we could find the Lions with no luck so we continued on. We then spotted a journey of Giraffe which were feeding away and concerned that one of there family had been killed.
On our way back past the Giraffe on our Hluhluwe Safari we saw that a staff vehicle was going to move the Giraffe a little off the road. The guy decided to drive his car into the sand off the bridge and he got stuck. We now were trapped and the only way to get past was to move the head and neck of the Giraffe a little. As the Lions were far away it was safe to do so, so myself and the staff member moved the head as far back as we could and then I was able to get past.
We headed south as planed but it was such a raining morning that we saw very little. Even a Vulture seemed to be big for us aside of the Impala we could not get away from.
Durban Big 5 safari; White backed Vulture
As the day went by we made it a mission to find Elephants which I though would not be a problem but as luck would have it we would suffer the indignity of not seeing one the whole day!
We did see lots of other things like Giraffe, Baboons, Nyala, Kudu, Warthog, Wildebeest, Buffalo and Rhino.
Durban Big 5 safari; Baboons
These Baboons were grooming each other and we then also watched some Impala pronking away as the rain had stopped. It was getting better and we found Rhino a few times close to the road.
Durban Big 5 safari; Rhino
We spotted a herd of Wildebeest in the distance during this part of our Hluhluwe Safari so I snapped a couple of shots before we moved on to see what else we could find.
Durban Big 5 safari; Wildebeest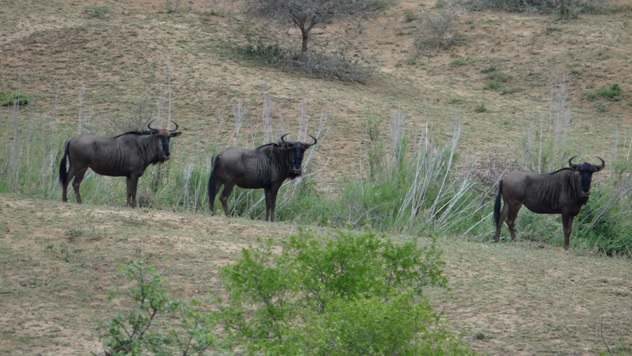 We then began to make our way back up for some lunch having stopped a few time to look at view point and seen nothing!
On route we found another dazzle of Zebra and it was great as they were so close to the road.
Durban Big 5 safari; Zebra
We then had our lunch and looked around the curio shop, even I found something for my wife!
We headed back up to camp and arrived around 15:30. I arranged the dinners and open vehicle for the one couple I had with me and then got time to rest. Well it was more like work and put together the blog post!
I would be meeting the other clients for dinner which was a lovely meal and then the next morning we would leave at 6am and try find those Lions.
Day 3: Hluhluwe safari
Day 3 of our Durban Big 5 safari tour to Hluhluwe Imfolozi game reserve began before 6am and we visited the Giraffe carcass. It was hopeless the Lions had moved off and vultures were now landing in the trees. There had been to much activity and I am sure those Lions had moved off. Gone was the romance of the kill from the day before so we left to seek greener pastures!
We headed further north and found some lovely Zebra and Rhino.
Durban Big 5 safari; Rhino mother and calf
After this great sighting I could see some vehicles stopped in the distance so I made my way around there as the Lions had been in the area for a few days now. When we arrived we found the Lions all 7 of them! Wow what a sight I am glad we stuck around as the Lions eventually got up and walked over a hill where they spotted a herd of Buffalo walking towards they. They went into hunting mode!
Durban Big 5 safari; Lion and Buffalo stand off
This is always interesting and was only for the Lions to try and find a weak link in the herd. They tried to circle the Buffalo but the Buffalo stood their ground as well as there being some back and forth no weak links were found. Eventually the Lions gave up.
Video: Durban safari tour; Lions chasing Buffalo
This had been an amazing sighting and you will see that the Buffalo were not to allow the Lions to be dominant this is all better done for the Lions at night when the Buffalos eyesight is not nearly as good as the Lions.
Durban Big 5 safari; Buffalo bull charges a pride of Lions
The Lions do not want to risk getting an injury as that can spell death for them through infection or broken bones. As mentioned this was all about trying to establish a weak link for a hunt which would be done in the night time while we were all asleep.
Wow what a great scene on our 3 day Durban safari in Hluhluwe Imfolozi game reserve.
Video: Lions vs Buffalo on our Durban safari tour
We continued back to the lodge and had some breakfast before checking out and departing for St Lucia estuary and Isimangaliso Wetland park.
Here we boarded a 2 hour boat cruise to view Hippos and Crocodiles which was fantastic with some great sightings of Hippos and Crocodiles.
Durban Big 5 safari; Crocodile
The Hippos at St Lucia are very relaxed as over the past 40 years or so we have had boat up and down this section of the estuary and they have got very used to the boats being near by.
We were luck on this Durban safari tour to find Hippos playing near the boat.
Durban Big 5 safari; Hippos playing at St Lucia
We decided to make our way back to Durban and stop along the ways for a bite to eat, it was great to have shared such an amazing experience with such a lovely group of guests which enjoyed every part of the experience.
It was great to get home to my wife for the night and the following day.
If you would like to join or book a Durban safari tour please click on this link below: