Durban day tour – St Lucia estuary – 17th July 2015
We began our Durban day tour in Durban city. After introductions, we headed up to St Lucia. This town is 2.5 hours away up the North Coast of KwaZulu Natal. St Lucia is South Africa's first world heritage site and is a one-of-a-kind place.
At St Lucia you can come across, Hippos, Crocodiles, and Zambezi Sharks! Where in the world can you get this combination?
Seasonally whales frequent the coastline. Sea Turtles also come annually to lay their eggs on the shoreline. Surrounding St Lucia is Isimangaliso wetland park a 30032 Hectare game reserve home to four of the Big Five!
If you are ever in the Durban area this is one of the best places to visit. It can be done in a day tour from Durban with Tim Brown Tours.
Back to the day itself!
After covering a lot of the History of Durban and KwaZulu Natal we stopped for a coffee and toilet break before the final hour to St Lucia, Isimangaliso Wetland Park.
After arriving and enjoying some of the warning signs that St Lucia has about Hippos crossing at night we visited the Crocodile center. These amazing creatures have been around for millions of years with a design that is floorless however we have noted a decline in recent years in their numbers. This is one of the reasons for the Crocodile center to educate people and to get some of these creatures back to the wild.
Durban day tour; Warning sign on St Lucia estuary beach
I took my clients around the center and told them about the Crocodiles, Hippos, and other things. It was then time to head down to the Estuary of St Lucia for our 2-hour boat cruise.
We began and there were Hippos everywhere. What was really good on this day tour was that we also saw a lot of Crocodiles which is not a guaranteed sighting.
Big pod of Hippo on Durban Day Tour
It is only due to the fact that boats have traversed these rich waters of St Lucia for many years that we have the privilege of viewing the amazing dangerous animals so close without incident. The Hippos in this section of 8 kilometers of the river are used to the boats and this enables us to enjoy amazing sightings of them. We always have to remember that Hippos are wild animals and kill around about 3000 people per year in Africa!
Crocodile hiding
The above picture was a Crocodile we found near the shoreline of St Lucia and it was so well hidden in the long grass! So lovely to see it though! We did see better Crocodiles but this picture just looked amazing.
As we continued up stream we came across a wide range of Birdlife which is something else St Lucia estuary has to offer visitors. St Lucia is an ideal place for birders to come and spot special birds they do not see every day.
We spotted this Goliath Heron fishing near the shoreline, this is the tallest heron in the world!
Durban day tour; Goliath Heron spotted on our Day Tour in Durban
A bit later on we managed to spot some Hippos on the shore and the two of them had a little fight with one another. It was one of those moments you don't expect so you miss most of it when you get you camera ready but it was amazing!
Durban day tour; Hippos fighting
As we continued our Durban day tour we spotted more birds. I am sure birders would always be happy to see this one, the Giant Kingfisher! If you are interested we can offer birding tours of KwaZulu Natal from Durban.
Sighting of a Giant Kingfisher
We began our way back to the jetty and on route spotted more Hippos and Crocodiles as well as a special sighting of baby Hippos out the water on the shore resting. It is always amazing to see this but even more special when it is babies.
Durban day tour; Baby Hippos out the water
 
 We almost got to the dock and we spotted some Pink-backed Pelicans which we don't see very often this far up the estuary so it was a real treat. If we had birder on this Durban day tour they would have loved to see these birds. Maybe will have to start a KwaZulu Natal birding tour.
After docking the boat at the St Lucia jetty we made our way into St Lucia town to enjoy the vibe of this beach resort at the back end of the school holidays. We stopped for some lunch which was great and then made our way to the Estuary board walk where we would walk down onto the estuary beach and enjoy the views as well as seeing Maphelane the second highest vegetated sand dune in the world.
St Lucia estuary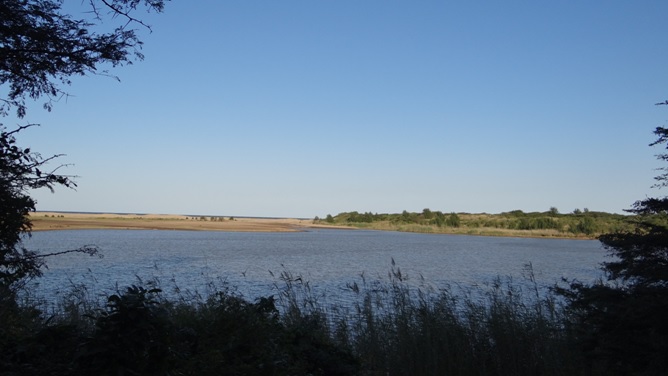 We continued with our Durban day tour to St Lucia wetlands and got onto the beach and down to the Indian ocean which was looking amazing on this particular day! With Maphelane in the background it made for a beautiful picture. This is a special place for me and I love visiting St Lucia, maybe you should too!