Durban day safaris with Tim Brown Tours 23 September 2015
Join us soon for one of our Durban Day Safaris. Our Durban day safari began in Durban city where I met my clients and we headed off to Hluhluwe Imfolozi game reserve.
It was going to be a hot day and not only with the weather but with the game viewing as well. It was a bit of a Ferrari safari as I had some racing to do to get around Hluhluwe Imfolozi game reserve to maximize our safari time.
On route I covered some of the history of the area and the country of South Africa before we arrived at the gate just before 10 am.
Our Durban day safari began and off we went having some good luck. It wasn't long before we spotted Zebra and Giraffe as we made our way south in the national park.
Durban day safaris; Zebra
This Zebra was a real poser and stood still for a while before calling out to the rest of his harem which had got to far away from him. As we continued our Durban day safari we enjoyed some Giraffe feeding on some leaves.
Giraffe : Durban Day Safaris
We spotted some Elephant some distance away so I've put a picture from later in the day when we managed to get them a little closer to the road. Our Durban day safari was beginning to take shape as we also spotted Buffalo in the distance meaning we had now seen 3 of the big 5 in we include the Rhinos on the hills too.
Durban day safaris; Elephant
We continued on with our safari in the hope we would find Lions at a carcass of Giraffe which was now 4 days old. Sadly it was only Vultures and some big ones at that, the Lappet faced Vultures!
Lappet faced vulture with Giraffe tail
We then made our way round the loop and found an amazing sighting of Rhino together with Warthog. Our Durban day safari was really heating up even the temperature was 32 degrees.
Rhino and Warthog on Durban Day Safaris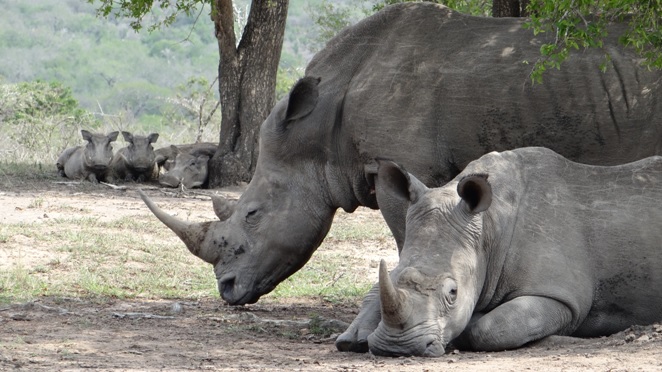 We then spotted our Elephant in the distance again before we stopped for lunch. Our lunch was great and we made our way up north as quick as we could as I heard that there was some Buffalo near to the road as well as a slim chance of Lions.
It wasn't long and we spotted the Buffalo but not the heard I was aiming for! One old male came up a big hill and we watched him settle in with a big her before we moved off and continued our Durban day safari.
Buffalo bull
It had been a great day it was about to become greater as we found our Lions! The best part was they had just killed an Nyala and then decided to vocalise as well as chase a herd of Buffalo away from the river! It was amazing and my client loved it.
Durban day safaris Lions
After enjoying an amazing time with these Lions we went to see the Buffalo which had just been chased by the Lions and we got them to cross the road in front of us.
Buffalo herd
After this great Durban day safari we began to make our way towards the gate. We were lucky to see a Rhino with little baby but we did not get a clear photo. It was time to start the 3 hour drive back to Durban. We stopped for some coffee and then arrived in Durban after 7pm. It had been a great Durban day safari!
Drop us an email or have a look through our website and see if there is a Durban Safari that suits your needs. If not we can always customise a tour for you encompassing your interests.
Tim Brown Tours – with numerous awards and a long history of great reviews on TripAdvisor, can help you. So look at our alternatives to visiting the Kruger National Park. And join us for your South African Safari experience! We look forward to hosting you in the near future! Book Now and get an experience of a lifetime.
You can also find us at  Tourist Guides and Trip Advisor
Tim Brown Tours and Safari's : Follow Us
You can follow us on the below links or visit our Website www.timbrowntours.com
Interested in Nature and Travel in South Africa? Then head on over to our Tours and book your very own Safari today – You know you want to![/vc_column_text][/vc_column][/vc_row][vc_row 0=""][vc_column width="1/3″][vc_toggle title="One Day Tours and Safaris"]Battlefields of Kwa-Zulu Natal
Hluhluwe Imfolozi Big 5 Game Reserve Day Safari
St Lucia iSimangaliso Wetland Park Safari & Tour
Tala Game Reserve PheZulu and Zulu Cultural Experience[/vc_toggle][/vc_column][vc_column width="1/3″][vc_toggle title="Two Day Tours and Safaris"]Battlefields of Kwa-Zulu Natal – Isandlwana and Rorkes DriftNatal
Hluhluwe Imfolozi Big 5 Game Reserve – Cat Rehabilitation & St Lucia iSimangaliso Wetland Park
[/vc_toggle][/vc_column][vc_column][vc_toggle title="Three Day Tours and Safaris"]Battlefields of Kwa-Zulu Natal – Anglo Zulu , Rorkes Drift, Isandlwana & Blood River
Hluhluwe Imfolozi Big 5 Game Reserve – Cat Rehabilitation & St Lucia iSimangaliso Wetland Park – Budget Package
Hluhluwe Imfolozi Big 5 Game Reserve – Cat Rehabilitation & St Lucia iSimangaliso Wetland Park – Standard Package
uKhahlamba Drakensberg Hiking & Sightseeing Tour[/vc_toggle][/vc_column][/vc_row][vc_column 0="" width="1/3″ css=".vc_custom_1533621301485{margin-left: 10px !important;}"][/vc_column]