Durban tour – 24-25th September 2015
Our Durban tour to Hluhluwe Imfolozi game reserve began in Durban where I met my clients and we made our way to the Cat rehabilitation to interact with Cheetah hands on.
Once we had experienced this amazing place we headed into Hluhluwe Imfolozi game reserve only 20 minutes away.
It was a hot day and the mercury crept up to 35 degrees, this of course meant game viewing was a little quiet at the start until the afternoon.
We stopped at a view point however overlooking the Hluhluwe river and spotted three different species the Buffalo, Nyala and Baboons.
Durban tour; Buffalo, Nyala and Baboons
On this Durban tour we also spotted Rhino but they were still resting in the shade with the heat of the day. We then made our way to Hilltop camp where we would be staying and checked in while having some lunch. We continued our Durban tour 20 minutes after arriving at the room as I had got word of Lions very far away and we needed the time to try to get there and to return for the 5pm evening open vehicle game drive.
It turned out to be worth it even with the heat we spotted one male Lion who then go up and tried to stalk a Warthog! He was so close to catching it but for him sadly he missed.
Lion stalking Warthog on our Durban Tour
 
 After watching this exciting moment we saw the Lion looking around probably feeling a little embarrassed! As I mentioned to my client the Lions have a really poor success rate of 10%.
Wow so far we had already seen 3 of the Big 5 on our Durban tour to Hluhluwe Imfolozi game reserve, Africa's oldest proclaimed protected area.
Lion on Tour in Durban
As we left the sighting we mentioned it would be nice to see Giraffe and then we spotted one! This was a lovely male and for me this really capped off a good start to our Durban tour of Hluhluwe Imfolozi game reserve.
Durban tour; Giraffe
We made our way back to Hilltop camp and I got my client onto their evening open vehicle safari which they enjoyed but didn't really see much they said.
This was fine as we had done so well and it left me with some pressure to find then Elephant the next day. We went through for dinner and enjoyed the food before a good nights rest.
Our Durban tour would continue the following day at 7am when we would meet for breakfast.
Day 2: Durban tour
We met for some breakfast which was lovely and we had a Buffalo bull drinking outside the restaurant from some run off water from the lodge. This made breakfast that much more exciting.
We then checked out and headed down south to try and find Elephants.
It was only minutes into our Durban tour and we found Zebra near the lodge.
Durban tour; Zebra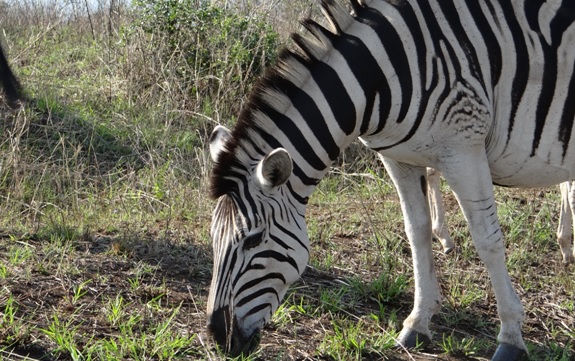 After a great look at the Zebra we continued our Durban tour and found Black Rhino a real treat! They were resting on a hill in the distance and it was only with the Binoculars that I could confirm they were Black Rhino.
As there are only around about 200 left this was like gold dust!
Black Rhino mother and calf
As we continued with our Durban tour we also found some White Rhino which was great to see and also to show the distinct differences between the two different species.
White Rhino on Durban Safari
We made our way down to the Umfolozi river and it was here that we spotted 3 of the big 5 at one spot. We saw Buffalo, Rhino and finally an Elephant. The only trouble was the Elephant showed us his bum for 15 minutes. We decided to look at a view site to see if we could see him better and could hear him moving so we raced back down so we could get a better view. So lucky we were to get him side on for a minute or two. Still it wasn't brilliant. We continued on and decided to return later.
When we returned we found another male Elephant much closer and almost side on.
Elephant on Durban Tour
Wow, not only was it 36 degrees but our Durban tour to Hluhluwe had heated up and now we had seen 4 of the big 5 well in the 2 days. It was also time to head to the gate but before we could get out to go to St Lucia we spotted Giraffe and more Rhino.
Giraffe
The Giraffe gave us a really good show and my clients loved them. We then departed and headed to St Lucia aka Isimangaliso Wetland park(Place of wonders/miracle).
It took us an hour so the client could have a rest while I drove and then as we got closer I explained about this amazing world heritage site.
It was now time to board a boat for a 2 hour cruise to view Hippos, Crocodiles, Mangroves and Bird life.  Sharks are also found here, the Bull shark but we don't usually see them but this time we saw 2 of them!
Durban tour; Bull Shark at St Lucia
It was a great was to end our Durban tour and we had amazing Hippo sighting with some even out of the water.
Hippos at St Lucia
As we went further up the Estuary we spotted Buffalo bulls resting on the shore of the Estuary. This was great to see as we hadn't really seen Buffalo this close on our safari in Hluhluwe Imfolozi game reserve.
Buffalo at St Lucia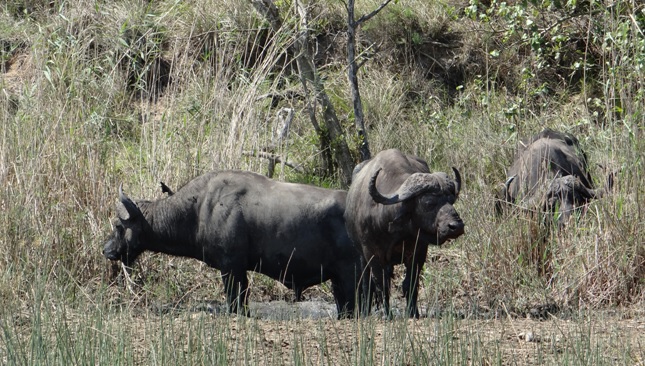 We also were lucky and saw a couple of Crocodiles on the shore line! This was great to add to our ever growing list of animals we had seen in the 2 days of touring from Durban.
The cruise ended and we stopped in St Lucia town which is a holiday town for some lunch. It was great seafood and we then made our way back to Durban to drop off the clients.
Over all it had been a great 2 days and very rewarding considering the short time we had on this tour.
If you would like to do a tour like this please click the link below:
Drop us an email or have a look through our website and see if there is a Durban Safari that suits your needs. If not we can always customise a tour for you encompassing your interests.
Tim Brown Tours – with numerous awards and a long history of great reviews on TripAdvisor, can help you. So look at our alternatives to visiting the Kruger National Park. And join us for your South African Safari experience! We look forward to hosting you in the near future! Book Now and get an experience of a lifetime.
You can also find us at  Tourist Guides and Trip Advisor
Tim Brown Tours and Safari's : Follow Us
You can follow us on the below links or visit our Website www.timbrowntours.com
Interested in Nature and Travel in South Africa? Then head on over to our Tours and book your very own Safari today – You know you want to![/vc_column_text][/vc_column][/vc_row][vc_row 0=""][vc_column width="1/3″][vc_toggle title="One Day Tours and Safaris"]Battlefields of Kwa-Zulu Natal
Hluhluwe Imfolozi Big 5 Game Reserve Day Safari
St Lucia iSimangaliso Wetland Park Safari & Tour
Tala Game Reserve PheZulu and Zulu Cultural Experience[/vc_toggle][/vc_column][vc_column width="1/3″][vc_toggle title="Two Day Tours and Safaris"]Battlefields of Kwa-Zulu Natal – Isandlwana and Rorkes DriftNatal
Hluhluwe Imfolozi Big 5 Game Reserve – Cat Rehabilitation & St Lucia iSimangaliso Wetland Park
[/vc_toggle][/vc_column][vc_column][vc_toggle title="Three Day Tours and Safaris"]Battlefields of Kwa-Zulu Natal – Anglo Zulu , Rorkes Drift, Isandlwana & Blood River
Hluhluwe Imfolozi Big 5 Game Reserve – Cat Rehabilitation & St Lucia iSimangaliso Wetland Park – Budget Package
Hluhluwe Imfolozi Big 5 Game Reserve – Cat Rehabilitation & St Lucia iSimangaliso Wetland Park – Standard Package
uKhahlamba Drakensberg Hiking & Sightseeing Tour[/vc_toggle][/vc_column][/vc_row][vc_column 0="" width="1/3″ css=".vc_custom_1533621301485{margin-left: 10px !important;}"][/vc_column]