Ideas on building a Boma, its origins and what food to serve
Recently my family and I visited a lodge on the North coast of KwaZulu Natal, a route we (Tim Brown Tours) travel regularly conducting our Safari Tours from Durban. It was here I was looking at the lovely setup of the lodge and thought that it really needed a "Boma".
This word "Boma" is one of those words which has crossed over a number of languages and therefore has an adjusted meaning in different areas.
Before we get into some of the ideas for building a Boma we need break down some of the meanings for this word.
Boma  ~ The Word ~ What does it mean exactly?
The origin appears to come from the Europeans as they travelled to Africa attempting to establish trading ports between Europe, Africa and Asia.
Originally as I see it, a "BOMA" was an abbreviation for a "British officers mess area". This to me makes perfect sense as a large number of British were travelling (on Ships) to colonise areas for the creation of trading ports.
A "Mess area" is basically a Kitchen, an area where Military officers or crew would eat, socialize and probably sleep.
We can obviously debate this until the Cows come home! – You will understand the pun in this line later…
The word has been used now in Africa for a couple hundred years and again the association is with the colonizers. Here in South Africa, predominantly the British and the Dutch.
If you were colonising an area in Africa you would also need to protect yourself from wild animals as well as any native or migrant tribes who may not be happy with your presence.
This would have meant you would have to build a "Fort" around your eating, meeting and sleeping area… The word "BOMA" was used also in describing these forts.
Some "Boma" in African Culture
Lastly it is very traditional in "Black African" culture to create this "Fort" structure around your home stead. In Zulu we call this an "Umuzi". If you have never traveled to South Africa and visited Zululand you can just watch the movie; Shaka Zulu. This movie clearly shows this structure with an entrance into the village "Umuzi" with the safety or demarcated area created with sticks. We sometimes refer to this area as a "Kraal" but generally a "Kraal" is used to protect your Cows (representing wealth) from wild animals and intruders wanting to steal your Cows. This area is traditionally always in the middle of the "Umuzi" and built out of the same material.
Buliding a Boma – Traditional structure of a Zulu homestead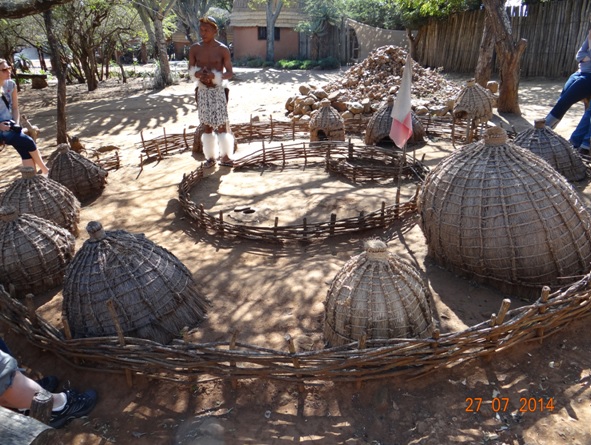 To build a BOMA here in Africa you would be using natural materials to demarcate an area to create some form of safety. Materials you would generally use would be branches and sticks.
In today's time if you were running a lodge and wanting to give your clients a truly African feel of being out in the "Bush" (Nature/Wild) eating and chatting under the stars, I would want to use natural materials when building a BOMA.
Personally I love the concept of "Latte" fencing as well as a funnel pathway made out of the same material leading you into the cylindrical BOMA area.
Boma seating arrangement
Boma idea on an arched entrance way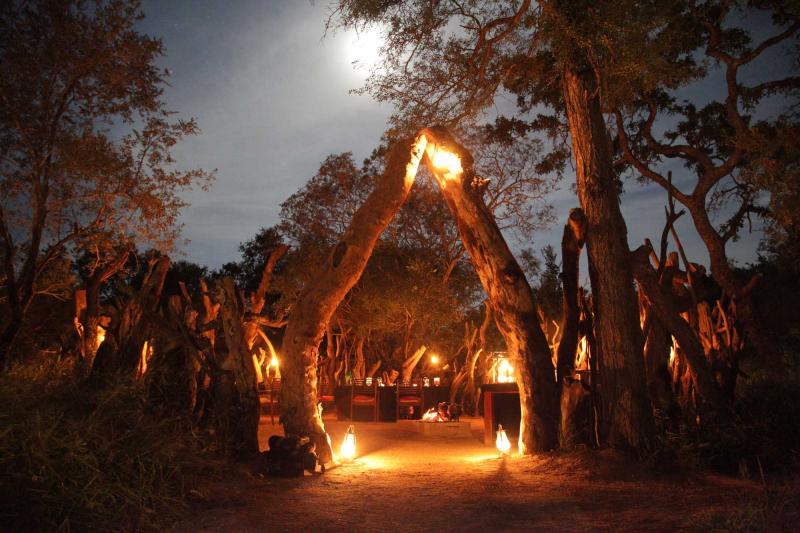 The whole concept of being outdoors with the sound of the wind, insects and animals is really special. A BOMA really can make a guests experience so much better and you don't need to have a fixed structure if you don't have the space.
My idea would be to build 3 meter long panels of Latte which can easily be treated to prevent rotting. This idea would mean that each panel can be moved around and fixed into position to create a funnel pathway entering into the main cylindrical BOMA.
Wooden latte fencing Pole
The fire is also a key element as well as the structure of the seating arrangement.
I would make your fire pit the focal point at the centre of the BOMA and in order to make the whole concept portable, I would just use a fire pit.
The below image is for me the perfect idea as you don't want to be using your centre piece so to speak to cook over.
This then means you would in essence be able to set up for a BOMA dinner and take it all down again in about half an hour to and hour.
Portable fire pit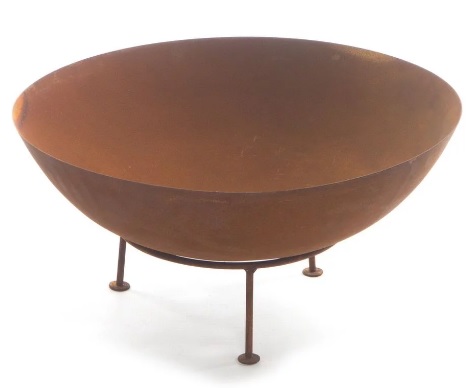 The seating should be in a half or ¾ Moon shape far enough away from the fire so that the smoke has a chance to rise up and not get into your guests eyes. The Latte framework should be sufficient to protect the BOMA from the wind.
Boma dinner seating setup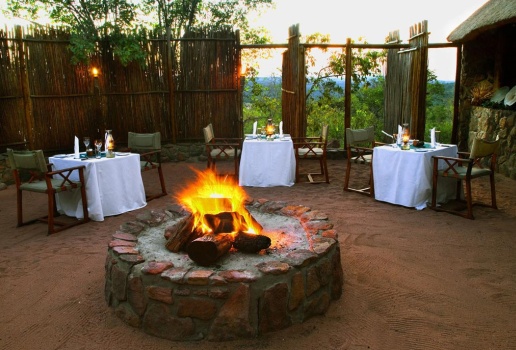 Traditional South African Boma Meal
There are a couple of options now when it comes to the actual food preparation and in my mind only one type of food that should be served!
As a BOMA dinner is all about being in Africa for me anyway, I would only cook South African/African cuisine. My list would be as follows:
Meat
Boerewors(Traditional South African farmers sausage)
Steak(T-Bone) – The bone helps give the meat better flavour
Chops(Lamb or Pork)
Venison(Impala/Kudu/Warthog)
Chicken (Thighs or wings)
Starches/Vegetables
Pap (Maize – either crumbly or halfway between being crumbly and stodgy) If is it to stodgy in my experience international client will not try it.
Samp and Beans (Slightly crushed Corn kernels cooked with Beans. This is an option but make this in small quantities.)
Potatoes (Roasted)
Rice (savoury or plain)
Butternut and creamy Spinach (Cooked separately)
Meallie bread (Sweet corn cooked in a sweet bread dough, Afrikaans origin)
Sauces
Chakalaka (Beans, Cabbage, Butternut, Onion, Carrot, Garlic, Chillies, All shredded and cooked in a Curry paste.)
Tomato and Onion (Self explanatory but used to pour over your Pap)
All the Starches, vegetables and the Sauces should be cooked before the Boma dinner. The meats must be put on the Braai (BBQ) in the BOMA.
The Braai – nothing could be more South African!
This leads into the next thing; if you don't cook on your central Pit fire where do you cook your meat?
What you will need to do is have a Braai Setup in the section where the shape of the half Moon or ¾ Moon is not. Here you will also have a serving table (with a nice white table cloth). This will be the area that clients will bring their plates to be served from the Braai and the pots of precooked food.
The best way to present these dishes is to have them in Case Iron pots or as we call them; Potjie pots.
South African food
We must never forget the other South African delicacies like Biltong and Dry Wors. You could have a small snack bowl on the tables so that the clients can sample this cuisine or you may find it best to make a very small cellophane package with print out of what the items are and have those left in the guest's room.
And DONT Forget the Pudding – Boma Yum~
Once the dinner is served it is probably a good idea to bring out some Malva pudding with custard and Milk Tart which are both very South African deserts.
Once completed encourage your clients to gather around the fire and chat, you can even tell them some stories from the African Bush and don't forget to hand out an after dinner drink of our South African Amarula cream liquor.
Boma dinner seats around the fire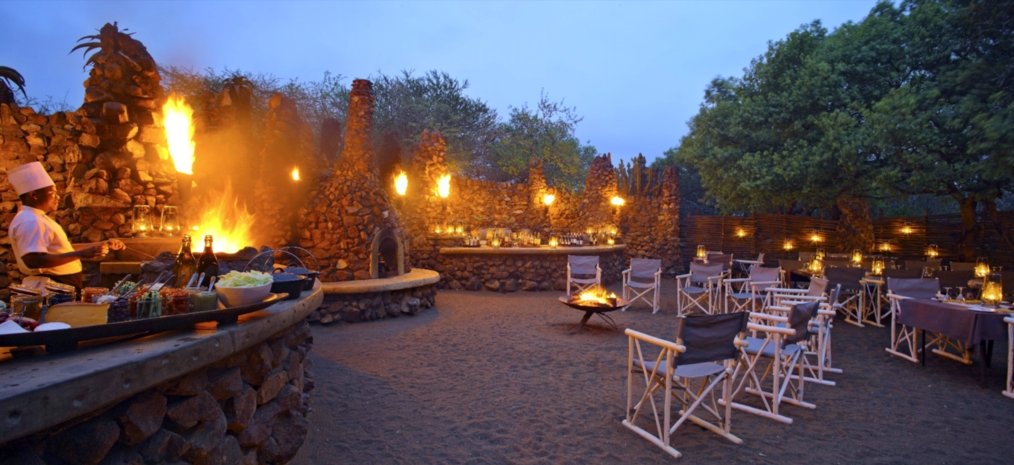 Perhaps one final touch would be to get out your laser pointer and show off our amazing stars to your clients. Remember those who have come from the Northern hemisphere have not seen the Southern Cross and do not therefore know how to find south. You can then use Orion to prove that the Southern Cross works to find South by finding North…
Star Gazing & Amarula – Taking the Boma experience to the Stars
Well thats all! I was getting a bit carried away there but it just shows that a Boma dinner can make the world of difference to your "Guest experience". Never underestimate the difference a small touch like Amarula and Star gazing can make!
If you would like to experience South Africa and the Kingdom of the Zulu like never before, contact Tim Brown Tours and we will setup an unforgettable nature, history and cultural experience for you and your family!
+27 71 453 2781