27th May 2013
Big 5 Safaris Durban, Big 5 Safaris Kwa-Zulu Natal, Big 5 Tours Kwa-Zulu Natal, Black Rhino, Bush experience, Bush Safaris, bush tours, Bushman paintings, Drakensberg Hiking Tours, drakensberg tours, Durban Big 5 Safari, Durban Big 5 Safaris, Durban Bush Safaris, Durban Bush Tours, Durban City Tours, Durban Cultural Tours, Durban experiences, Durban Safaris, Durban Shark Cage Diving, Durban Tours, Durban Township Tour, Guiding Ethics, Hluhluwe Umfolozi Tours, Imfolozi Game reserve, Individual Tours Durban, Kruger Park Safari Tour, Kwa-Zulu Natal Battlefield Tours, Kwa-Zulu Natal Bush Tours, Kwa-Zulu Natal Cultural Tours, Kwa-Zulu Natal Safaris, Mountain Tours, Personalised Tours Durban, Private Tours Durban, Private Tours Kwa-Zulu Natal, Private Tours South Africa, Shakaland, St Lucia, St Lucia Tours, Tala game reserve Tours, things to do Durban, Tours Durban, Tours South Africa, White Rhino
Cape Vidal, St Lucia, Hluhluwe Umfolozi and Shakaland 3 Day Safari Tour 22-24 May 2013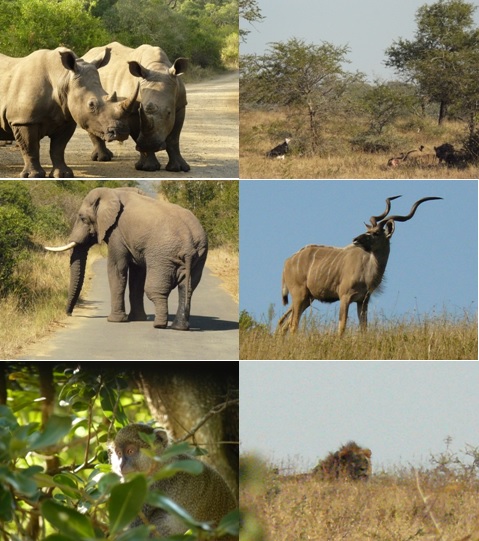 A Great Safari Tour from Durban which kept changing as we went along and some how we managed to squeeze everything into a very rushed scheduled.
We Started in Durban and drove up to Cape Vidal for some snorkeling, here we spotted a herd of buffalo crossing the road loads of Kudu and Samango monkeys.
We then headed back to St Lucia for lunch and the 3 pm boat cruise before racing off to Memorial gate(hluhluwe) to get in before 6pm when the gates close. We made it with 10 minutes to spare…
It was a dark drive in to hilltop camp where we checked in and had dinner before bed.
The next morning was an early start 6am and we headed out to find elephant which we were successful at and much more. We returned for breakfast and an hours rest before starting a 5 hour game drive at pace to find lions. We were lucky and got 1 male Lion who with his pride had killed a Wildebeest and hyenas aswell as vultures were at the kill.
The best part for me was a White Headed Vulture a very rare bird one of only approx 30 breeding pairs in the whole of South Africa! I could hardly believe my vulture eyes…
After this and many other great sighting we had lunch at the centenary center and headed back to Hilltop camp for the evening game drive.
For it was dinner and bed as I was tired actually "buggered" excuse my language!
The following day we got up a little later and had breakfast before a couple of hours of game drive. We then departed for Shakaland where we were treated to an amazing cultural experience, song and dance.
After a traditional Zulu lunch we made our way back to outer Durban where I dropped the clients off with friends.
Tim Brown Tours 
Big 5 Safaris Durban, Big 5 Safaris Kwa-Zulu Natal, Big 5 Tours Kwa-Zulu Natal, Black Rhino, Bush experience,Bush Safaris, bush tours,Bushman paintings,Drakensberg Hiking Tours,drakensberg tours, Durban Big 5 Safari, Durban Big 5 Safaris, Durban Bush Safaris, Durban Bush Tours,Durban City Tours, Durban Cultural Tours, Durban experiences, Durban Safaris,Durban Shark Cage Diving,Durban Tours, Durban Township Tour, Guiding Ethics, Hluhluwe Umfolozi Tours, Imfolozi Game reserve, Individual Tours Durban, Kruger Park Safari Tour, Kwa-Zulu Natal Battlefield Tours, Kwa-Zulu Natal Bush Tours, Kwa-Zulu Natal Cultural Tours, Kwa-Zulu Natal Safaris, Mountain Tours, Personalised Tours Durban, Private Tours Durban, Private Tours Kwa-Zulu Natal, Private Tours South Africa, Shakaland, St Lucia, St Lucia Tours, Tala game reserve Tours, things to do Durban, Tours Durban,Tours South Africa, White Rhino