Drakensberg midlands tour
I collected my solo client for his Drakensberg midlands tour and we ventured into the amazing central Drakensberg up the sani pass and into Lesotho.
The Drakensberg is very special to me, I always feel at peace when I am in the mountains. Its had been a place of much violence but it seems the rivers that cut can shape the Drakensberg have also washed away the memories of the violence leaving the amazing San-Bushmen rock art for us to enjoy.
After spending the first part of our first day in Lesotho and up Sani pass we made our way around the mountain to Didima which is home to a massive amount of San Rock art.
It was here we settled into some dinner and a good rest before our second day in the mountains called the Drakensberg!
Drakensberg midlands tour; Didima lodge
Didima blends in so well with the surroundings and has a lovely view of Cathedral peak a peak that is 3004 meter above sea level.
Drakensberg midlands tour; Cathedral peak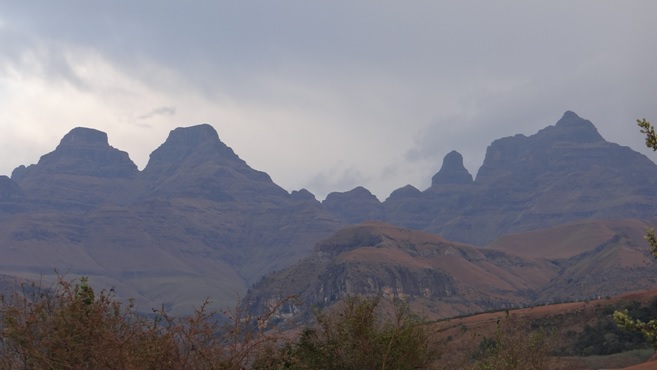 After a good breakfast we made our way into the interpretive center and museum on the San-Bushmen. It was here where I heard the amazing clip about "where God is" it always makes me feel happy so even though I know it was stealing I had to share just a few seconds of a 13 minute clip so you can feel some of what it is all about in the Drakensberg.
Video: Taste of the Drakensberg on our Tours
It was now time to do a 2 hour hike to Doreen falls and back which is a lovely waterfall and cave in the Didima valley not far from the lodge itself.
We had some lovely sunshine but it was sad to find a dead Secretary bird which was sadly killed clearly for "muthi" medicine. Even in South Africa we still have this problem where people believe in things like a Vulture being able to see into the future as it seems to know where to find meat the morning when it wakes up… So some people will dry the brain and smoke it so they to can see into their future.
This was a bird which is the size of a vulture and looks like a vulture so it is clear why it was killed.
Drakensberg midlands tour; Secretary bird with brain removed
We left the lost of life behind and hiked on up the mountain and eventually got to Doreen falls which was spectacular to see and was shaded so it was a rest from the sun.
Drakensberg midlands tour; Doreen falls
After we descended the mountain we made our way into the midlands of KwaZulu Natal and the mist was unbelievable and the rain began. It was still nice and the lunch we had was great. We then headed off to the Mandela capture site and enjoyed this amazing Museum and the steel sculpture of mandela;s face.
Drakensberg midlands tour; Sculpture at Mandela capture site
One of the great things about Nelson Mandela was he would also admit his mistakes and this was a sign of a real man and a true leader! Most would not!
Drakensberg midlands tour; Mandela capture site
It had been an amazing 2 days of touring in the Drakensberg and Midlands which for the most part we had great weather. If you would like to do this tour or one similar click on this link below: