5th September 2015
Catherdral peak, Didima, Drakensberg and midlands tour, Drakensberg Tour, Drakensberg tour in KwaZulu Natal, drakensberg tours, Durban, Durban 2 Day Tour, Durban Day Tour, Durban Tour, Durban Tours, Hiking tours in the Drakensberg, Mandela capture site, Sani pass Drakensberg tour, Sani Pass Tour, Sani Pass Tours
Drakensberg and Midlands tour of KwaZulu Natal 1-2 September 2015
It would be north of Durban where our Drakensberg and Midlands of KwaZulu Natal tour would begin. After meeting my clients at 6am we departed for Sani Pass and a tour over into Lesotho over the majestic Drakensberg mountain range.
This day would be a very long day as it always is but this time I would have to stay at the bottom of the pass as the vehicle was full with the specialist Sani pass guide leading the adventure into Lesotho.
I was able to get some work done before my clients returned somewhat tired but happy at after the amazing tour into Lesotho up Sani pass. They got to visit a Basotho village and taste some Basotho bread and beer! This is always a highlight on these Drakensberg day tours.
Of course the climb up the pass into Lesotho is breathtaking and the stop for lunch at the Highest Pub in Africa at 2874 meters is amazing!
Drakensberg tour, View up the Drakensberg
After my clients returned we still had what turned out to be a 3 hour drive to the Central Drakensberg as we had such bad mist I could hardly see right in front of my nose so we had to go slowly.
We arrived at 7pm at Didima one of the most beautiful places in the Drakensberg and home to Cathedral peak the main peak in the area which is 3004 meters above sea level. 
It was dark so we settled in for some dinner before quick  star gazing and then bed!
Day 2: Drakensberg tour 
We enjoyed a sleep in and met for breakfast at 07:30 am but the mountain was looking so beautiful we had to get some picture of it before breakfast.
Drakensberg tour, View of Cathedral peak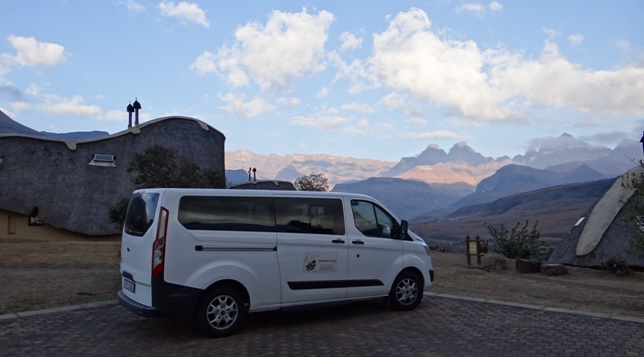 To show the perspective of the area I photographed my vehicle into the picture as well. The huts are shaped like the Eland antelope which is the San-Bushmens totem animal(the original South Africans).
After breakfast we visited the Rock art center which has a museum on the bushman and has artifacts like original San-Bushmen Quiver and Arrows. This was found my J.S. Lombard in 1926 in the area of Didima. He of course felt he could make some money and tried to sell it. It now is of huge significance and part of a rare collection in the Didima valley. We also watched a very powerful 15 minute clip of the area and the Bushmen to understand them more!
It was not time to hike to Doreen falls a lovely area in the Didima valley where the San-Bushmen used to run free before they were eradicated by Nguni, British and Dutch settlers.
Drakensberg tour, Hiking in the Drakensberg
When you hike in the mountains you can sense the loss of life but there is a great peace over the area and the beauty is incomparable with any other land I have visited! The Proteas, our national flower are in this belt at about 1400 meters above sea level and we eve found 2 flowers left on one tree!
We arrived at Doreen falls and on route spotted some Baboons and many wild flowers.
Drakensberg tour, Doreen falls
We made our way down the mountain and headed very happily to the midlands of KwaZulu Natal where we would visit the Piggly Wiggly for an amazing lunch as well as the shops in the area before heading to the Nelson Mandela capture site!
After visiting a couple of amazing shops we arrived and the rain had come. It was the first spring rains on the second day of Spring! Good timing!
We stopped and I explained to my clients about the capture site of Mandela and the plaque that is here to commemorate this even in 1962.
We then entered the Museum which is a recent additive. It is amazing and very comprehensive!
Drakensberg tour, Mandela capture site; Mandela in arrested
On the 5th August 1962 Mandela was arrested on his way from Durban to Johannesburg where he would be having a meeting about the way forward. He was basically in hiding.
Mandela had a huge influence over the changes in our rainbow nation sadly too many of the older generations feel hard done by and still have hard hearts towards the changes where now our nations is free.
Mandela stood up to the Apartheid government and back in the days when "Blacks" needed a pass just to enter there own land the city, Mandela and many other decided to protest and burn their passes.
Drakensberg tour, Mandela capture site; Mandela burns his pass
This was one of the first major events in our history which lead to more conflict as the "White" would not tolerate the lack of control over the "Native"….
There were many trials against Mandela and other was in in 1956.
Drakensberg tour, Mandela capture site; Treason trial 1956
Video: Nelson Mandela's first interview after coming out of hiding
Mandela managed to get away with this one and then went under cover visiting country's like England rallying up support against the Apartheid system and to get support for the MK, the violent struggle.
Mandela was a Lawyer and well educated and was wise. He would say things during trials that showed his complex mind and his ability to understand more than most could.
Drakensberg tour, Mandela capture site; Mandelas words
These words that Mandela spoke would be worth a read from our President now to the person on the street. South Africa is for all groups of people and not only to be dominated by one group!
We had now ran out of time and although we wanted to visit Howick falls it was raining heavy so we agreed to head back to Umhanga(North of Durban). 
I dropped my clients off and we were all tired but very happy. I would collect them again the following day for a Shakaland day tour.
This had been another amazing 2 day Durban tour.