Durban 2 day safari; Hluhluwe Imfolozi game reserve.
We began our 2 day Durban safari to Hluhluwe Imfolozi just north of Durban where I collected my clients a family of 4 from Boston in the USA.
As we left the city and headed out into Zululand I cover a lot of the history of the area, Durban, KwaZulu Natal and South Africa, from Vasco da Gama to the arrival of the British, Dutch and indentured laborers. We mentioned the exports, crops, minerals and even Jacob Zumas State of the nation address a couple days before.
It is always a privilege to speak on my home country and to also get to do what I love which is take clients to find animals in Hluhluwe Imfolozi game reserve, Africa's oldest proclaimed park.
We stopped at a Cat rehabilitation center in Hluhluwe for an hour and a half tour there before moving on to Hluhluwe Imfolozi game reserve.
The best part about the Cat rehabilitation center is the interaction with the 2 male Cheetah. On a Durban Safari you can only really do this if you go on an overnight Durban safari as it is a 3 hour drive from Durban.
Durban 2 day safari; Cheetah
It was extra exciting today as one of the other clients did not do what he was told and bent over the Cheetah making the Cheetah feel life he wanted to play with his and he got a right paw to the cheek. He was fine but it is always good to remember that even a hand reared Cheetah still has its natural instincts and must be respected.
We departed the Cat rehab center and headed to Hluhluwe Imfolozi game reserve my favorite game reserve to take clients on Safari in the the world. We entered and it was just one of those days when you say don't expect much and you see a lot even in the middle of the day. The weather was cool so this helped us a lot.
Our first sighting was of Warthog and Rhino and then a herd of Buffalo crossing the road.
Durban 2 day safari; two of the Big 5 in one picture
Two of the big 5 having a good look at us. Buffalo and Rhino both in the same Photograph always a good thing to see.
It is not common in the first 5 minutes to have such a good sighting on a Durban safari but nature is nature and you just never know what will happen and that is the best part about taking a Durban safari or Durban tour be it for a Day or and overnight trip.
Durban 2 day safari; Zebra
We also spotted some Zebra before we got a great shot of the same Buffalo bull near to the road with a mouth full of grass. In 5 minutes we had seen 2 of the Big 5, Warthog, Zebra and Impala.
My clients were also surprised to have seen the Rhino and we almost forgot about the Zebra until that afternoon when we realised we hadn't seen many of them.
Durban 2 day safari; Buffalo Bull
After spending time watching the herd of Buffalo run across the road we  continued on to Hilltop camp and on the way we spotted Rhino on the Hill and more Buffalo. It was really a great day for viewing animals.
We settled in to some lunch and checked in before heading back out for 3 hours from 4pm -7pm.
At this stage everyone was wanting to see what else we could find while our luck was so good. It was seconds and I spotted a Giraffe on a hill in the distance, so we raced off to get a closer look and thank goodness we did as he didn't stick around for long.
Durban 2 day safari; Giraffe
We actually spotted another 2 Giraffe which one of the Children named Tom and Jerry I think that was my fault as I gave them the idea. Tom and Jerry were standing on a ridge and were really just chewing the cud enjoying the view and the cool weather.
Durban 2 day safari; Rhino
Next was this Rhino mother and calf, which I posted only the picture of the mother as we only really got one bum and head at best in a picture. They were at a mud wallow and I was showing the clients the fresh Rhino dung and Dung beetles when we spotted these two having a drink from a dirty mud wallow.
At this point the children had counted I think 15 Rhinos for the trip so far. It was crazy!
We continued one and were concerned about finding Elephants well at least I was, the clients were calling for the Elephant and I was thinking we would be lucky to see one from a distance.
Well a had to eat my thoughts and we came across a herd of 10 Elephants mud wallowing and we were the only vehicle their the while 15 minutes those Elephants were there.
Durban 2 day safari; Elephants
After spending some good time out in the bush including spotting around 20 Rhino and even a Crocodile we were all satisfied and we made our way back to the lodge for the 7pm cut off time. After getting settled in we enjoyed some great dinner and then it was time for some rest. We had discussed what would happen the next morning and half the family would be going with me on a bush walk and the others would go on the open vehicle with the lodge.
Durban 2 day safari; Day 2 in Hluhluwe Imfolozi game reserve
We woke up very early to get down for 04:50 to the reception, the good thing about this was we got to see the sunrise and then got to have a great experience on the bush walk. We drove to an area where we could be away from the lodge and vehicles and enjoy the sounds of nature. It was after the briefing that the walk began and we spotted a Garden Orb Spider.
Durban 2 day safari; Bush walk, Orb Spider
It wasn't much longer that we head an alarm call from a Bush buck down by the river bed so we made our way down safely to investigate. It was like tracking Ghosts as we found no tracks so we exited the riverine area and made our way back up the hill to the main road where we found free Lion tracks and Hyena. It seemed we had just been behind them the whole time! Sadly would could not continue on to locate them on foot so we made our way back to the vehicle before seeing if we could locate them from the safety of the vehicle.
Durban 2 day safari; Bush walk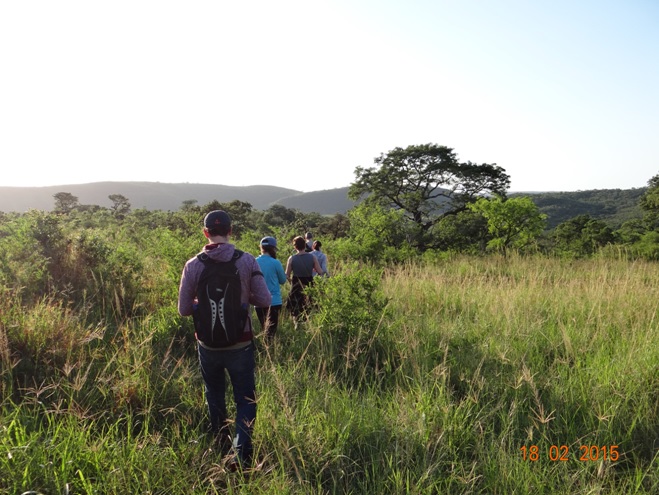 Contrary to popular belief Lions do not like confrontation and they could have just hidden themselves away from us in the thickets. We began the drive back up to Hilltop camp and then settled in for some coffee which removing the odd tick we found on our clothing.
The others arrived back 30 minutes later and we all had breakfast before getting packed up and check out.
It was time to continue our Durban 2 day safari in Hluhluwe Imfolozi game reserve and see what else we could find before heading to St Lucia-Isimangeliso Wetland park.
Durban 2 day safari; Rhinos
It was these Rhinos that we saw first before we left Hluhluwe Imfolozi game reserve, It was a mother with a 2.5 year old calf. You will also notice the Red Billed Oxpeckers siting on the babys face. Their job is to remove all external parasites mainly ticks. We could have done with one of those after the walk, I even found a tick in my pocket…really!
Our next sighting was these Kudu bulls which were resting in the shade under a tree in the distance so after a couple minutes of waiting they came out and we could enjoy them.
Durban 2 day safari; Kudu
This was not our last stretch before we would exit Hluhluwe Imfolozi game reserve and bring to and end this part of our 2 day Durban Safari. We were not yet done though, we spotted a Bull Elephant 50 meters from the road and we didn't spend much time with him before heading on to St Lucia.
Durban 2 day safari; Elephant
We headed to St Lucia which took us an hour before boarding the Santa Lucia boat for 2 hours to enjoy the Hippos and Crocodiles as well as the bird life and mangrove swamps in the area.
It was a beautiful day at 30 degrees and my clients could enjoy the sun after the snow they had a home in Boston.
Durban 2 day safari; St Lucia Hippos
This was not the end of an amazing and very busy 2 days on our Durban safaris it always amazes me how much we can squeeze into such a short space of time and not we were left with the 2.5 hour drive back to Durban/Umhlanga.
We stopped along the way to catch our breath and then it was home for my clients.
They all seemed to enjoy this Durban 2 day safari and I am sure they will be back for the Cats!