Durban 2 day safari tour – 23rd – 24th February 2015
We began our 2 day safari tour from Durban in the big city where I collected my clients from their hotel. We drove for an hour and a half before a pit stop and in this time I covered some of the major history of Durban, KwaZulu Natal and South Africa.
When we continued I covered a bit more and then we arrived at the Cat rehabilitation centre in Hluhluwe called Emdoneni. Here we took a guided tour around the rehab and interacted with 4 endangered species of cat namely the African wild cat, Serval, Caracal and Cheetah.
Durban 2 day safari tour; Cheetah
It seemed the cats were quite relaxed today and all of them were resting even though it was only 29 degrees.
The Serval were great fun as well until one of the other clients there left the gate open between enclosures and Gerry had a hard time of trying to get one of the cats back.
Durban 2 day safari tour; Serval
We then departed the Cat rehab centre and made our way the last 20 minutes to Hluhluwe Imfolozi game reserve the oldest protected area in Africa.
Here we entered and had immediate luck in spotting Buffalo and Zebra.
Durban 2 day safari tour; Zebra showing off
The Buffalo were crossing the road and some in a mud wallow so we watched them for a while before moving on with our Durban safari tour.
Durban 2 day safari tour; Buffalo
Then one of my clients spotted something on a hill under a tree and we looked to see what it was and it was a pair of Giraffe resting in the shade of a tree. It was a great spotting!
Durban 2 day safari tour; Giraffe walking
We moved on to get to Hilltop camp for some lunch and had one move very cool sighting of a huge herd of Buffalo in the mud and some Vultures feeding off a carcass.
This was an amazing start to our 2 day Durban safari tour.
Durban 2 day safari tour; Buffalo in the mud while Vultures feed on a carcass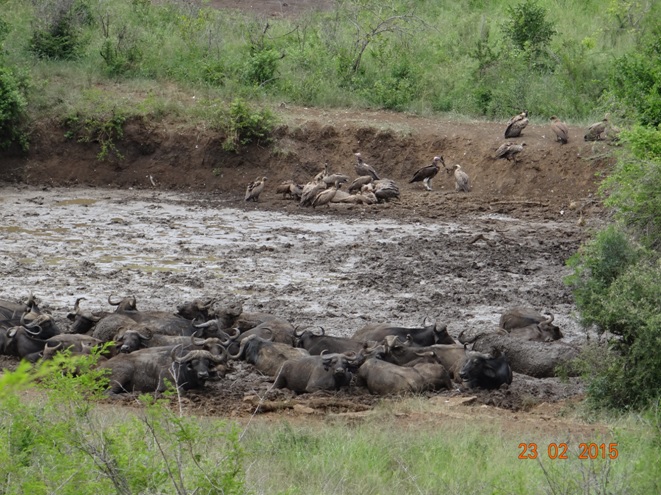 We then made our way round to Hilltop camp and my clients were blown away by the view as it is really beautiful. After some good food and a quick check in I got my clients to their room for a rest before we would meet again at 4pm for a game drive to see what else we could find.
At 4pm we headed back out and half an hour where it was very quiet. The great thing was this was to change fast!
We spotted some Elephants on a hill in the distance and we watched them for a short while before we continued on our Durban safari tour.
Durban 2 day safari tour; Elephants
Next we spotted a White Rhino which was heading towards the road so with a bit of time he crossed and marked his territory on the road in front of us. It was great to see him do this.
Durban 2 day safari tour; Rhino on the road
As we continued we spotted a Nile Crocodile at the rivers edge after we were looking for a monitor Lizard.
Durban 2 day safari tour; Nile Crocodile
The next amazing sighting was of an African fish eagle in flight usually a pain to get a good photo of but I got it and was pretty happy with the photo.
Durban 2 day safari tour; African fish eagle in flight
We actually then spotted a Lioness down by the river but she was a flat cat so we moved on after a while and decided to return later when the sun was on its way down. Before we got back we spotted our Elephants again a bit closer and relocated Giraffe from the morning.
Durban 2 day safari tour; Giraffe
What a great Durban safari tour this was turning out to be! We also spotted some Baboons grooming themselves on the road and they looked so funny as they cleaned each other!
Durban 2 day safari tour; Baboons grooming
It was time to return to our Lions and we got there just before it was to dark for photos and saw them actually 4 of them resting now with their heads up looking at us every so often.
This really was a special day in Africa on a Durban safari tour.
Durban 2 day safari tour; Hluhluwe Lions
On route back to the lodge in the dark we spotted a Hyena which was on the road and was huge it must have been a female as they are much bigger than males. Unfortunately the photos didn't come out in the dark so we just headed back to camp where we settled in for some dinner and a well deserved rest.
Day 2: Durban 2 day safari tour of Hluhluwe Imfolozi game reserve.
We began our second day with some lovely breakfast before checking out and heading to an area we had not been to yet.
On route to the south we found some great sights one of which was these Rhinos on our Durban safari tour.
Durban 2 day safari tour; Rhino
I almost forgot this amazing sighting of a Half Collared Kingfisher which we saw at one of the river crossing as we were trying so hard to find a monitor lizard for one of my clients Miska.
The picture came out beautifully on this Durban safari tour in Hluhluwe Imfolozi game reserve.
Durban 2 day safari tour; Half collared Kingfisher
Next was a great sighting of Zebra in an open plain with two young fouls which were relaxing with their mothers feeding on the grass. It was great to watch them as they were eating the tops of the grass which is exactly what these amazing creatures do.
Seeing Zebras on our Durban safari tours is always great as it is one of the animals that clients love to see.
Durban 2 day safari tour; Zebra fouls
We then moved on spotting some Impala and Nyala before finding some amazing Giraffe, they were close to the road and after 10 minuted the actually crossed the road so we could enjoy their beauty. They are such graceful animals and everyone of my client had them at the top of their list to see on a Hluhluwe Imfolozi safari tour.
Durban 2 day safari tour; Giraffe
We continued down into the Umfolozi section of the game reserve and found that their was Lions in a tree just near the gate. The only problem was the distance it was so far that even in a full zoom on my good little camera it was not easy to see!
Hluhluwe has these tree climbing Lions which are amazing it is not common behaviour for adult lions to climb trees.
Durban 2 day safari tour; Hluhluwes Tree climbing Lions
It was not time to depart Hluhluwe Imfolozi game reserve and begin the hour long trip to St Lucia wetland – Isimangeliso wetland park east of the game reserve. Isimangeliso wetland park is more than 3 x the size of Hluhluwe Imfolozi. It is huge!
When we arrived we popped into the town so that one of my clients could buy a new camera and also to do a spot of shopping at the craft markets.
After we were done we got onto the Santa Lucia boat and cruised the estuary to view hundreds of  Hippos and a couple of Crocodiles. This is always a hit with the clients on our Durban safari tours.
Durban 2 day safari tour; Hippos at St Lucia
One of the best sightings for me was this Giant Kingfisher siting in a White Mangrove tree on the shoreline! They are such large birds and feed almost entirely on fish.
Durban 2 day safari tour; Giant Kingfisher at St Lucia
So this was not the end of what had been an amazing 2 day Durban safari tour and we only had to have some lunch in St Lucia town before heading the 2.5 hours back to Durban where I dropped my happy clients off at their hotel.
Durban safari tours are always best done with a qualified guide as you will see a lot more than in you were to go on your own and your guide will unwrap the intricate history and culture to you during your time.
Safaris from Durban are amazing, join Tim Brown Tours on your next trip to South Africa for an unforgettable experience!