Durban 3 day Safaris to Hluhluwe Imfolozi game reserve
Our 3 Day Durban Safari began in Umhlanga where I collected my clients and we headed up to Emdoneni Cat Rehabilitation center near Hluhluwe for a 10:30 Tour.
On Route I covered the History of the area, Durban, KwaZulu Natal and South Africa. Sometime you find that no matter how much you chat you never get through the interesting History even in its most basic of forms.
I was very lucky to have clients from a country I had not idea where it was, New Caledonia. I thought I better learn it bit about it so looked it up when I had a spare moment.
The Tour in the Cat rehab was great as usual and we spend a good hour and a half with the endangered Cats.
Caracal seen at Emdoneni Cat rehabilitation center on our Durban Safari
After spending time with both the African Wild Cat and the Caracal photographed above we then moved on to the Cheetah before visiting the Serval. Its always amazing to learn why these Cats are at the brink of extinction and see them close up.
Cheetah seen at Emdoneni Cat rehabilitation center on safari near Durban
It was now time to depart from the Cats and visit the Big 5 Game reserve, Hluhluwe Imfolozi Africas oldest protected area established in 1895. I visit to Durban is not complete if you do not take a Safari from Durban to Hluhluwe.
We arrived at the gate by 12 o clock and began a 45 minute Safari in the African Bush to Hilltop camp for lunch and to check in. During this short time we had such such luck and got to see this new born Rhino and its mother.
Rhino mother and calf on our safari from Durban
Having been very patient these amazing creature got within 10 meters of our vehicle before turning around the bush and continuing with there feeding or shall I say Mother Rhino was feeding. The baby at a couple months is to young to digest grass so only drinks milk.
Moving on with our Durban Safari we found more animals: Giraffe, Zebra, Buffalo and Nyala. We continued to Hilltop camp for lunch and checked in to this amazing resort on top of a hill in the middle of a game reserve. All that keeps us away from animals is the small electrified fence. Very special place!
After we were feed and spent a few minutes in our rooms we headed back out onto the game reserve to see what else we could find. We had already seen 2 of the Big 5 in a very short space of time.
Elephant of Hluhluwe Imfolozi game reserve near Durban on our Safari Tour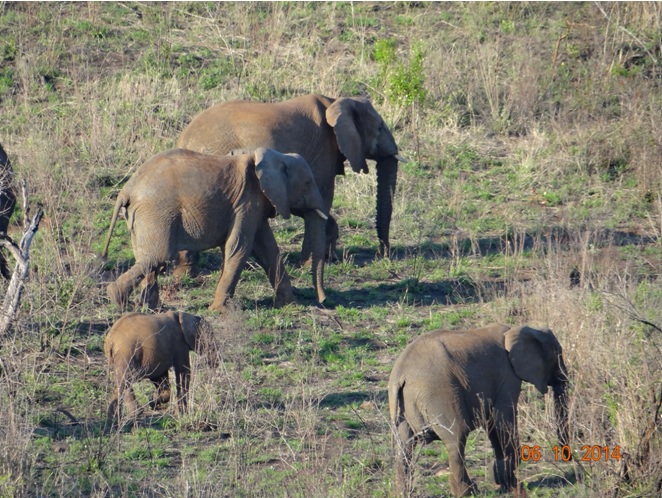 We did find our Elephants actually about 3 herds of Elephant in the 3 hours before 6pm's return to camp. This meant we had found 3 of the Big 5. One of the inexplicable sightings was a Brown Chested Snake eagle flying at the back of Zebra touching it and flying off again. He gave the Zebra such a fright but it was amazing to see. As our Safari near Durban continued we spotted more Rhino, Giraffe, Buffalo, Zebra, Nyala, Impala and even an African Rock Python on the road!
African Rock Python seen on the road in Hluhluwe on our Durban Safari Tour
I was so close to running this snake over as it did not move an inch as I drove past. It was due to it being dusk and the road was the warmer place to be for this cold blooded reptile.
We also had great luck overlooking a patch of water and spotted this Giant King Fisher.
Giant Kingfisher seen on our Durban Safari Tour
It was getting late and we needed to get back to the lodge for some dinner.
It had been a very exciting first day and after a great buffet dinner at Hilltop camp and a good nights sleep it would be time for a new day under the hot African Sun.
Day 2: Durban Safaris and Tours to Hluhluwe Imfolozi game reserve near Durban.
We woke up at 6am and decided to have breakfast before departing on a search for Lions. It was amazing as at 06:15 I heard a male Lion calling which was so loud it seemed like it was just outside my room.
I mentioned this to the clients and they too had heard it. So after breakfast we headed out and with in minutes we spotted this Lions on a Sloppy hill wandering around sniffing for the sign of intruders or perhaps the females. He stopped a few times and after 1 hour spent watching him we decided to leave and continue our Safari.
Lion I first heard this morning from my room and we located him in Hluhluwe on our Durban Safari tour
As we continued our Safari into the Umfolozi section we had an Elephant road block which we were stuck in for about half an hour, by far the best kind of road block to be in!
Muddy Elephants cross the road on our 3 Day Safari from Durban
These Elephants were having a mud wallow and eventually moved across the road, this was on of the amazing pictures we got.
We rushed now a bit as we had given ourselves 7 hours for Safari today and stopped at one of the gates for a rest room break and then headed on down to the Umfolozi river.
We had some luck with a troop of baboons feeding away turning over stones looking for food. It was amazing to see the small baby wrapped under the mothers belly.
Baboon mother carries her little baby seen on our Safari Tour from Durban
On route we spotted more Giraffe and Buffalo before things got a little quiet. We did however spot a resting Rhino.
Rhino rests in the shade during our Safari from Durban
At the Umfolozi river there was not to much activity but we did spot a Small crocodile resting in the water near the banks of the river. Our Safari from Durban had really been a huge success.
On our Safari near Durban we saw this Nile Crocodile
It was only day two and we had had so much success already on our Durban Safari!
As we drove down South we Spotted more Giraffe and before we could get to a nice journey of Giraffe near the River we spotted a Slender mongoose and a Rock Monitor. I did not have time to get a photo of the Mongoose but I did get one of the Rock Monitor.
Rock Monitor Lizard runs down the road during our Durban Safari Tour
After seeing this amazing creature we got down to the view point over the river to stretch our legs and spotted some Rhino drinking and Vultures cleaning there feathers. It was a really hot day with the mercury touching 40 degrees Celsius.
The Giraffe we saw Necking we amazing click on this link to see a short video of the action.
Male Giraffe necking for dominance seen during our Durban Big 5 Safari Tour in Hluhluwe Imfolozi game reserve
It was now time to turn around and begin our Safari back to the Centenary center for lunch. When we had our fill we also had a look through the museum on Operation Rhino where Rhinos were brought back from extinction.
We also had another great sighting on our Safari back to Hilltop camp of those same Elephant bulls near the same mud wallow.
Bull Elephant sucks his trunk on our Safari near Durban
Upon arrival to Hilltop camp we decided that we had see so much that we should try something different the next morning and do the Walking Safari. I managed to arrange this at reception and booked our dinner.
Later on that night we met for some dinner and it was a lovely warm evening.
The following day we would be leaving at 05:15 for our Walking Safari in Hluhluwe Imfolozi game reserve.
Day 3: Durban Safaris and Tours to Hluhluwe Imfolozi game reserve near Durban.
I dragged my tired but happy body out of bed at 04:40 am and met my clients who were just as excited as me and we met the lodges guide to go on our Walking Safari.
We drove a couple of kilometers and on route spotted Lion scat from that Big male we had seen the day before.
We actually were walking 500 meters away from his last position the day before which meant we could see his tracks on some of the sandy paths on the Walking Safari.
Walking Safari in Hluhluwe Imfolozi game reserve
Above is a picture of the group on the walking Safari with Jacques at the back and the guide Samora with a Scapular bone.
As we continued the walking Safari we spotted Rhino, Zebra and Nyala but the best was a close sighting of 5 Rhinos not more than 40 meters away.
After over 2 hours of lovely walking we returned to Hilltop camp for Breakfast and a shower before checking out and doing an hour safari to see what else we could find before exiting to St Lucia Estuary for our boat cruise.
One the last Safari Tour we saw a lot of animals.
Zebra seen on our Safari from Durban
This Zebra posed for us very nicely he was so close we could almost touch him.
Buffalo seen on a Safari from Durban with Tim Brown Tours
These Buffalo were part of a herd of about 40 individuals and we had them crossing the road in front of us before we left Hluhluwe Imfolozi game reserve and headed down to St Lucia, 1 hour away.
We finally arrived at St Lucia Wetlands and the Estuary for our Boat Safari to view Hippos and crocodiles and that we did!
Hippos seen on our 3 day Safari near Durban
We also had a great sighting of an African Fish Eagle and some King Fishers. The Cruise was lovely and relaxing and the temperature was much better at 28 degrees compared to the 40 degrees of the day before.
African Fish eagle at St Lucia Wetlands near Durban on our Safari Tour
Once we turned to head back we spotted this nice crocodile before we got back to shore and headed for some lunch in St Lucia town at the Ocean Sizzler!
Crocodile seen at St Lucia Isimangeliso wetland park during a Safari tour from Durban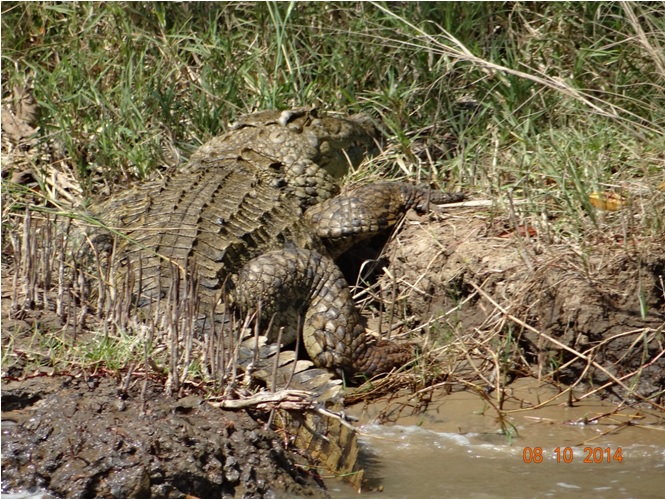 Lunch at Ocean Sizzler was great as usual and we had a great chat during the meal. After lunch it was now time to make the trip back to Durban. Our whole 3 day Safari from Durban had been a brilliant experience and we had see and done so much is such a short time!
We arrived back in Umhlanga with the rain falling so we really had done very well to miss any rain on our Tour. After a Quick good bye it was time to head home to my wife.
A very successful Safari from Durban with Tim Brown Tours to a Big 5 game reserve.