Durban day safari – 31/08/2015
This Durban day safari was one of my best and not because I felt good about my performance but because nature also performed for us!
We began in Durban as we usually do and I collected a Swedish couple who were very excited about the Durban day safari after reading reviews on TripAdvisor. This always makes me feel a little pensive as with nature it is out of our control. All I know is the best places to look for the animals and their behaviour.
After covering the history of Durban, KwaZulu Natal we arrived at Nyalazi gate in the Umfolozi section of the Hluhluwe Imfolozi Big 5 game reserve.
We had such luck at the gate with Giraffe, Elephant and a Buffalo bull that I got a little concerned that we would not be able to match it through the day.
Durban day safari; Giraffe
This Durban day safari was different though!
As we left the Giraffe and we spotted some lovely birds one being the Lilac breasted Roller. We also saw Impala.
Durban day safari; Lilac breasted Roller
It was only a few more minuted before we spotted Buffalo and then some Zebra near to the road. This was turning out to be a great Durban day safari.
Durban day safari; Zebra
We drove on with our safari in Hluhluwe Imfolozi game reserve and spotted a huge bull Elephant on the road. He was nice and relaxed and had huge tusks which were very impressive.
Durban day safari; Elephant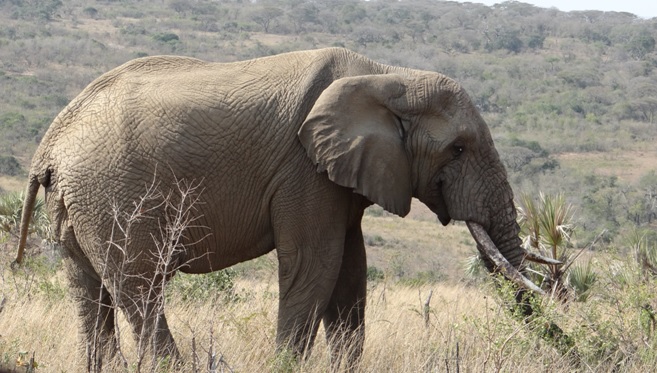 After a great time with the Elephant we crossed over the Umfolozi river and spotted and old male Buffalo sleeping, we continued…
Further on we found Nyala, Kudu and Impala which was amazing to see.
The next thing that happened was super impressive as we spotted a Lioness in a tree! It was incredible! Lions are not built for climbing trees but this female who was young was taking her chances to see if she could spot food or her pride.
Durban day safari; Lioness in Tree
At first she looked like she would not come down but as other came and went we waited for her to see what see would do for us. Sometimes on a safari you have to be patient and wait for good things to come to you.
She began to move very gingerly in the tree!
Durban day safari; Lioness in tree image 2
We spotted her stand up and and it was clear she was keen to come down but not being very comfortable with it so we waited even longer! Eventually she made a bold move and decided to go for it! It was so exciting we could hardly contain our excitement.
Video: Durban day safari; Lioness climbs out of tree
As you can see in the video it was a moment to saver and to never forget! I was so excited myself I had to watch the video again as after she crossed the road in front of us we never returned.
Wow is the best way to describe the moment spend with her!
At this point I honestly told the clients that I was so happy I didn't really care what else we saw but obviously we would try our best.
Within minutes we found a herd of Buffalo!
Durban day safari; Buffalo
We then made our way to the Umfolozi river where we spotted another herd of Buffalo and we enjoyed this amazing view before making our way back to lunch. Before we could get to lunch we found Rhinos which we had not yet seen! Another of the Big 5, which now meant we had spotted 4 of the Big 5 in just one day! This is a Lion more than normal!
Durban day safari; Rhino
We then got close the the original Umfolozi river crossing and found Warthogs and the same old male Buffalo from in the morning. Wow what had we not seen?
We Baboons! So then we just found some next to the road feeding and playing in a Knob Thorn Acacia.
Durban day safari; Baboon
It was time to get some lunch so we stopped for a 2 pm lunch at the Centenary center which was home to operation Rhino in the 1950s that brought back the White Rhino from extinction. They also have a craft market and museum so my clients could enjoy that as well.
It was already 3pm by the time we left and it was time to begin to head to the gate. I was hoping to find some more Elephants for the clients but we had a better surprise.
I spotted two tree stumps which I have not seen there before so I decided to slow down and look again. When I looked again it was Cheetah! A mother and her cub! This was amazing as their is only 30 in the whole game reserve of Hluhluwe Imfolozi. We had seen a mother with her sub adult cub.
Durban day safari; Cheetah mother and cub
We stayed with the Cheetah for a good while and then they began to move towards the drainage just as I mentioned that that is what I thought they would do.
We watched them and the mother ran away after something and the cub got lost. This was so funny as the cub walked around and cried for its mom to find where she had gone.
Video:  Durban day tour; Cheetah cub calls for its mother
After this the cub actually came close to the car on a slope about 5 meters from the window and walked away into the bushes. It was amazing and for my clients just really capped the day safari from Durban off. Just for the record we usually do not see Lion or Cheetah on a day safari from Durban.
Durban day safari; Cheetah cub
We exited the Hluhluwe Imfolozi game reserve being greeted with armed military wanting to check out vehicle for Rhino horn. Their must have been 7 or 8 men with semi automatic firearms ready to shoot us if we did! It was exciting!
We departed and just chatted about the amazing day the whole drive back to Durban. I don't think I have had a much better Durban day safari before.
We arrived back in Durban safe and sound and very happy with life.
If you wish to experience something similar, join us on this safari by clicking the link below: