Durban day safari – Hluhluwe Imfolozi game reserve 3 February 2015
I met my client for their Durban day safari to Hluhluwe Imfolozi game reserve in Durban, Umhlanga at the Oysterbox Hotel. It was a lovely day with blue skies as we left Durban and made our way to Hluhluwe Imfolozi game reserve, the oldest in Africa!
On route I covered the major history of the area, KwaZulu Natal, Durban and South Africa and as we passed all the plantations of Eucalyptus and Sugar Cane I covered their interesting history. This included how each population group came to be here in this beautiful country of ours, South Africa.
It is always a great privilege to speak about the changes over the years and the successes that we have achieved in our short democracy. Some South Africans seem to think that things are worse since the end of Apartheid but honestly with a Minority oppressing a majority we have done a great job in getting the country to where it is at the moment. Of course we have our challenges but name one country which does not!
We finally arrived for our Durban day safari at Hluhluwe Imfolozi game reserve and entered in at the Nyalazi gate where we had immediate luck in spotting a male Nyala near the entrance.
Durban day safari; Nyala
We didn't have to continue very long before we spotted more animals and the next on the list during our Durban day safari was the Giraffe. We spotted this big male Giraffe walking towards a dry river bed in Umfolozi game reserve.
It was interesting to watch him as he kept ruminating which is always funny to watch as the food has to travel up that long neck to get to the mouth!
Durban day safari; Giraffe
Next on the agenda was actually a very rare sighting of Black Rhino, They were very far from the road but with the Binos we could see that they were Black Rhino and not the white specie. Cameras these days are amazing and on our Durban day safari we were able to capture this amazing animal.
Durban day safari; Black Rhino
We did spot them some White Rhino but the distance was way to far so we continued on until we found some more. We were lucky as it was only 27-30 degrees all day and will some cloud cover this made the day bearable for spotting game. Our Durban day safari continued and we came across some Zebra before we crossed over the Umfolozi river.
Durban day safari; Zebra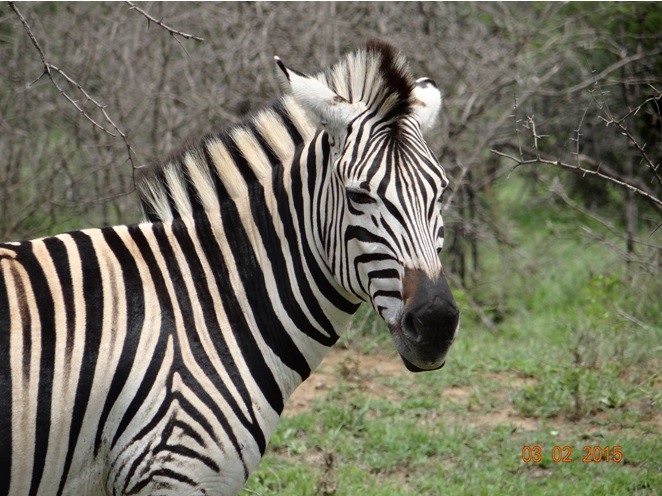 As we continued our Durban day safari in Hluhluwe Imfolozi game reserve we came across the Rhinos we had been looking for. This big male was feeding away and after spending some time with him we move on to find our first Leopard tortoise. This one had a tooth mark in its shell which means that it must have been played with by a Lion or Leopard in its life, what an exciting thought!
Durban day safari; White Rhino
Moving on we had some great luck as we had been tracking these Elephants from about 10 Kilometers without luck, but then all of a sudden we spotted a couple of Elephants.
We waited to enjoy the sighting and would you believe it the whole herd of Elephant crossed the road in front of us after waiting around for 10 minutes. Who says Durban day safaris have nothing to offer?
Durban day safari; Elephants crossing the road
As we continued along we had a really good sighting of a breeding pair of Secretary birds,(wish they could help me with my work). They we walking around the grasslands and looking for food. They amazing birds hunt snakes as part of their diet and are always a bonus to see on our Durban day safaris!
Durban day safari; Secretary Bird
As we continued our Durban day safari in Hluhluwe Imfolozi game reserve we had some more great luck and spotted some Buffalo resting in a mud wallow. Its always good to see this and for us after our first sighting of Buffalo where he ran into the bushes, this made up for that!
The African Buffalo are considered the most dangerous of the Big 5, you will have to join a Durban day safari to find out why!
Durban day safari; Buffalo mud wallowing
After watching these Buffaloes we moved on and found even more animals including Warthogs and some Bull Elephants near to the road. It is always interesting to watch these amazing creatures feeding as it takes them a full year to learn how to use their trunks.
Our Durban day safari was really turning out to be a success and although we did not find cats we were all very happy.
Durban day safari; Elephant bull
It was now time to begin the long drive back up to have lunch at the Centenary center which they are re-thatching. Its looking lovely, but before we could get there we had a few more surprises.
We managed to avoid hitting a Camelion as it tried to cross the road and we managed to get a photo before it wobbled its way into the bushes.
Durban day safari; Camelion
Durban day safari; Camelion
Our Durban day safari continued and we still spotted lots on Impala and Nyala before finding another Leopard tortoise which was quite big and crossing the road. We waited with it so it got across safely. Sometimes the staff race around and the last thing you want to see is a squashed tortoise on the road.
Durban day safari; Leopard Tortoise
We finally made it to lunch and took a break from our Durban day safari. It had been a really good day and it was not 2pm so the times had flown past up with all the excitement of seeing so many animals.
After some food and a look in the curio shop we continued for another hour to see what we could find. We still had more luck.
As we go back to the main road we found some lovely male Kudu.
Durban day safari; Kudu Bull
We went about our business looking for more animals and went up to a lovely view point over the area. It was at the top of this view point that we spotted a mother White Rhino and her calf. The mother had  a huge horn it was one of the biggest I had seen. She was beautiful and after a look at the view we began the journey to the gate.
Durban day safari; Rhino mother and calf
As we got near to the gate to end our Durban day safari we spotted a herd of Elephant walking to the main road so as we got around and exited we found them very close to the main highway. It was very interesting and it had been a great day in the African bush!
We sadly had to begin the 2.5 hour drive back to Umhlanga with one stop along the way for fuel and coffee. We arrived back safely and said our goodbyes all with smiles on our faces. What a great Durban day safari!