29th November 2014
Big 5 Durban, Big 5 in Durban, Big 5 Safari Tour from Durban, Big 5 Safari Tours Durban, Big 5 Safaris from Durban, Big 5 Tours Durban, Durban Day Safari, Durban Day Safari Tours, Durban Day Tour, Durban Safari Tour, Durban Safaris, Durban Tour, Hluhluwe Imfolozi game reserve, Leopard in Hluhluwe Imfolozi game reserve, Safaris from Durban, Tours from Durban
Durban Day Safari Tour – Big 5 plus Cheetah in One Day! – 22nd November 2014
I met my clients in Durban and thought this would be a fairly normal Durban Day Safari Tour but I was totally wrong.
You can never predict nature and today was a day I was really happy about that!
After covering the History of Durban and KwaZulu Natal we reached our destination of Hluhluwe Imfolozi game reserve.
Our Durban Safari Tour began and strangely rather slowly.
We saw the usual suspects, Warthogs, Rhino, Zebra and Wildebeest before getting to the Umfolozi river crossing. It was here that the day turned into an amazing day. It was a day of firsts.
My clients were told by some one in Johannesburg that Durban doesn't have the Big 5. Well that is wrong but even my client would not believe what happened.
Zebra on our Durban Day Big 5 Safari Tour
We started with some Bull Elephants next to the road which was great for a Durban day Safari tour.
Elephant bull seen on our Big 5 Durban Safari Tour
As we drove onto the bridge of the Umfolozi river we spotted 3 of the Big 5 and I got a picture of all three in one photograph.
This was incredible!
The Buffalo's were in the river with an Elephant and on the hills was a Rhino.
3 of the Big 5 in one picture on our Durban Day Safari Tour
We continued up and as I looked back down the river on the distant sand bank was a pride of Lions resting. Wow what as Durban Safari Tour!
Lions on our Durban Safari Tour far up stream
Next we spotted a giraffe; at this point after the slow start I was really happy and excited about seeing Giraffe for my clients.
Giraffe seen on our Big 5 Safari Tour from Durban
We headed pasted one of the camps and onto the dirt roads, it was here that I spotted some Rhinos in the mud wallow which was really close to us. Very exciting Safari!
Mom and Baby Rhino in the mud during our Safari Tour from Durban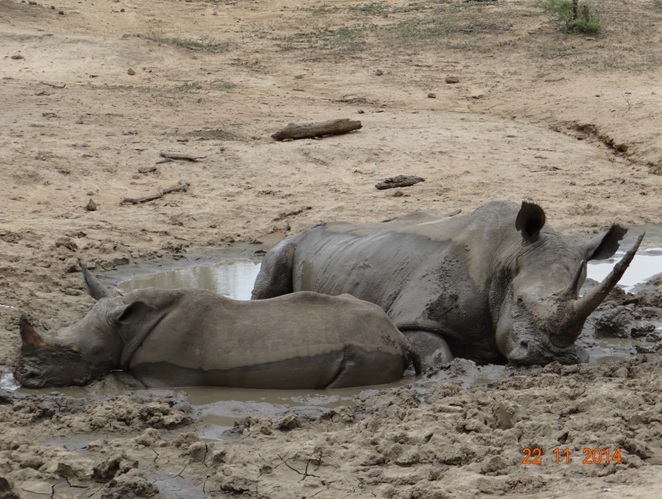 I had heard that there had been a Cheetah spotted with her 3 young cubs but I didn't want to rush their as I knew they could very easily have moved.
On our way down there out of the corner of my eye I spotted the first Leopard I had seen in 6 months. I was so excited I think I may have cursed which I apologised for!
She was a beautiful female and she slinked off into the bushes after a couple of snap shots were taken.
The first picture of the first Leopard we found on our Durban Safari Tour
At this point adrenaline was pumping and I felt like anything was possible we had already seen all 5 of the Big 5 the 5 most dangerous animals to hunt on foot! What an incredible Durban Day Safari Tour.
We made our way down to the cheetah and there were 5 cars there so we got in and out fast its never fun sharing a sighting with other vehicles…
This cheetah was so beautiful and so where her cubs.
Cheetah and 3 young cubs seen on our Durban Big 5 Safari Tour
We moved off pretty quickly and went back the same way we had come and just thought maybe we would find out Leopard again. I really though there was no chance!
I was pleasantly surprised as I found her 5 meters from the road resting in the shade.
I could not believe our luck this time we were calmer and got a great photo.
Leopard in Hluhluwe today, seen on our Durban Day Safari Tour
I realised she wanted to not be seen by anyone and she moved away from us so I turned off the engine to not stress her out and she walked across the road in front of us. This was just crazy exciting for me and I am sure for my clients.
Our Leopard crossing the road during our Durban Day Safari Tour
At this point we were so happy we began to head back to our luncheon stop at the Centenary center. Our Durban Day Safari Tour could not have been any better!
 My luck guests with the Zebra in the Back ground on our Big 5 Durban Safari Tour
We spotted some Baboons on our way to lunch and got another great photo of what had been a brilliant Durban Safari for us all.
Baboons seen on our Durban Safari Tour
After lunch my guest had a look around the curio shop and for the first time in my life my guests said to me. Tim we feel we are satisfied and we can head back to Durban!
To be very honest they were right and more driving could not have rendered any more results except nothing as it was already so hot at 36 degrees.
We were out of the game reserve at 14:30 and back in Durban at 17:30 about 1.5 hours earlier than normal. It had been a real special day and even I do not have words to describe this amazing and wonderful Durban Day Safari. This type of experience sometimes only happens once in a life time!
If you wish to be as lucky or half as lucky join me Tim Brown Tours for a Durban Day Safari or Durban Tour and I will try to make you day safari tour just as special.