Durban day safari tour to Hluhluwe Imfolozi game reserve 3/12/2014
Again I was very fortunate to have repeat clients from 2 years ago which came out on mission work to South Africa to help our disadvantaged communities. It is a real blessing to have people with such good hearts who are willing to pay for the flights to come to South Africa and raise funds to assist the needy in a distant land.
I would like to thank the "Servants of Jesus" for there work here in South Africa and of course for joining me on a Durban day safari tour.
The safari tour from Durban began at 06:30 am and I collected my clients a jovial group of 16 from there Durban hotel.
We had to rent a 22 seated vehicle for this Durban day safari tour which was a lovely new vehicle and we all enjoyed the comforts of it. Our driver Kreason drove very well and I chatted over the microphone to the group about the amazing history we have in Durban, KwaZulu Natal and South Africa.
On route to the oldest game reserve in Africa, Hluhluwe Imfolozi game reserve you always think of what could lay ahead in the National park and what we will and will not see. At times it is concerning but also exciting and a great challenge for myself to ensure I can give the best experience even if the animal sightings a limited.
Lucky for us all our sighting were great and we saw plenty of great animals and we all enjoyed that.
At the gate we entered in at we spotted some Rhinos, Buffalo and Warthogs in a short space of time, this was a brilliant start to our safari tour from Durban.
Rhino and Buffalo seen on our Durban day safari tour
It was not long and we spotted some Zebra, Wildebeest and more Warthogs. We did spot a Giraffe but she was a bit to far away from the road for a decent photograph but it was still great to see here in her natural environment. We also spotted these White Back Vultures on a nest.
White backed Vulture on a nest in Hluhluwe Imfolozi game reserve
Next on the cards was the Umfolozi river and we hit a great surprise here as we found 1 Lion on the sand and another 3 joined him. This was not all as there was a Bull Elephant which was drinking keeping a keen eye on the Lions.
The best part was still to come as another Bull Elephant chased the Buffalo onto the sand and we then had 3 of the Big 5 in one photograph!
Buffalo gets chased out on the river sand where Lions and an 5 Legged Elephant wait during our Safari from Durban
3 of the Big 5 in one photo at the Umfolozi river on our Durban day safari tour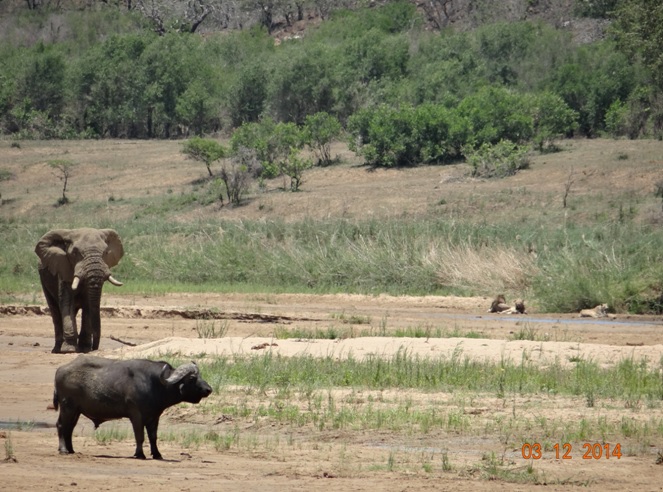 This was a fantastic sight and even more so as we were they only vehicle which stuck around long enough to see it. I am always happy for my guests when amazing things like this happen and they can enjoy something so special. Having said this it is very special for me to see this as well.
We decided to head up to Hilltop camp for lunch which would take us about an hour or more, when we arrived we enjoyed the view of Baboons playing outside the outside lunch area while we waited for our food.
The meal was great.
After this we headed out to see what else we could find and we spotted some Warthogs near the road.
Warthog mother with her piglet on our Durban day safari tour
As we continued on we got onto some dirt roads and found a couple of Bull Elephants near the Hluhluwe river. We enjoyed this sighting as well before moving on to see how much more luck we would have.
Bull Elephant seen in Hluhluwe on our Durban day safari tour
After enjoying this and another male Elephant in the same area we found a crash or Rhino with some Zebra and Water buck near to the road. It was  great watching them close to one another.
Water buck in Hluhluwe seen on our Safari tour from Durban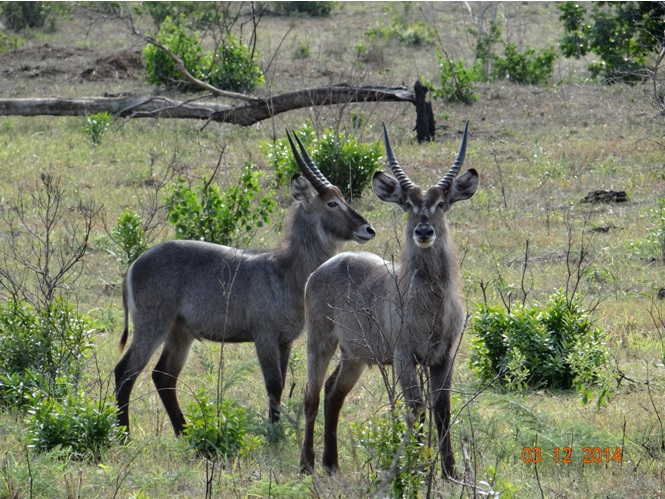 The Zebra were just grazing away which made for a lovely photo.
Zebra seen on our Durban day safari tour to Hluhluwe Imfolozi game reserve
We had such a special Durban day safari tour and now it was time for us to head out of the Hluhluwe Imfolozi game reserve back to Durban.
At 16:00 we began our trip back to Durban which took us 3,5 hours as we had a larger vehicle but everybody had enjoyed the day and had new things to take home with them after this experience.