Durban Day Safaris – Hluhluwe Imfolozi game reserve
Our Durban Day Safari began in the Durban area, I had 3 different pick up point and then by 06:40 we were on our way to Hluhluwe Imfolozi game reserve home to the Big 5.
We went through some patches of Rhino and the clients where a little concerned but this didn't affect our game viewing experience! We had great sightings through out the day and just when we thought we wouldn't see an Elephant before lunch they showed up too!
I covered the History of Durban and KwaZulu-Natal as usual and before you knew it we were at the national park of Hluhluwe Imfolozi by 09:15 am. 
Our Durban Safari began and we immediately spotted Wildebeest, as we continued we came across Impala, Nyala and a Big crocodile at the Umfolozi river bridge crossing!
Crocodile seen in the Umfolozi river on our Durban day Safari Tour
Before we even got to the Umfolozi river we spotted some Rhino's 5 in totals grazing some grass 50 meters off the road. This mother Rhino had a huge Horn large enough to spear 2 poachers in one thrust of her weapon!
Rhino mother and calf seen During our Durban Day Safari
As we continued we did spot more Buffalo, Rhino, Zebra and Warthogs but the photos were not really worth putting up as I got better ones later in the day.We did however spot a Giraffe which was a beautiful Male with some hip issues but he still looked very  elegant.
Giraffe seen during our Day Safari from Durban
Our next major sighting was actually a Cheetah which was amazing to see. At first two vehicles hogged the sighting and we could barely see his head as he lay on a hill. All of a sudden he got up and started walking down closer to the road we were now in the drivers seat and had the best views of him. To see a Cat any cat on a Durban Day Safari or Durban day Tour is very lucky and I was very happy with this sighting.
Cheetah seen during our Day Safari near Durban
This was turning out to be a great day safari from Durban. While we waiting to see if this cheetah would come out from behind some bushes we had 2 Rhinos walk straight along the road towards where we had all stopped… Fantastic!
Rhinos walking down the road on our Durban Day Safari Tour
It always better when the animals come to you! You cannot force nature they are free to wonder where every they like!
As we realised the Cheetah had lay down for the middle of the day we continued and spotted lots more animals before finding some Baboons on the road with some Vervet monkeys.
Baboon sitting on the road during our Durban Day Safari tour to Hluhluwe Imfolozi game reserve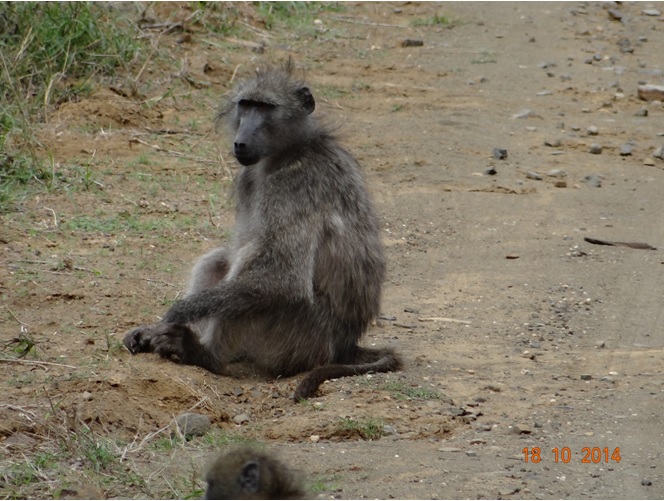 This was great to see as these Apes are so much like humans that we end up being so fascinated by them. At this point our Durban Day Safari was turning out really well! Next was the Vervet monkeys and then we would head up to get some lunch.
Vervet Monkey sitting on a rock during our Safari from Durban
We attempted to get back by 13:30 for some lunch but it wasn't easy as we kept spotting animals, before we made it to lunch we got a much better photo of Zebra on our Durban Day Safari.
Dazzle of Zebra seen on our Durban Day Safari
Just before we turned into the parking lot at the Luncheon stop I spotted 2 bull Elephants far from the road. It was a start!
Finally some lunch, I could tell everyone was hungry by the speed the lunch went down on a long day like this not even the snack packs I provide can fill that void of real food. I must say I was starving! Game viewing is hungry business!
After our lunch and a look around either the Museum or Craft shop we headed on to find more Elephants.
It didn't take us more than 5 minutes and we spotted 3 of the Big 5 together on a hill including 1 Elephant.
Can you spot 3 of the Big 5 in this picture
Being so far away we didn't spend to much time here and moved on to find 2 bull Elephant less than 1 kilometer away. This was really great as they we 20 odd meters off the road and we got great pictures.
Wow what a Safari from Durban.
Bull Elephant seen on our Durban Day Tour
We spend some good time with these 2 Elephants before continuing on to see what else we could find. Eventually we got Buffalo much closer to the road and could enjoy then for a while before spotting more Rhino and Giraffe.
Buffalo seen on our Durban Day Safari tour
This was now really the end of our day and we turned back to get to the gate and head back to Durban. We got back to the city of Durban more than 12 hours after we had left but the long day was worth it for us all. To see a Cheetah for me anyway made the day worth every second put in. Another great Durban Day Safari Tour.