Durban Day Safaris – Our Safari Tour to Big 5 Hluhluwe Imfolozi Game reserve 12 August 2014
We began our Durban Day Safari in Durban City where I collected my first 2 clients at 05:30 who were in Durban for a conference on Child Psychology. Our next stop was a 06:15 pick up at Zimbali where we met the other 4 clients. Our destination on this Durban Day Tour would be Hluhluwe Imfolozi game reserve. Hluhluwe Imfolozi is the oldest game reserve in Africa and home to the Big 5 – Lion, Leopard, Rhino, Elephant and Buffalo. It was previously known as Hluhluwe Umfolozi game reserve but recent changes have meant the name change to Hluhluwe Imfolozi game reserve, I still use the old name mostly.
My group were a great bunch, some had been to Safari parks before in the Serengiti but this did not effect there experience with Tim Brown Tours.
I consider it a great privilege to show off my country and what I am fortunate enough to have learned with overseas clients who just really wish to have a holistic experience and a great Durban Day Safari Tour in the South African Bush. Durban Safaris and Durban Tours are the best way to see what this beautiful country of South Africa has to offer you!
We started well with a Zebra near the entrance to the Umfolozi reserve and once we had paid our way through the gate we continued down South in the Umfolozi section of the game reserve in the hope of finding cats.
Durban Big 5 Safaris. Sighting of Zebra on our Day at Hluhluwe Imfolozi game reserve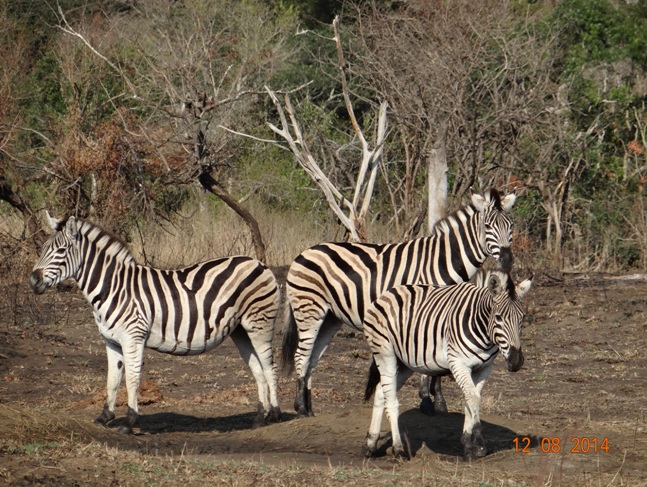 As we continued further south and passed Impila camp we spotted a giraffe with a young baby on her own and looking a bit lost it also looked like she was interested in picking up a bone but we lost visual of her and continued with our Durban Day Safari.
Giraffe on our Big 5 Durban Safaris Day Tour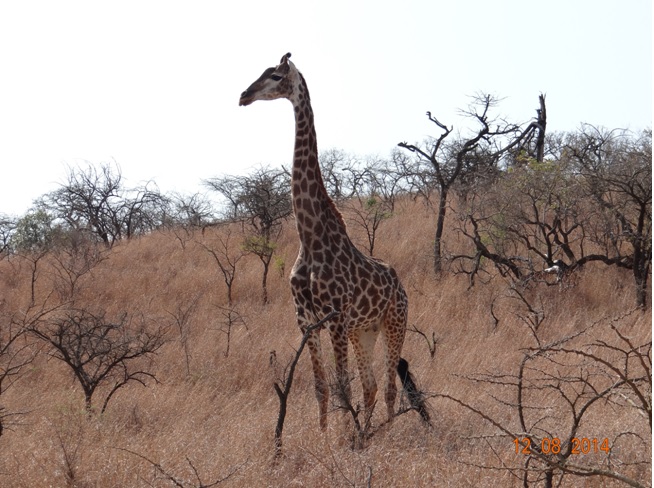 After we moved on with our Durban day safari we were lucky enough to spot 5 Rhinos which was the first of the Big 5 animals we had seen on this Tour. These Rhinos we resting under the trees and enjoying a sleep until this big territorial male came along and chased 2 of they young males away from his territory.
White Rhino in Hluhluwe Imfolozi game reserve chases other Rhinos away during our Big 5 Durban Safari
We left this male to rest and as our Safari continued I was getting more anxious as two days before we had seen so much including Lions and at this point we had only seen 1 of the Big 5. Well we were not to be disappointing to much longer as we came across a large herd of Elephant with small babies. One baby was suckling.
Baby Elephant tried to suckle on our Durban day Safari experience
This turned out to be the turning point on our Durban day Safari as we then spotted African Wild dogs, they then crossed the road in front of us and dissipated. They are only the most endangered carnivore in Africa! Unbelievable, in the middle of the Day!
African Wild Dogs cross the road in front of our Safari vehicle on our Durban Safari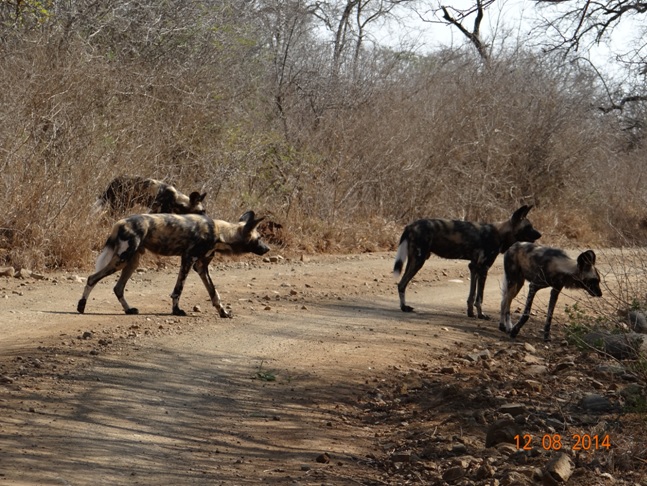 After going through a lean patch we had seen the Wild dogs and after this was another massive herd of Elephant! Our Durban day Safari was becoming crazy! We made our way down to Bhejane hide to see if any animals were coming to drink at the mud wallow, we were in luck as we saw Impala, Nyala and Warthog in 15 minutes.
Bhejane hide is where we spotted this Nyala and Impala together on our Durban Day Safari
At this point we had done 5 hours of Safari time after a 3 hour drive from Durban and it was time for some lunch. We drove up to the Centenary center for some lunch but before we could get there we spotted a baby crocodile in the Umfolozi river.
Durban Safaris and Tours we spotted this baby crocodile in the Umfolozi river
After a very short lunch we continued on and found Elephant Bulls at the Gate. After watching them for a bit we decided to continue and we spotted Buffalo near heading to join the Elephant for a drink. So we turned back and watched the Buffalo and Elephant for a bit longer. It was now 16:15 and we had done 7 hours of Safari time on this Durban Day Safari which was 2 hours longer than usual for us. What a great day in the African bush on Safari!
Buffalo bull on our Durban day Safari to Hluhluwe Imfolozi game reserve
It is the clients that make my Durban Day Safaris what they are and I am truly grateful for the business that they afford me! Thank you to the group who made the Durban Day Tour a special one.
What a great Durban Day Safari! We had seem so much and such great quality sighting that all of us were happy. By the end of the Safari we had seen 3 of the Big 5 and the African Wild Dogs!
On the drive back we now could enjoy the memories of a great Durban Day Tour to Hluhluwe Imfolozi game reserve and reminisce about the day.
Overall a very successful and enjoyable Durban Day Safari.