16th September 2014
Big 5 Hluhluwe Imfolozi game reserve, Big 5 Safaris, Durban Big 5 Safaris, Durban Day Safari, Durban Day Safari Tour, Durban Day Safari Tours, Durban Day Safaris, Durban Day Tours, Durban Safari Tour, Durban Safari Tours, Durban Safaris, Durban Tours, Hluhluwe Imfolozi Safaris, Safari from Durban, Safari near Durban, Safaris from Durban, Safaris Near Durban
Durban Day Safaris to Hluhluwe Imfolozi game reserve 14th September 2014
I collected my client from 4 different addresses as they were all single travelers. I was very grateful we could make a plan for all of them to get the African Safari experience from Durban. Durban is fortunate to have the continents Oldest game reserve, Hluhluwe Imfolozi which is only 2.5 – 3 hours outside of Durban City. This amazing game reserve is also home to the Big 5 and if our main destination on our Safaris from Durban. In my opinion for Safaris near Durban, Hluhluwe Imfolozi game reserve is the best!
Once we got going everybody settled in well and got to know each other between my conversation on the History of Durban and KwaZulu-Natal. There is a vast amount in Durban and South Africa's History which has taken place and in such a short space of time. One of the most interesting part to South Africa and Durban History is the arrival of the Zulu in the early 1800's.  Most people believe that the Zulus or the Black Africans are the real South Africans, this is false. If you take a Safari or Tour with Tim Brown Tours you will learn more of the many interesting secrets that this beautiful country, province and City has to offer.
By the time we got to the game reserve it was 09:30 and we entered and within minutes we had spotted Zebra in the distance! We waited during our Safari for the moment when the Zebra stopped under this Marula tree which made a great photo!
Zebra poses under a tree on our Durban Day Safari Tour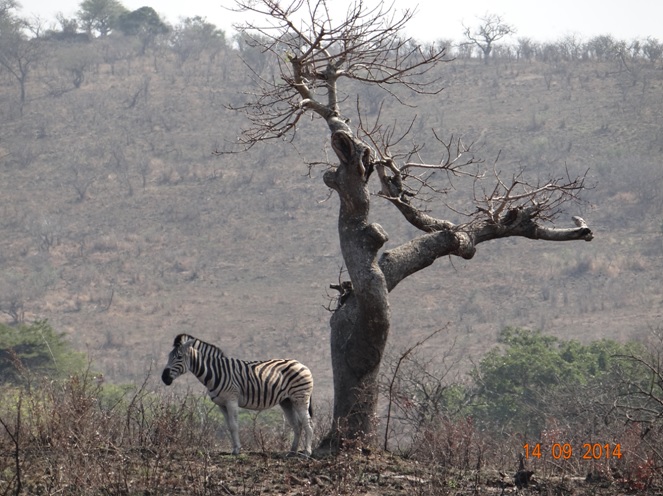 As we slowly continued on it was not to long before we found more animals, the one was a Vulture which was on its nest with its chick. This was beautiful to see and I got a great picture of it to share with the group that was with me on our Durban Safari Tour.
Vulture on a nest with her chick on our Durban Day Safari Tour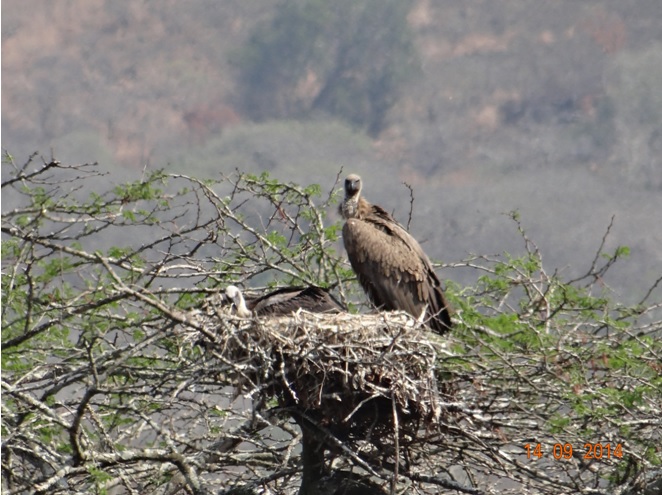 Our Safari near Durban continued and we spotted Nyala and Kudu which are antelope in the same family. The curly horned family or Tragelifus… I got a decent picture of one of the Kudu cows(female) on our Durban Safari Tour.
Kudu Cow walks past us on our Durban Day Safari Tour
After spending some time with the Kudus we continued our Safari near Durban in Hluhluwe Imfolozi game reserve and came across a beautiful bird the Cape Glossy Starling. Within Hluhluwe Imfolozi game reserve there is a vast amount of flora and fauna. There are about 380 different bird species!
Cape Glossy Starling poses on our Durban Day Safari Tour
We enjoyed this bird for a minute before heading further down south in the game reserve. Today actually was a hot day and sat around 37 degrees Celsius or 98 Fahrenheit. We got down to the black Umfolozi river on our Safari from Durban and were luck to find a Bull Elephant drinking and spraying water on himself to cool down.
Bull Elephant drinking water in the Umfolozi river during our Durban Day Safari Tour
This was a very exciting sight and we spend some time here enjoying this special moment. So for those that are reading this blog post, their are Safaris near Durban which offer the Big 5 animals and are good quality.
After enjoying our time with this Elephant we continued and found some Rhino in a dry river bed. Before this we did spot a giraffe but he was not interested in posing for a photo.
Rhinos seen spotted in a dry river bed during our Durban Day Safari Tour
It was exciting to watch these Rhinos as they were originally sleeping and then got up as slowly walked a bit closer in the river bed. After spending time with them we had to continue to make the most of our time on our Durban Safari Tour.
We had a quiet patch with just Impala, warthogs and some birds until we got past a view point in the river where we were able to stretch our legs and enjoy the view. We then continued to a hide(an area, hut overlooking a watering hole) here we used the wash rooms and waited patiently for animals to come to drink. We were lucky that some Warthogs came and rolled around in the mud. Our Durban Safari was definitely looking good so far.
Warthog mud wallowing on our Durban Day Safari Tour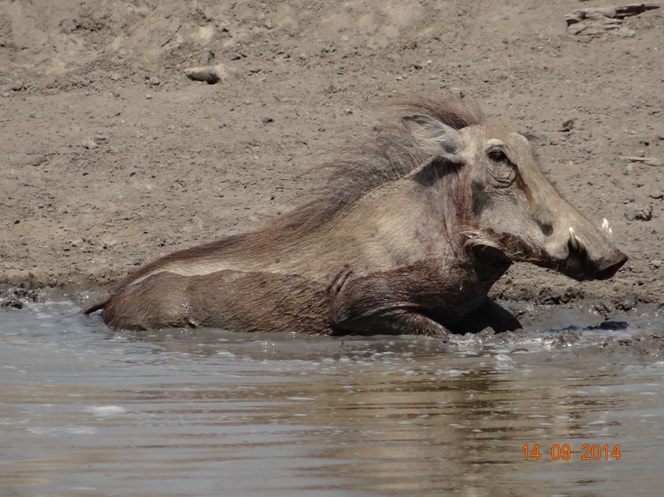 We again had a long gap with very few animals during the hottest part of the day but then we came across some giraffe close to the road with one male posing in the shade further back under a tree. Wow this was a relief and kept our momentum up on our Durban Safari.
Giraffe poses in the shade under an acacia tree on our Durban Day Safari Tour
This had been great to see these other Giraffe feeding so close to us. We left them to enjoy there day and we headed back up for what would be a late lunch. As we crossed back over the Umfolozi river there was no Elephant, he had moved off. I did bump into a friend of mine who mentioned that when the came in there was a herd of Elephants at the gate. So I posed the question to the clients, How late would you like lunch – Can you survive. Of course they all agreed if we could see more Elephants lunch could be done later.
So we drove off and spotted more Giraffe on our Durban Day Safari before we got to the Elephants.
Spot the Giraffe under the tree on our Durban Day Safari Tour
This was a hard spot but we got him sleeping under a tree. Giraffe can lye down but will always do it with there necks up right. We hurried on to the Elephant and we were in luck they were still there in the Forrest, drinking water.
Elephant herd drink in the shade of the forest during our Durban Day Safari Tour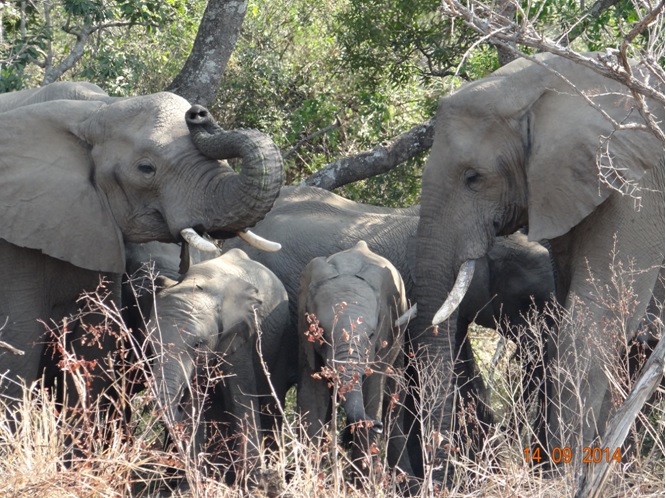 These Elephants were beautiful just how they posed was amazing for us all. The female on the right which was clearly the Matriarch was huge with big tusks for a female. Watching the drinking was great and worth having a very late lunch for.
Elephant smells us from a distance during our Durban Day Safari Tour
We were so lucky on this Durban Day Safari that we even got this Elephant sniffing us from a distance. She was beautiful and this sighting probably made the day for my clients and myself. We had seen 3 of the Big 5 now and only missing the Cats which was normal for a quick day safari from Durban.
It was time for some lunch and we drove 2 km back to get the the lunch stop, we arrived at just after 3pm so this was a late lunch. After enjoying some food and the clients purchasing some Curios/Gifts from the craft shop we began to head back to the gate to head back to Durban.
Before we could totally exit the reserve we found some more Zebra right next the the road this was the cherry on the top for our Safari near Durban in Hluhluwe Imfolozi game reserve.
Zebra next to the road as we exited Hluhluwe Imfolozi game reserve on our Durban Day Safari Tour
As we exited the Hluhluwe Imfolozi game reserve we all had smiles on our faces and had had a great Durban Day Safari Tour. We stopped along the way to get coffee and arrived in Durban after 7pm. What a great Safari near Durban enjoyed by us all.