Durban day trip to Hluhluwe Imfolozi game reserve
We began our Durban day trip from the Hilton in the city where I collected my 2 clients and we headed off up to Hluhluwe Imfolozi game reserve the oldest proclaimed reserve in Africa established in 1895. On route I chatted to my client about the History of Durban, KwaZulu Natal and South Africa, as well as all the other amazing history from the arrival of each population group to the political situation.
After chatting a fair bit we took a break to stretch the legs, fill gas and our own tanks with Coffee. We then had just 1 hour to Hluhluwe Imfolozi game reserve.
We drove through some amazing rural communities which have finally found work at the open cast coal mine and now are improving their way of life and building new homes for themselves.
It wasn't much longer and we arrived at Hluhluwe Imfolozi game reserve and got our entrance passes at the date before seeing what animals we could find.
As I headed into the Umfolozi section we came across Zebra as our first major sighting excepting an Elephant bull we spotted in the distance on a hill.
Durban day trip to Hluhluwe; Zebra
Next on the list was some beautiful female Impala close to the road and with Red Billed Ox-peckers on their backs removing all the tick off their body, It is a lovely symbiotic relationship where both benefit the Bird gets and meal and the animal it health!
Durban day trip to Hluhluwe; Impala with Red billed ox-pecker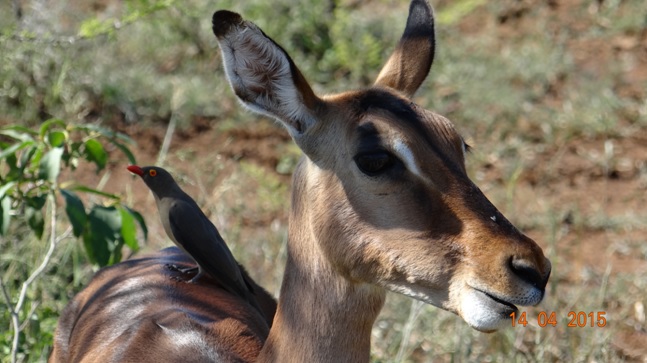 After this we moved down to the Umfolozi river and it was here that we found a young Nile Crocodile the only specie we find in South Africa. He was resting on the banks of the river just soaking up the sunshine warming the blood. So far it had been a good Durban day trip to Hluhluwe Imfolozi game reserve.
Durban day trip to Hluhluwe; Nile Crocodile
We stopped for a quick toilet stop and then headed further down south onto a big dirt road loop where we found a Journey of Giraffe near to the road itself. We enjoyed these Giraffe for a few minutes and I noticed the Male testing the female to see if she was in season or not. This involves tasting the urine and inhaling it over the Jacobsons Organ on the upper pallet of the mouth to see if she is ready. She showed him no interest anyways so we moved on.
Durban day trip to Hluhluwe; Giraffe
It was now time for some Rhino and we must have found 7 or 8 together in the same area resting in the shade just relaxing. A bit later on we found another big male Rhino in the mud standing and looking at us like we were stupid. Wow, what a great Durban day trip.
Durban day trip to Hluhluwe; Rhino
After enjoying the Rhino we moved on and found over a period of time Zebra, Giraffe, Wildebeest and Warthog as well as lots of Impala.
It had been a average day to this point but we needed to see Buffalo and an Elephant closer.
Durban day trip to Hluhluwe; Wildebeest and Warthog
What was interesting about the Warthog in the mud was the Terrapins which are fresh water turtles was the fact that they eat meat and this meant the we saw the Terrapins removing ticks of the Warthogs under belly.
Very interesting for a Durban day trip to see such an interesting sighting.
Finally after hours of searching we spotted and Elephant bull about 35 meters from the road and sort of worth a photograph.
Durban day trip to Hluhluwe; Elephant
This Elephant bull was in Musth and smelled real bad, He was clearly after the ladies. After we spent some time with him we moved on and began our journey back up to get some lunch. We still had to get these Buffalo and we were in luck as when we traveled a few more kilometers we spotted them in a mud wallow a nice big herd of them with babies. What a great was to end off before a late lunch.
Durban day trip to Hluhluwe; Herd of Buffalo
I also decided to share this moment with you by making a short video clip.
Video of Buffalo in the mud at Hluhluwe Imfolozi game reserve.
After this great sighting it was time for lunch and my clients were tired, We settled in for some lunch and it was a hot day at 35 degrees so after lunch my clients said we should head back to Durban. So I did what I was told and off we went back to the big city of Durban.
It had been a great day and we had seen a lot of animals and 3 of the Big 5. I think we all enjoyed the Durban day trip to Hluhluwe Imfolozi game reserve.