Durban Private Day Safari to Hluhluwe Imfolozi Game reserve 10th August 2014
We began our Durban day safari from the big city of Durban were I was running a private day Safari Tour for a client from Chile.
After introductions and mentioning the itinerary for our Durban day Safari we headed out of the city along the coast of the Indian Ocean. On route I chatted about the History of Durban and the Province of KwaZulu Natal as well as the different crops we were seeing as we got further away from the the city of Durban.
After a rest stop along the way we still arrived nice and early at 09:20 at the Hluhluwe Imfolozi game reserve, we depart Durban at 06:30 to maximise our Safari time in the nature reserve. Durban Day Safaris are a must if you are in Durban and are more successful if run over a few days.
We entered and had immediate luck as we spotted some Giraffe.
Durban Day Safari watching Giraffe and a White backed Vulture on a nest
We didn't have to continue much further before we spotted more amazing animals! This time is was a Dazzle of Zebra which were attempting to cross the road.
Zebras in Hluhluwe Imfolozi game reserve on our Durban Day safari
We had a really lucky photo opportunity as a Bataleur Eagle flew over the roof of the vehicle and I snapped away getting a decent picture in the mean time! Bataleur Eagles have the most flight feathers of any eagle in Africa and tend to be the bird which finds the carcasses before the Vultures. This then alerts the Vultures to the presence of a Caracas and they move in to feed.
Durban Day Safaris at Hluhluwe Imfolozi watching a Bataleur Eagle in flight
We continued on further into the Umfolozi section of the game reserve on our Safari from Durban and spotted Elephants on a ridge as well as Rhinos. The distance made it pointless to for a photograph so we enjoyed them through the Binoculars and continued on. It was much further before we spotted another on of the Big 5 on our Durban Safari. This time it was the Rhino!
All of a sudden we had seen 2 of the Big 5 on our Safari trip from Durban.
Rhino rests with her calf behind her on our Durban Day Safari
Our Durban Big 5 Safari continued and it was not much longer before we found more amazing animals, the African Buffalo! The sighting of the African Buffalo pushed our tally of Big 5 sightings ups to three!
Safaris from Durban puts you eye to eye with the Big 5. This Buffalo Bulls gives us the stare.
After the Buffalo we were excited as I knew from a friend of mine that Lions we just around the corner and if we were lucky they would still be there! I kept my fingers crossed and we continued our Durban Private Safari. It was a matter of minutes and we spotted them resting in the shade on a sand bank. After spending 10 minutes waiting for some action we decided to move on and look at the Buffalo again to get a better picture before we would return to check the Lions and see if they had moved. They had moved and now we had a great view of this mating pair! 
Mating Lions of our Durban Safari Tour
The male lion in the above picture is actually scent marking. This was not number 4 of the Big 5, but who is counting? We continued on our day Safari from Durban and within minutes again we spotted a Wildebeest or Gnu and some Warthogs.
Wildebeest or Gnu crosses the road on our Durban Day Safari
On our Durban Day Safari we spotted these Warthogs in Umfolozi
This had been an amazing Durban day Safari and this were only getting better! My client requested to see Elephants closer and in my head I felt our luck could not continue as it had been. I pulled out my protein bar and took a bit, as I looked up I could not believe it! There was a huge herd of Elephants on a ridge moving with great intent closer to the road! I was so excited. We drove further along to where they would cross the road and we waiting 2 minutes and they crossed in front of us. The amazing thing was that they had some new born babies with them literally a few weeks old!
See this video on Youtube I posted from the Elephants crossing, Click this link!- Elephant cross the road on our Safari from Durban.
Elephant cow with her new born baby on our Durban Day Safari
This had turned out to be a crazy Durban Day Safari in Hluhluwe Imfolozi game reserve.
We had now to drive an hour to get to the Luncheon stop at the Centenary center but with smiles on our faces and all jet-lag gone with the adrenaline we made it to lunch wide awake.
After eating some food and looking around the Museum at Centenary center as well as the craft market we continued and found more Giraffe and Elephants.
6 Bull Elephants congregate at a water point during our Durban Day Safari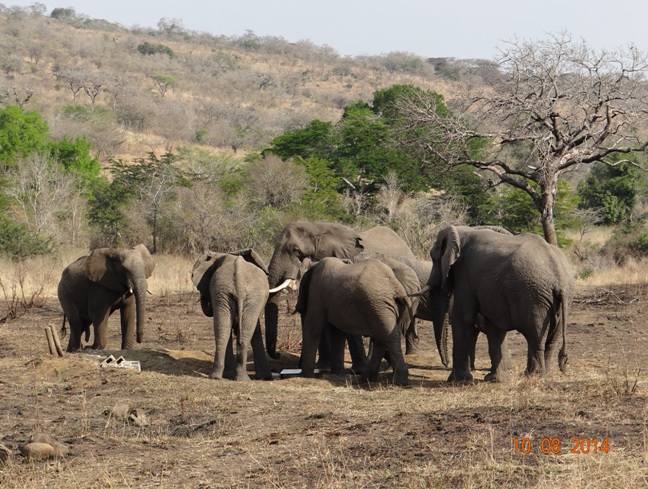 The Elephants we saw this time we all males and actually all arrived from three different directions to drink at a drain near the gate where we entered the reserve…
After enjoying them for a bit we moved on into the Hluhluwe Section of the game reserve which has been badly burned from a Veld fire(Bush fire). This is no problem as the rains will come next month and the grass will grow again but a fresh burned section mean no animals will be there unless to keep away from predators or feed off leaves which did not get burned.
After 30 minutes of so we turned back and exited the Hluhluwe Imfolozi game reserve for Durban city. We were both very happy and it has been an amazing Durban Day Safari.