Durban safari tours
Our Big 5 Durban safari tour began in Durban and we headed to the Hluhluwe Imfolozi game reserve stopping at a Cheetah sanctuary to interact with some Endangered big cats.
Once we finished up we entered into Hluhluwe game reserve and made our way slowly to Hilltop camp, on route spotting some Zebra fighting.
Durban safari tours; Zebra
It was not long into our Durban safari tour that we spotted some Giraffe and behind the Giraffe was a Rhino. It was a great start to our tour and we continued on to Hilltop camp for a late lunch.
Durban safari tours; Giraffe
After lunch we got settled in our rooms and then went back out in the hope of finding Lions in the evening on our Durban safari tour. It was not to be but we did find some Elephants shortly after lunch.
This was great as it was close to top of the list to see and with being patient we got then to cross the road in front of us.
Durban safari tours; Elephants
As we winding our way on some dirt road to the Hluhluwe river we managed to spot some Rhino next to the road sleeping. They looked so cute! Our Safari from Durban was really hotting up.
Durban safari tours; Rhino
We were lucky enough to find more Rhino on the road and Buffalo at dusk before we needed to get to Hilltop camp for some Dinner and of course a rest.
Dinner was lovely and so was a good nights rest, we would be up early and departed at 5am the next day to continue our Durban safari tour.
Day 2: Durban safari tours
With a 5 am start we were already tired but it was a day full of expectation and after one and a half hours of no cats I was feeling the heat!
We had still great sightings at first of Elephant on the road, Rhino, Buffalo and much more.
Our first major sighting was actually a Black Rhino which is hugely endangered and this was awesome to see!
Durban safari tours; Black Rhino
Further into our Durban safari tour in Hluhluwe game reserve we spotted a lovely herd of Buffalo on the road.
The one male gave us the stare of the tax man!
Durban safari tours; Buffalo
We made our way into the Umfolozi section of the Hluhluwe Imfolozi game reserve and after a toilet stop we continued our Durban safari tour. We checked the best areas for Lions without much luck but still kept seeing other great animals like these Rhinos on the edge of the cliff.
Durban safari tours; Rhino
I was not beginning to feel the heat and even though I know nature is uncontrollable I like to think that if I work hard I will be able to find cats for my clients.
Thankfully less than a kilometer away we found our Lions resting 100 meters from the road but after a couple minutes they got up and moved into the thickets. I was just so grateful we had seen them!
Durban safari tours; Lions
We headed back up to Hilltop camp feeling pretty happy with what we had seen in the 3.5 hours of Safari in Hluhluwe and Imfolozi game reserves.
Coffee and food was calling so when we got back to camp it was great to have the food and Coffee all prepared and a ready for us!
After brunch we took a rest until after lunch when we went back out again to see what we could find.
Sadly two of the family we unable to make the afternoon game drive so the 3 of us headed out and spotted some Zebra on the road.
Durban safari tours; Zebra
As we continued our Durban safari tour we could not believe our luck as we spotted another Black Rhino in the distance on a hill this was some sort of record! Two different sightings of Black Rhino in one day!
Durban safari tours; Black Rhino in afternoon
We continued with our safari in Hluhluwe game reserve and headed to the Hluhluwe river, it was here we located a mother Buffalo with a new born baby in the mud. The baby did stand up and sat back down so we hoped she would get up with the new mother and move away at some point.
Durban safari tours; Buffalo in the mud
We needed to get back to camp as my client were taking the open vehicle game drive and we also needed to check on the other two. Sadly they were still not feeling to great so they skipped the drive but the lads headed out.
I got some time to write this post and then headed through to meet the ladies for dinner and later the men would join us.
It had been another amazing day in Africa on safari in Hluhluwe Imfolozi game reserve.
Day 3: Durban safari tours
Our day began at 5am and we headed out with 4 of the big 5 already under our belt and just the elusive Leopard to find which I always assume we will not as it is a glimpse every 5 months or so…
We decided to go back to when I knew the Lions had last been seen to check again and then we would head to the Hluhluwe river to see if they finally moved around to there.
It turned out to be a great idea! When we arrived at the Hluhluwe river we found both Black and White Rhino together 50 meters apart in the riverbed! This was a rare sight so I had to post the picture. It was a few seconds and the Black Rhino ran away into the thickets.
For the record our Buffalo new born and mother had moved off and got out of the mud!
Durban safari tours; White and Black Rhino in same picture
We checked the next view point and finally located our Lions and it was the whole pride. As they were down in the riverbed and all 7 Lions were there and we were at a view sight on to of a hill we were able to get out for a better view.
It was great as no other vehicles had yet driven by so we had then to ourselves and enjoyed a young male Lion playing with what looked like a Terrapin or Tortoise.
Video: Lion plays with a Tortoise/Terrapin
Our Durban safari tour had really become a great trip and we now had our second sighting of Lions and finally a big Male which everyone wants to see!
Durban safari tours; Lions
We left our Lions and made our way for a toilet stop before finding what the kids had wanted to see, a Mongoose. We managed to see 3 Slender Mongooses on this day and the best was our second sighting.
Durban safari tours; Slender Mongoose
It was now time to take our Durban safari tour elsewhere to the Isimangaliso wetland park or commonly known as St Lucia estuary for a 2 hour Hippo and Crocodile viewing boat tour.
We stopped at Hilltop camp to get breakfast, pack and check out before going.
It was an hours drive from the Nyalazi gate and we were back to the boring cows and goats of the area!
Once our tour got to St Lucia estuary we boarded the Santa Lucia and we enjoyed a great cruise!
Durban safari tours; Crocodile
Further us stream we finally got to some big pods of Hippos and had great sightings even on in the reeds feeding. Most of the Hippos as they do in the day time were spending the day in the estuary keeping cool in the water.
Durban safari tours; Hippo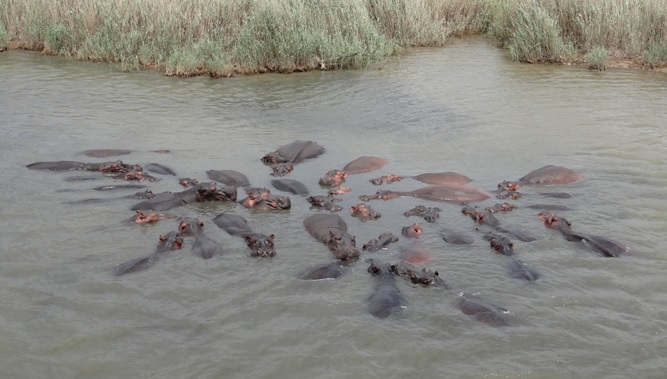 After this great part of our Durban safari tour we headed into St Lucia town and made our way for some lunch. After this we made our way back to King Shaka international airport as my clients had a flight to catch to Port Elizabeth.
It had been a great 3 days with some amazing sightings, highlights being: Elephants close, Black Rhino 3 times, Lions twice and really everything that makes a safari a safari!