Durban Safaris with Tim Brown Tours in KwaZulu Natal 24-26th January 2015
I met my clients at the Hilton hotel in Durban, KwaZulu Natal for their 3 day Durban Safari tour to Hluhluwe Imfolozi game reserve situated in northern KwaZulu Natal.
Durban safaris are always exciting and you just never know what you are going to see no matter how many time you do this. I covered some of the basic history of the area and answered the questions my New Zealand clients had to ask on route to Hluhluwe Imfolozi game reserve.
Hluhluwe Imfolozi game reserve is the oldest game reserve in Africa and home to the Big 5, Our Durban safaris in KwaZulu Natal are focussed on this particular game reserve as it is amazingly scenic and the sightings are great.
We began our Durban safari at a Cat rehabilitation centre where my clients got to interact with Cheetah cubs as well as Serval, Caracal, African wild cat and adult Cheetah. We were the only guests there so we had the place to ourselves!
The Cheetahs were the big one and they looked so cute resting in the shade that I had to put up this picture of then.
Durban safari tour; Cheetah
We departed the Cat rehabilitation centre after an amazing start to our Durban safari tour and were now ready for the big on the Hluhluwe Imfolozi game reserve.
It was 25 minutes and we were there and through the gates.
I had told my clients at 36 degrees and being midday we wouldn't see too much. We did however see Impala and Buffalo first up as well are Rhino on a distant hill resting in the shade.
Durban safari tour, Vervet monkey
We arrived at Hilltop camp at 13:00 for some lunch and the place was full of people as a group came in for lunch only. I was really glad to hear it was lunch only!
Just after 2 pm we were done with lunch and I check us in and showed my clients to their room before some rest. We decided to head back our on our Durban safari tour at 4pm – 7pm so we could make the most of the afternoon.
It was a good decision as we saw some amazing animals in those 3 hours before dinner. Our Durban safaris try to give our clients as much of a holistic experience of the Hluhluwe Imfolozi game reserve so on the second day we usually head into the Umfolozi section in the South.
One of our first sightings was of a big male Waterbuck which I chose no to show this picture but he was majestic and beautiful.
As we continued our Safari in KwaZulu Natal – Hluhluwe Imfolozi game reserve we cam across a Water Monitor lizard which was digging through Rhinos Dung to find grubs. This is common behaviour but uncommon to see! So we were lucky.
Durban safari tour, Water monitor Lizard
Our next sighting on our KwaZulu Natal Safari was a herd of Buffalo which crossed the road in front of us. One of the old males at the back had been in the mud and it had dried on his body making him look white.
Durban safari tour, Buffalo
We enjoyed a view sight in the Hluhluwe Section of the reserve on our Durban safari and we then found a lovely female Rhino and her calf. The light was perfect for a picture but the distance not!
Durban safari tour, White Rhino and calf
As the day drew on we made our way to the main road and found a crash of 3 female Rhinos walking down the road. KwaZulu Natal Safari tours can be really exciting when you see such amazing things. The light was not great for a good photo but the experience on this Safari from Durban was incredible.
We made our way to the rest room and before we got there a lovely herd of Buffalo greeted us. The light was now perfect and the picture can out really good during this part of our Durban safari tour.
 

Durban safari tour, Buffalo cow
We stopped at the gate for a break and watched some warthogs playing around, we then decided to continue slowly back to the lodge enjoyed the setting sun on our KwaZulu Natal safari.
It was minutes and for some amazing reason my eyes spotted something light rolling around in the distance near a burned tree stump. It was Lions! I could not believe our luck, what made this even better was they had a dead wart hog with them and were playing with it. During this time an Nyala antilope ran past the Lions and they all got up one of them chasing the Nyala but missing it.
The light was fading so photos were not so good but video was on so I took a bit of both.
Durban safari tour, Lions of Hluhluwe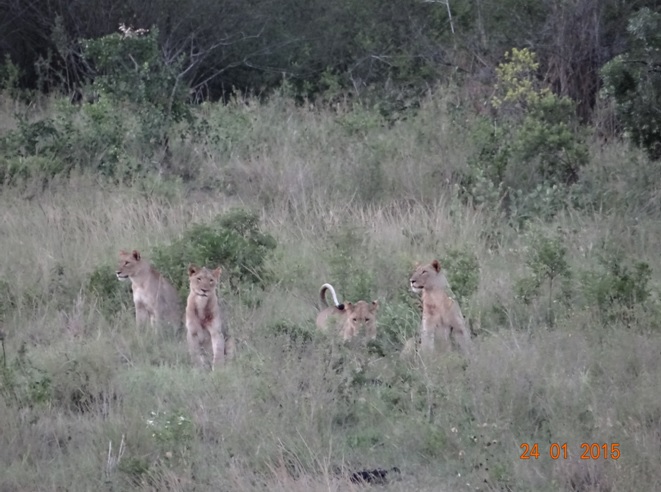 Video of Lions Playing:
During the sighting the Sun was setting and I thought a picture of it would be lovely. A sunset with a story behind it!
Durban safari tour, African Sunset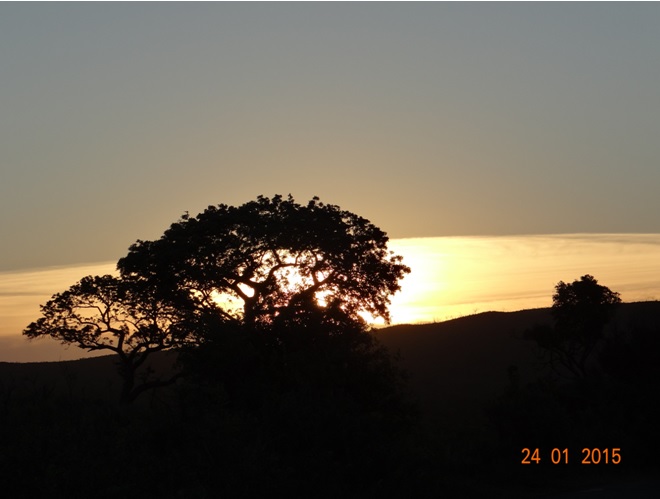 We were now running late and I had to wrench myself and my clients away from these Lions which weren't easy but a fine would not be a good thing. We moved off and raced back to the lodge full of adrenaline and hungry ourselves for dinner. Good job it wasn't Warthog!
We arrived back to Hilltop camp with smile on our faces and our Durban safari to Hluhluwe Imfolozi game reserve in KwaZulu Natal had started with a bang! We got 4 out of the Big 5 as we did see and Elephant in the distance as well on this game drive.
The staff had a sing and dance and then we headed to bed after a great day.
Day 2: Durban Safaris with Tim Brown Tours in KwaZulu Natal
We met at 7am for breakfast and then travelled down into the Umfolozi section of the game reserve to see if we could find better Elephant and some Giraffe.
I again could not have predicted the morning we would have in Hluhluwe Imfolozi game reserve on Safari.
It all began rather quietly and we then found a big Bull Elephant which crossed the road in front of us, he kept walking so we left him and stopped at the Nyalazi gate. We had a surprise waiting for us down there; Durban Safaris usually are full of surprises.
At the gate were two Bull Elephants drinking from one of the drains and we watched from the safety of the main building. They then moved into the parking lot to feed on the Marula trees.
Durban safaris; Elephant Bulls
Some tourist decided they wanted a selfie with the elephant which was really a stupid idea but I have my camera ready just in case I got some good footage to share with you!
It was not to be and the Elephants kept feeding.
Durban safaris; Bull Elephant reaches for some leaves
Moments later we had a great sighting of Black Rhino a mother and her calf this is rare but in KwaZulu Natal you have better chances to see them in protected areas.
Our Durban safaris just seem to be getting better and better!
Durban safaris; Black Rhino
We continued on and found a Journey of Giraffe 2 of which were under a tree near the road with a baby near by. The others were down in the valley feeding of leaves. Durban safaris are amazing!
 Durban Safaris; Giraffe under the shade of a Marula tree
Moving on from this amazing creature we spotted some Baboons and Zebra together and we spent some time with them as the babies we were trying to film kept moving in the thickets. I eventually gave up and took a picture of the big male Baboon as he was not too bothered!
Durban safaris; Plains Zebra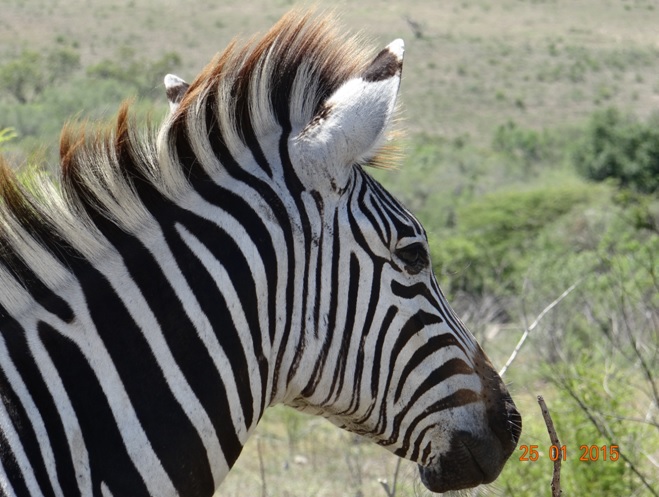 Durban safaris, Baboon
We returned back to Hilltop camp in Hluhluwe after a very successful Safari in Hluhluwe Imfolozi game reserve and settled in for a little rest before we would head back out at 4pm. We did spot a huge herd of Elephant in the distance on route.
The sun was so hot that at Midday it was 36 degrees.
At 4pm we headed out again of the second half of the day till 7pm when we would return for dinner and a rest.
Just when you think you have seen it all a Safari from Durban will surprise you and you will be blown away!
We headed down to find the large herd of Elephant and we spotted them with out much trouble and they had tiny babies with this which made the sighting that much more special! Boy can KwaZulu Natal safaris from Durban be interesting!
We saw herd after herd of Elephant until we had Elephants coming out of our ears!
Durban safaris, Elephant babies
It was quite a mission getting passed all these Elephants and once we did we had some hard road to traverse before getting to a lovely river crossing in Hluhluwe Imfolozi game reserve where a Lioness with 2 cubs of about 9 months old lay resting on the bank! It was amazing to see them and after finding Lions on both days we felt really lucky.
Durban safaris, Lion cubs
We continued around the loop and spend lots of time waiting on Elephant that were creating a road block. We got back to the Lions to see if they moved and the cubs had gone and there was only the Lioness.
We left her after a short while and continued our Durban safari tour; we came round another corner and found Rhinos in the road mating! I could not believe our luck!
What an amazing Durban safari tour in Hluhluwe Imfolozi game reserve.
Durban safaris; Mating Rhinos
Video of Rhinos mating in Hluhluwe Imfolozi game reserve.
We got stuck behind these Rhinos for half and hour and our plan to get back early was not a distant thought. We waited and waited and waited! I almost decided to go all the way back the other way but then finally the moved and we could get by safely.
We made our way back to the lodge shocked with all that we had seen and settled in for some great dinner before a good nights sleep.
Day 3: Durban Safaris with Tim Brown Tours in KwaZulu Natal.
We began our day with some breakfast before checking out and heading into the Hluhluwe section of Hluhluwe Imfolozi game reserve. It began as a cool 24 degrees and I was hoping it would stay that way but I was wrong. By 10 am it was 34 degrees!
We had really seen more that usual and just tried to fill the gaps with better sightings of animals my clients like most; one being the Baboon; which we got mating and fighting all at the same time. Wow this was an amazing sighting to see on our KwaZulu Natal safari from Durban.
Durban safaris; Baboon playing and mating
We moved on looking at herds of Buffalo, Zebra and Rhinos before finding a couple of old Buffalo bulls that had just had a mud wallow! They were covered in it.
Durban safaris; Buffalo covered in Mud
The time moved on quickly and we left Hluhluwe Imfolozi game reserve after what had been an amazing 3 days of a Durban safari and we honestly could not have had better sightings. We got Lions on 2 out of the 3 days and the quality of our sightings had been really good. This is a real tribute to conservation in KwaZulu Natal and Hluhluwe Imfolozi game reserve.
We spent the next hour driving to St Lucia or Isimangeliso Wetland Park as it is now known and when we arrived we were very lucky to have only 4 other clients on the boat!
We had great sighting of Hippos, Fish eagles and Goliath herons etc.
Durban safaris; Hippo at St Lucia
We managed to find this breeding pair of Fish eagles sitting next to one another in a White Mangrove tree.
Durban safaris; African Fish eagles at St Lucia
After a fulfilling boat cruise for 2 hours on the lake St Lucia with lots of Hippo sighting we made our way into the small town of St Lucia for lunch.
It was great and I past on all my photos and videos from this very special tour to my clients. John will at some point be making a video with all the footage he got and maybe some of mine with feature as well.
It had been an amazing Durban safari tour to Hluhluwe Imfolozi game reserve and St Lucia, oh and the cat rehabilitation centre. We all really enjoyed what nature provided for us to enjoy.