Hluhluwe day safari
We began our Hluhluwe day safari bright and early as you would when going on an African safari tour! It was a lovely day as it had rained the night before so it was a little cooler today so we could enjoy the safari away from the extreme summer heat!
On route to the Hluhluwe Imfolozi game reserve I covered some of the interesting history of Durban, KwaZulu Natal and South Africa as well as the population groups and how they came to be here. It also ended up with some politics which you really should never discuss with your clients but if they are happy with hearing your opinion then it is fine.
Our arrival at Hluhluwe Imfolozi game reserve for our safari was great for us all as I have personally been away from actual tours for 3 weeks and was fresh and really looking forward to finding animals. I also took our new 4×4 vehicle up to test the capabilities and it was very comfortable and ideal for a safari.
Our first sighting was actually Zebra just on the other side of the gate at a mud wallow. We then entered and found Warthogs as well waiting for us!
Durban big 5 day safari; Warthogs
It was not long and we found Rhino up on a hill making their way down we watch for a while but I knew we would have a better sighting else ware so we moved on.
We went over the lovely rolling hills of Hluhluwe Imfolozi game reserve and found some Rhino close enough for a great photo.
Durban big 5 day safari; Rhino
After chatting about the plight of these amazing creatures we continued on and found some Nyala and more Zebra on the hills. It was not long before we spotted Giraffe in the distance. I told my clients not to worry we will get round to them and that was a stupid thing to say as the next road junction was closed due to road works so I had to take the long way round to get to the Giraffe.
We stopped at a view point of what is supposed to be the Hluhluwe river, well it was totally dry and had no animals. You know when you look at a documentary of a desert and you see bones, that is exactly what we saw!
Finally we got some Buffalo nice and close.
Durban big 5 day safari; Herd of Buffalo
The baboons we saw on our Durban safari tour were not really playing ball but we did find one that looked like it was lighting a cigarette! LOL
Durban big 5 day safari; Baboon lights a cigarette
We finally made it round to the Giraffe and thank God they were still in the same area as it had been an hour detour! Our Durban safari became very exciting very quickly at this point!
This one Giraffe was chewing a bone and had all these Red Bill Oxpeckers on her feeding on the ticks.
This is very common behavior to get calcium into their diet but is not always seems or understood. I love nature!
Durban big 5 day safari; Giraffe chewing a bone
We then hit a stroke of good fortune as I watch a Giraffe staring into the bushes and I looked to see what she was looking at. It was an Elephant hidden and feeding in a thicket on the other side of the dry river bed. We waited and waited and eventually he came out into the open and this made our Durban safari very much worth it as we had now seen 3 of the Big 5 already!
Durban big 5 day safari; Elephant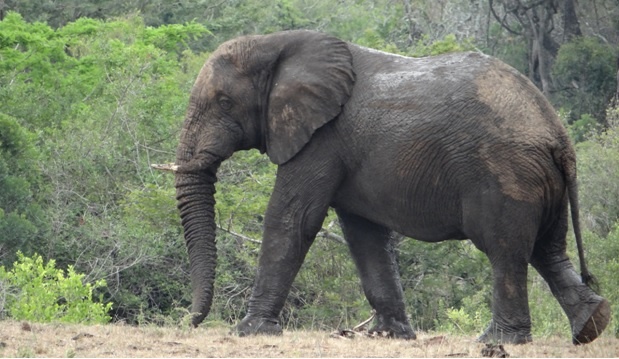 We continued our safari and made our way up to Hilltop camp for some lunch but before we could get there my clients did well to spot a Zebra which was rubbing himself on a dead branch. We stopped to watch this interesting act.
Durban big 5 day safari; Zebra has a scratch
Lunch was great and we continued on with not much time to go and as it was the afternoon we battled for any new animals. We did find Hippo before lunch which I forgot about but there after it was some Impala, Nyala and some of the other animals we had seen already.
It still had been a great Durban big 5 day safari tour and we were all pretty happy with the day as we departed arriving after 7pm at the Oysterbox hotel and then 07:40 in Kloof before I headed home.
An African safari is a must and if you are in Durban why go to Kruger park which is 10 hours away when you can have the same wonderful safari experience 2.5 hour outside of our lovely city!