1st Dec 2014
3 Day Safari Tour Durban, Big 5 Bush walk Durban, Big 5 Safaris Durban, Big 5 Tours Durban, Durban Overnight Safari Tour, Durban Safari to Hluhluwe Imfolozi game reserve, Durban Safari Tours, Durban Safaris, Hluhluwe Imfolozi, Hluhluwe Imfolozi Safari, Hluhluwe Imfolozi Safari Tour, Hluhluwe Safaris, Safaris from Durban, Safaris Near Durban
Hluhluwe Imfolozi 3 Day Safari Tour from Durban 23rd-25th November 2014
I was blessed to have a repeat client from a year ago return with her family for a 6 Day Durban Safari Tour to Hluhluwe Imfolozi game reserve and to the Drakensberg Mountains.
It is always great to get return clients but it is hard as well as I need to keep my standards high and try and ensure I go above and beyond my duty.
We began this amazing 3 day Durban Safari Tour by visiting the Emdoneni cat rehabilitation centre in Hluhluwe.
Here we saw 4 endangered species of wild cats; Cheetah, Serval, Caracal and African Wild Cat.
 Emdoneni, my clients with a Cheetah on our Durban 3 Day Safari Tour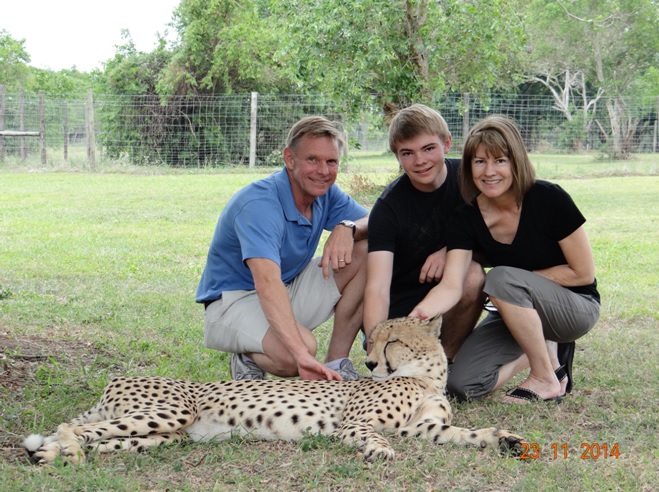 My guests with a Serval during our 3 Day Safari tour
Once we finished up here we continued our Durban Safari Tour to Hluhluwe Imfolozi game reserve. When we arrived at the Memorial gate and entered one of the first things we saw was a herd of Impala with there new born babies.
Impala with their lambs on day one of our Durban Safari Tour
It was minutes and a Hyena ran across the road in front of up but the picture was no good for this blog post sadly.
As we continued we spotted a few Buffalo and one lone very old Buffalo bull. He was really relaxed and just stood in the middle of the road like a cow.
Buffalo Bull on our Durban Safari Tour
We got ourselves up to Hilltop camp and had some lunch before checking in to the lovely rooms.
After an hours rest we went back out to see what else we could find.
Our Afternoon Safari tour was great as we spotted a Journey of Giraffe, Rhino and Zebra.
A journey of 3 Giraffe on our Hluhluwe Imfolozi safari Tour
We then spotted some Zebra and a foul was suckling from its mother. This was amazing to see on a Safari Tour.
Zebra on day one of our Safari tour from Durban
Before we spotted the above Giraffe though we got some Rhinos after we had had a huge thunder storm. This was a mother and a calf with a Big Male Rhino which actually charged our vehicle. What a cheek!  I could not believe it; this just shows that even when you think you know all there is to know about animal behavior they will keep you on your toes.
This was the first charge I have had from a Rhino which stopped this close to my vehicle. His horn almost touched the vehicle that's how close he got!
Rhino that charged our vehicle during our Durban 3 day Safari tour
We also spotted some more Rhino which had clearly got caught in the storm as they were wet all over and actually looked very clean. I got a great picture of one of them on this Hluhluwe Imfolozi Safari Tour.
Inquisitive

 Rhino on our afternoon game drive Safari in Hluhluwe game reserve
After the storm we spotted the most beautiful Rainbow where you could see the entire half moon and not only one rainbow but two!
A double Rainbow after a storm in Hluhluwe game reserve during our Durban Safari Tour
We continued and could come right with any cats so began to head back to the camp on route we spotted some Water Buck near the road.
Waterbuck seen on the first day of our Durban 3 Day Safari Tour
We had had a great 1st day on our Durban Safari Tour and had a good amount of time left to spot more animals.
It was time to get in for some dinner so after a quick break we went through for some dinner which was a buffet and lovely.
It had cleared a bit but it was still very hazy for Star gazing.
It was time for bed as we decided to get up and leave at 5 am and take breakfast packs with us so that we could stay out longer and get further down into the game reserve to find cats and/or Elephant.
Day 2: Hluhluwe Imfolozi 3 Day Safari Tour from Durban
We headed down south and it was actually very quiet at first but we did spot Giraffe next to the road and a Hinged backed Tortoise laying her eggs.
As we reached the Umfolozi River we spotted a Rock monitor Lizard walking on the sand bank of the river.
Rock Monitor Lizard walking in the Umfolozi river during our Durban Safari Tour
It wasn't long before we spotted a new animal which was a Martial Eagle the largest Eagle in Africa. He posed beautifully in the tree for a photo. Once we were done our Durban Safari Tour continued.
Martial Eagle Africa's largest seen on our Durban Safari Tour
We passed through Mpila camp in the Umfolozi section of the National park before we finally spotted an Elephant. The only problem was he was in Musth so we needed to be a little careful. We did just that and still got a great photo in a safe manner.
 Elephant Bull on our second day of Safari Touring in Hluhluwe Imfolozi game reserve
We continued our Safari for quite some time before seeing anything major and then we spotted some Giraffe crossing the road and then eventually drinking water which is rare as they are independent of it.
Giraffe drinking water on our Durban Safari
Next sighting was some White backed Vultures basking in the sun. This helps with killing external parasites on the feathers.
Vultures sun bathing in Umfolozi game reserve during our Durban Safari Tour
We then continued and came across some Vervet monkeys sitting in a tree resting during the African Midday Sun.
Vervet monkeys siting in the tree on our Safari Tour in Hluhluwe Imfolozi game reserve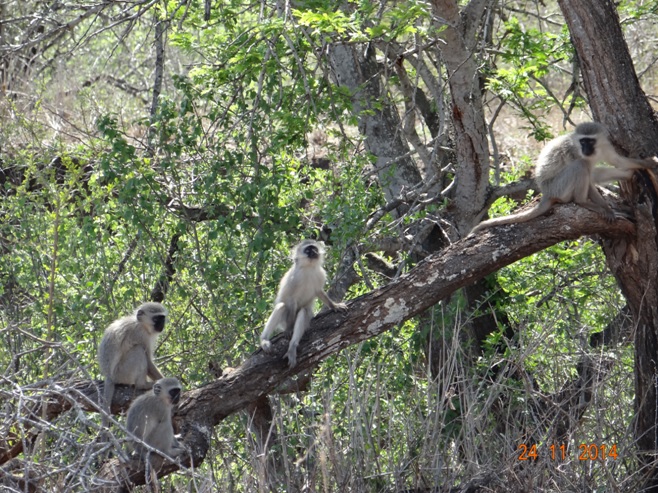 The day was now hot and sticky as the humidity was still very high. So we continued to the centenary center for some lunch. Before we could get there we spotted some Baboons near the river.
Baboons see on our Durban Safari Tour
It wasn't a fast trip back for lunch as we kept spotting animals. One of which was a Warthog which went into the mud wallow to cool off near to the road.
As we neared the luncheon stop we spotted some Rhino resting in the shade of a tree in an open area it was a lovely sighting.
Rhino mother and calf on our Durban Safari Tour
Eventually at lunch we enjoyed a rest and a look at the local crafts.
It was then time to head back to camp during mid afternoon and book the bush walk for the next day.
We had some rest before dinner where we reminisced about the great day. All we were missing was cats but we were still content.
Again the skies clouded over and no starts were to been seen in the sky.
We went off to be with another early start the next morning for a 5am departure to Munyaweni Bush camp were we would meet Sabelo an go on the bush walk.
Day 3: Hluhluwe Imfolozi 3 Day Safari Tour from Durban
We began a great bush walk with Sabelo where we spotted Rhino sleeping and a Hyena Carcass. The main point of these walks; are to focus on the smaller things which we don't speak to much of on a driving safari. Ie: dung, tracks, birds, trees etc
Big 5 Bush walk in Hluhluwe on our Durban Safari Tour
It is always exciting to see these amazing creatures on foot and you never know what you will see. We did also spot bones from Rhino which had died in fights over territory and I picked up a zebras hoof!
 Dead Hyena on our Big 5 Bush walk in outside of Durban
We raced back to camp after the bush walk as I had heard of a confirmed Lion sighting. We got back to a speedy buffet breakfast and coffee before packing, checking out and leaving the camp. True to form when you are in a rush somewhere something shows up to block your way and this time it was a Bull Elephant.
Bull Elephant just outside our lodge when we left for St Lucia
 After the Elephant we spotted a crocodile resting near a stream.
Nile Crocodile seen on the 3rd day of our Durban safari tour
We then spotted a Black Rhino and at this point I couldn't believe our luck as we had done very well.
I felt anything would be possible on today's Safari Tour.
Black Rhino seen in Hluhluwe Imfolozi game reserve during our Safari Tour
We got to the area where the Lions were and were greeting to a Male Lion feeding on a Zebra 15 meters off the road. He was a beautiful young male and the only one we could spot as the other were resting in the shade some distance from the road.
Lion licks his lips while eating a Zebra on our Durban Safari Tour
Lion feeding on a Zebra during our 3 Day Durban Safari Tour
We then headed off to Isimangeliso Wetland Park or St Lucia and boarded a boat for a 2 hour cruise of which we were the majority of the guests on board.
We were lucky to spot some crocodiles and of course the usual Hippos.
 Hippos at St Lucia on the 3rd day of our Durban Safari Tour
After we finished up with the 2 hour boat cruise we headed into the little town of St Lucia for some lunch.
Once we were done with lunch we headed back to Durban remembering all the amazing times we spend in just 3 days on a Durban Safari Tour with Tim Brown.
Remember its always better and Safer with a guide but choose your guide wisely, reviews of other clients on a guide with help you choose.