17th November 2014
2 Day Safari Tours Durban, Durban Safari Tour, Durban Safari Tour for Holland America cruises, Durban Safaris, Durban Tours, Emdoneni cat rehab centre, Hluhluwe Imfolozi Big 5 Game reserve, Hluhluwe Imfolozi game reserve, Hluhluwe Safaris, Holland America cruise ship Tours, Safaris from Durban, Safaris Near Durban, St Lucia estuary Tours, Umfolozi safari tours
Holland America Cruise ship stops in Durban for a Durban 2 Day Safari Tour 9th-10th November
Day 1 : Holland America group – Durban 2 Day Safari Tour
We began our Durban Safari at our famous harbour where the Holland America ship docked and our 13 clients got off for a guided Safari.
We ended up going to St Lucia first where we got on board the boat for the estuary cruise to view Hippos and Crocodiles.
Hippo seen on our boat cruise at St Lucia estuary
It was a great 2 hours on the St Lucia estuary and after we had docked we got back on the vehicle to head to Hluhluwe Imfolozi Big 5 Game reserve. Before we left though, we took a picture of a sign in St Lucia.
Hippo warning sign at St Lucia estuary om our 2 Day Durban Safari Tour
When we arrived at Hluhluwe Imfolozi game reserve we spotted a mother Rhino and her calf. We were in a rush to get to the lodge to check in and get the clients onto there evening open vehicle game drive.
Mother and baby Rhino see on our 2 Day Durban Safari Tour off the Holland America Cruise Ship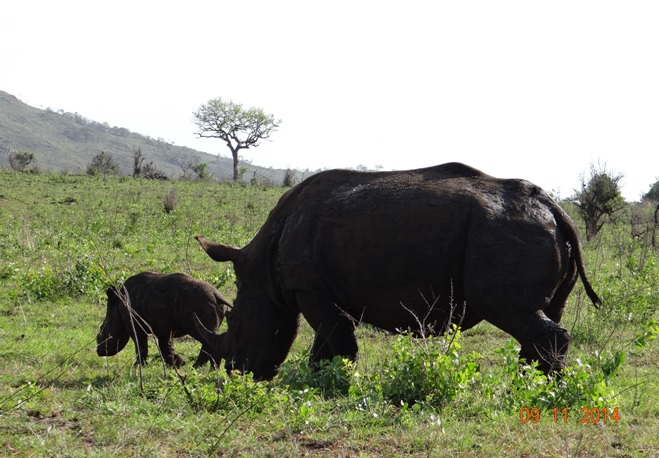 Our next sighting was Warthog with her piglets and some Buffalo. All of these lovely sighting were going to make us late so we just stopped for a quick photo before moving on.
Warthog and piglets in Hluhluwe Imfolozi game reserve on our Durban Safari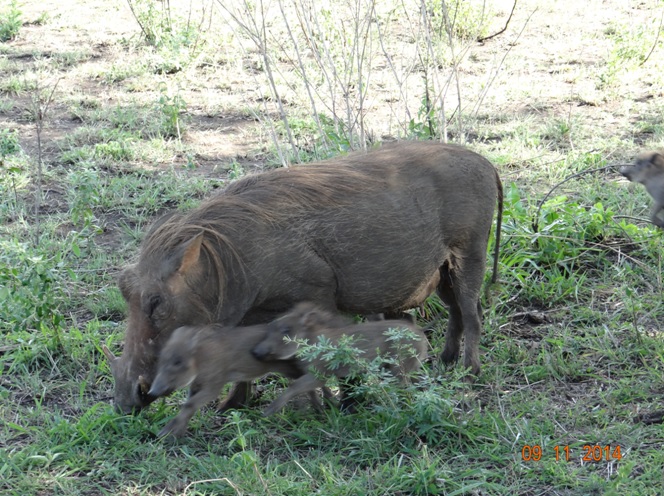 After we arrived at camp we quickly checked in and got the clients off the Holland America ship, onto the open vehicles for there night drive. As this was happening a storm was brewing and I was thinking "here we go.."
The rain eventually came and one of the vehicles came back early so we began dinner early while waiting for the others who came back drenched.
We got some entertainment as the staff came out and did some dancing and singing for us. It was great and then it was time for bed.
I was on wake up call duty and was up at 4am for 04:15 wake up calls. We got the clients down in time for there 5am open vehicle game drive before I headed to the conference centre to catch up on work.
They client got back just before 08:30 and we all had breakfast before checking out and heading to Emdoneni Cat rehabilitation center.
There was some drama to follow:
We first spotted some Zebra near the road as we made our Safari out.
Elephant that touched our vehicle on our Durban Safari Tour for Holland America cruises
As we continued our Safari from Durban we spotted a huge herd of Buffalo on the hill which we stopped to photograph.
Herd of Buffalo seen During our Durban 2 Day Safari for Holland America cruise ship clients
It was at this point that we ended up with a Musth Bull Elephant on the road with a little are in front of us and a mini bus behind us. This Elephant was a little bit disturbed by all the noises of the vehicles and he came onto the road. Our driver tried to reverse his bus with the trailer at the back not very well.
At this point the little car in front decided to rev his engine and make a dart for it he only encouraged the Bull Elephant onto the road and frustrated him further.
It was at this point I instructed our diver to turn the engine off as we had no where to go and the diesel engine was just going to stress the Elephant out even more.
Unfortunately it was too late and the Elephant decided to touch our vehicle with his trunk and tusk. At least he did minimal damage…
Elephant that touched our vehicle on our Durban Safari Tour for Holland America cruises
We had lots to talk about on the drive to emdoneni.
When we got to Emdoneni cat rehab centre we enjoyed some interaction with the big cats and at the end the new cheetah cubs that have been brought in for breeding came out to play.
This was there first major interaction with a large group of humans so no touching was aloud. They were so beautiful and this really made our Durban Safari extra special, oh and the Elephant!
Cheetah cubs at emdoneni cat rehab center during our Durban Safari tour
We then had to head back to Durban so it was back to the final questions on the few hours back to the Holland America Ship.
Our clients were great as they were so interested in the History that it made it easy for me to cover it in a structured manor.
We arrived back just before dark and that evening the Holland America Ship Sailed down to Port Elizabeth.
Our Group of clients off the Holland America cruise ship during our Durban Safari To

ur