2nd August 2015
3 day Durban Safari, Cat rehabilitation center, Durban 3 Day Safari, Durban Big 5 Safari, Durban Safari, Durban Safari Tour, Durban Safaris, Durban Tour, Hilltop camp, Hluhluwe Game Reserve, Hluhluwe Imfolozi game reserve, Isimangaliso wetland park, Lion in Hluhluwe, Lion on a rock, Prince Harry, Prince Harry at Hilltop camp, Safari from Durban, Safari near Durban, St Lucia boat tour, St Lucia Estuary, St Lucia wetland park
Safari near Durban – 29th July to 1st August 2015
I met my clients in Durban, a family for their 3 day Durban safari tour. We got all the luggage aboard and began making our way to the cat rehabilitation center near Hluhluwe.
It would be here that our safari near Durban would begin and we would interact with Cheetah, Serval and African wild cat hands on.
As usual I covered the general History side of Durban and answered any questions they had.
It is always amazing to see these cats and to learn about them and why they are so endangered.
Safari near Durban; Cheetah at Rehabilitation center
After we left the cat rehabilitation center we made our way to the Hluhluwe Imfolozi game reserve for our 2 nights at Hilltop camp where Prince Harry was staying. I think my guests were amazed when they saw him at dinner the first night. If Hilltop camp is good enough for Prince Harry it is should be good enough for my clients and of course it always is.
Before we got to the camp we did see some great animals.
Safari near Durban; Male Nyala demonstrates philo-erection
Philo- Erection is when the hair on the male antelope in this case a Male Nyala stands up which make him look bigger and that the other males. The idea is to be the biggest so you can take over a harem of females for yourself.
Next we spotted some Buffalo and Zebra together down in a dip on our Safari near Durban.
Safari near Durban; Buffalo and Zebra
We then arrived at Hilltop camp and had some lunch before checking in and settling into the rooms for 45 minutes. It was then time for us to get out and see what other animals we could find. I was a little concerned as it was still only 15:15 and pretty warm still so I said to my client not to expect many animals for the first hour.
Well when ever you say something like that on a safari you can expect something good to happen and boy did something great happen.
I spotted something that I knew was a big cat but as she was running in the valley I could not make out if she was a Lion or Leopard I was hoping for the latter but didn't really care as a cat is a cat!
It turned out to be a Lioness and she was looking to hunt some Nyala in broad daylight! It was amazing. We raced down to meet here and she was beautiful, she posed for us on a rock and then crossed the road in front of us.
Safari near Durban; Lioness on rock
Video: Lion on rock in Hluhluwe Imfolozi game reserve

We then got her staring at the Nyala and she made her way off the rock and crossed the road in front of us! It was amazing and such a great spot of luck and good fortune. The best part of this sighting was we had her to our selves.
Safari near Durban; Lioness sits on rock
Video: Lion crosses road in middle of day in Hluhluwe Imfolozi game reserve
We were very lucky and had now just experience something that would normally only be seen a night in broad daylight.
We decided to leave here as we lost visual and made our way to the Hluhluwe River to see if we could find Elephants. We had no luck but did find Rhino which was amazing.
Safari near Durban; Rhino
In fact our Rhino sightings were very good this day I will not give a number but we saw a good amount of them. We then tried for Giraffe and Buffalo and got the Buffalo all around the vehicle on one of the road but the sun was setting so the light was not good for a photo. We did however enjoy watching them!
We needed to get back to camp so we hurried along and got to near Hilltop camp and spotted a Elephant in the dark which was very hard to photograph but we did anyway.
Safari near Durban; Elephant
We got back to camp and settled in for some dinner at 7pm it wasn't long after this that Prince Harry arrived with his Body Guards and walked past us to go and eat in a secluded area as people had been trying to get photos of the poor guy…
It was still amazing to see a prince at the lodge I always bring my clients too.
After dinner we headed to bed and it was a Blue moon it looked amazing.
Day 2: Safari near Durban
We began day two of our Safari from Durban in Hluhluwe Imfolozi game reserve with breakfast and then headed down south in the game reserve.
We did very well and spotted lots of Giraffe and even Lion tracks from the night before.
Safari near Durban; Giraffe
It was one of those mornings when everything seemed to be working well for us and we even had the most amazing Rhino sighting, one which I have been waiting for, for years!
Safari near Durban; Rhino
Video: Rhino marks his territory and does flehmen grimace
After this unbelievable sighting we made our way further south and found some Zebra and Impala together before spotting some Kudu and Warthogs.
The Zebra and Impala crossed the road in front of us which was great.
Safari near Durban; Zebra crossing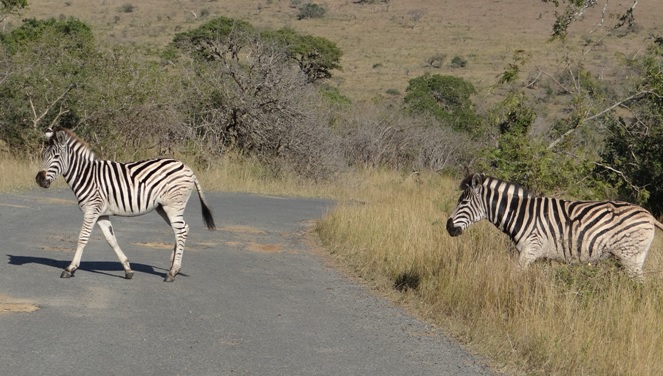 Funnily enough the clouds then began to gather as we entered the Umfolozi section and it began to rain a little. This was very odd at the forecast did not predict this. We still had great sightings and as we continued our safari near Durban we found more Giraffe in the rain.
Safari near Durban; Journey of Giraffe
We then went through a very lean patch or so it seemed it might of been because we were so focused on looking for Elephant the be drove past Rhino, Baboons, Wildebeest, Nyala, Kudu, Zebra and more Giraffe…
We almost got the Elephant and I got a puncture which I then needed to stop for to change the wheel and continue on. It took some time as these new vehicles are so much more complicated than the old cars we used to have.
The temperature was dropping and we made our way back to the Centenary center for some lunch which we really needed but before we could get there we had an amazing sighting of a Rhino mother and calf.
Safari near Durban; Rhino mother and calf
Video: Rhino mother and calf cross the road
We still had one more good sighting of something new before we got to the Centenary center for lunch and that was of some Vultures and a Crow feeding off an old Buffalo carcass.
Safari near Durban; White Backed Vultures on old Buffalo carcass
We eventually sat down for some lunch and discussed the evening game drive and the clients decided they would brave the cold weather to see what they could see on the open vehicle.
When I got back to camp I had to fix the puncture and change the wheels back around before getting to some computer work.
I had an earlier dinner and would be meeting my clients the following morning for breakfast and luggage collection.
Day 3: Safari near Durban
We began day 3 just before 7am with a luggage collection and breakfast at Hilltop camp before checking out and completing our final 3 hours of safari near Durban.
During the safari we had some great luck and we had been looking for more Elephants and we got them down at the Hluhluwe river from a view point.
Safari near Durban; Elephants drinking
We watched the Elephant for about 10-15 minutes as they finished drinking they walked along the rivers edge and we enjoyed the calling from the Matriarch getting the herd to follow her.
Safari near Durban; Elephants walking in the Hluhluwe river bed
This is always a good time to make a video so I got the camera running so I could share this moment with the followers of Tim Brown Tours or just Hluhluwe Imfolozi game reserve.
Video: Elephants walking in riverbed Hluhluwe game reserve
We continued on with our safari near Durban and found Rhino and had an excellent sighting of Buffalo on the road. It was perfect as we had seen them on the road before but it was to dark to get pictures.
Safari near Durban; Buffalo bull
It was not time to see what else we could find before leaving Hluhluwe Imfolozi game reserve for St Lucia estuary for our 2 hour Hippo and Crocodile boat cruise.
We tried for Giraffe and more Elephant with out much luck but did see more Zebra, Nyala, Waterbuck, Warthog and Buffalo before we departed.
It was a 1 hour drive to St Lucia or Isimangaliso Wetland park as it is now known and we arrived, had some lunch and got to the boat for the wonderful 2 hour boat cruise.
It is a guarantee to see Hippos and we usually see Crocodiles. This day we saw about 6-8 Crocodiles and 100 Hippos a least.
Safari near Durban; Crocodiles at St Lucia estuary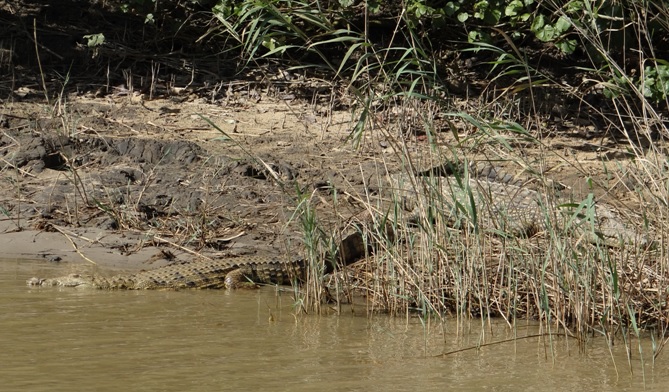 The Hippos were mostly near the shore and some on the land as well so apart from the light being a bit bright it was great for us to photograph them.
Safari near Durban; Hippo at St Lucia estuary
We ended out boat cruise at St Lucia and began our journey back to Durban, it had been a great 3 day safari from Durban and the highlight was the Lioness and the Elephant for sure!
If you would like to join a Tim Brown Tour or Safari like this 3 day Safari click the link below: