3rd October 2014
Durban, Durban Overnight Safaris, Durban Safari, Durban Safari Tour, Durban Safari Tours, Durban Safaris, Durban Tours, Hilltop camp, Hluhluwe Imfolozi game reserve, Hluhluwe Imfolozi Safari, Hluhluwe Imfolozi Safari Tours, KwaZulu Natal Tours, KwaZulu-Natal Safaris, overnight safari tour, Safari from Durban, Safari near Durban, Safaris Near Durban, St Lucia, St Lucia Tours
Safari Tour from Durban for 3 Days with Tim Brown Tours to Hluhluwe Imfolozi Big 5 game reserve.
After collecting my group of clients from Durban for there Big 5 Safari at Hluhluwe Imfolozi game reserve we headed up to St Lucia or Isimangeliso wetland park to view Hippos and Crocodiles. We were very lucky as we had cooler weather during this 3 day Durban Safari tour and the animals were out and about!
Safaris from Durban have become very popular in recent years with many clients coming out of conferences or meeting in Durban to join a Day or Overnight Safari Tour with us.
I covered all the usual things like the History of Durban, KwaZulu-Natal and South Africa and the History behind the Hluhluwe Imfolozi game reserve, Flora and Fauna.
I actually didn't take my camera on the boat cruise at St Lucia so did not take pictures there except on with my phone which I posted to my Twitter and Facebook accounts.
We had such a great time at St Lucia and a great lunch before heading onto Hluhluwe Imfolozi game reserve to check into our accommodation at Hilltop camp for the next few days.
Little did we know at this stage that our Safari near Durban would be very memorable. Driving in from Memorial gate we say a fair few species including a herd of Buffalo on the road, Giraffe, Rhino, Zebra, Monitor Lizard and some antelope species!
Water Monitor Lizard seen during our Durban safari tour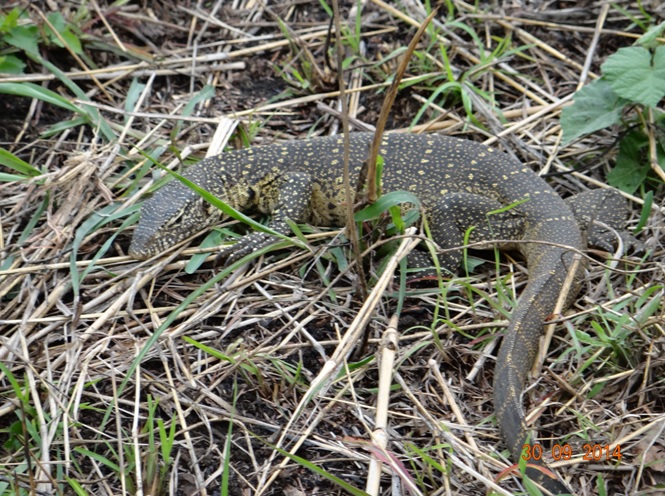 We continued to the lodge and again spotted some Buffalo on the road! This was amazing as we just sat and watched them for 10 minutes while at the same time looking at Giraffe.
Buffalo seen near the gate on our Safari near Durban
After checking in and having a few minutes literally to message my wife we headed back out onto the reserve to see what else we could find. It was just one of those Durban Safaris where you know that the animals are going to show up some where some how! We could not have been out 30 seconds and I spotted this beautiful bird, the Trumpeter Horn bill.
Trumpeter Hornbill seem close to our lodge on our Safari from Durban
This was amazing an after seeing more animals we in this one day seen 2 or the Big 5 and some amazing other interesting sightings. This was only the beginning of our 3 Day Safari Tour from Durban so we still had 2 days to see more and boy did we see more!
We settled in for the night at Hilltop camp and enjoyed some great food before we all rather quickly retired to bed. It had been a long day. I tried to get some work done but the Wifi was not strong enough to send out my quotes so I had to wait a couple days…
Day 2 of our 3 Day Durban Safari tour to Hluhluwe Imfolozi game reserve.
I met my client very early for them at 6am and we departed for a 3.5 hour Safari to see what new animals and wildlife we could spot. The day began with sighting after sighting of these amazing animals we have in Africa.
Zebra posing for a photo on Day 2 of our 3 day Safari Tour from Durban
After a great sighting of Zebras it was the turn of the Giraffes, it is so difficult to choose the best pictures so I just put this picture of this Giraffe bending down to feed right next to the road! Durban Safaris and Durban Tours are a must do if you are visiting Durban city for business or pleasure!
Giraffe seen on our Durban 3 Day Safari to Hluhluwe Imfolozi game reserve
We did find Elephant which is one of the Big 5 making it 3 of the Big 5 Spotted over the 2 days before breakfast on day 2 however the next picture was taken after breakfast. We has heard that Lions we spotted in a nice open area and had killed a Buffalo so decided to follow up on this, before we arrived this Big Bulls Elephant was wondering down the road towards us! He was resting his trunk over his tusk!
Bull Elephant walking down the road towards us on our Durban Safari Tour
It was at this point that the rest of our Safari from Durban would change for the better and we would have unbelievable sighting of the Big 5 as well as other animals.
We arrived at the area where the Lions had been spotted an as there was a burned section it was clear to see these lions well a couple of them. This is a Pride of 7 Lions, 2 adults females with cubs aged 18 months – 2 years. They had killed a Buffalo female in the night and one was guarding her prize while the others were hiding in a bush.
 Lioness give us the stare as she feeds on her Buffalo kill during our Durban 3 Day Safari Tour in Hluhluwe Imfolozi game reserve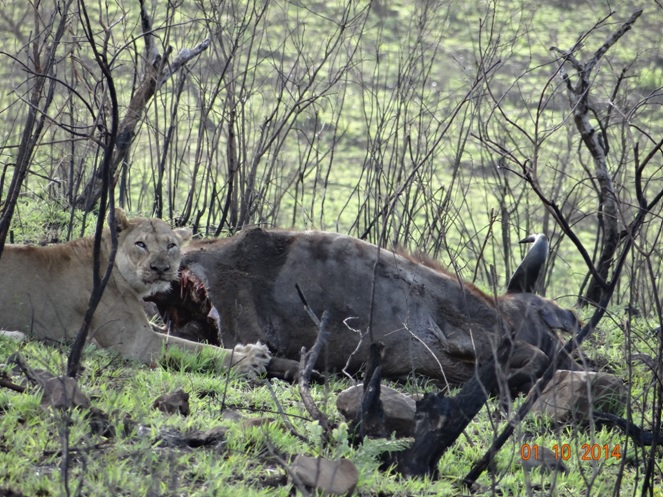 We had an amazing time watching these Lions especially later on when a Rhino walking right up to the Lions that were sleeping under the tree and he had no idea they were there. The Lions just stayed still keeping an eye on him and once we wondered past they relaxed again. A Rhino is to big to be taken by Lions generally speaking as they have a horn they use to protect themselves if needs be.
I made a video of this as you just wont believe me otherwise: Rhino Walks past Lions with a Kill Video click here.
Rhino walks past Lions on a Kill on our Safari near Durban
We enjoyed this amazing sight for some time before heading back to the lodge for a rest of 2 hours. We then headed back to the Carcass to see what had changed. It was great as now we had 3 of the lions active and this one young male was wondering around feeling sorry for himself as he must have eaten to much. He kept eating grass like your domestic dog and cat at home when they feel ill. Wow what a Safari from Durban this was turning out to be!
Young Male Lion rests after over eating during our Big 5 Durban Safari Tour
The next image also has a video link to it as it was the one Lioness feeding on the Buffalo during our Durban Safari Tour.
Lioness feeds on the Buffalo Carcass click here for video.
Lioness give us the stare as she feeds on her Buffalo kill during our Durban 3 Day Safari Tour in Hluhluwe Imfolozi game reserve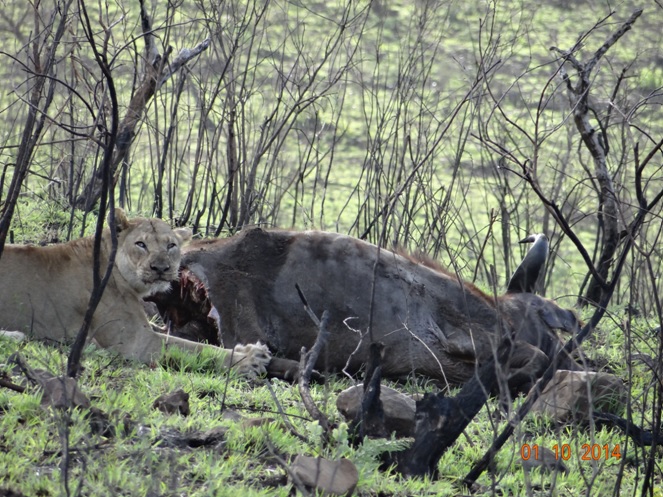 We decided it was time to go and look for different animals in the remaining time we had before the night drive and headed back round to the main road to continue our Durban Safari, here we spotted some lovely Rhinos and a mother with a tiny baby.
Rhino mother and new born calf sleeping next to her seen on our Safari near Durban
That was it for the day apart from the evening game drive where the client saw not new to what we had showed them but the experience non the less was exciting for them. It was time for dinner and then a good nights rest after a crazing day of more than 8 hours of Safari.
Day 3 of our 3 Day Durban Safari tour to Hluhluwe Imfolozi game reserve.
I got the clients up a little later this morning at 06:50 and we packed the luggage and made a move down to reception for some breakfast and to check out. It was nice to sit down with a cup of coffee while the clients sorted out there accommodation for the night in Umhlanga. We then departed for the last 2 hours of Safari time and this would also be amazing.
We spotted load of Elephant down in the valleys but was not a great picture so we just enjoyed them. We also spotted more Zebra and returned to the carcass. The Lions had gone and the carcass had been dragged closer to the road, the vultures were polishing off the rest…
Carcass of the Buffalo after being taken over by the Vultures on our 3 Day Safari Tour near Durban
We moved on after a short time here and spotted the same mother Rhino with her calf, the calf showed great interest in my car and we actually moved back so that the mother didn't get to interested in us. Baby crossed the road and mother followed her.
Rhino calf shows a little to much interest in us on our Durban Safaris excursion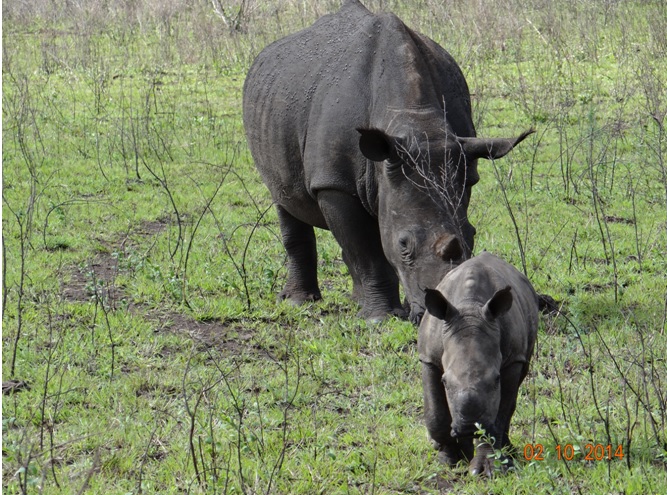 After this lovely sighting we headed out on a dirt road and found the African Wild Dogs, to me like gold as they are the most endangered Carnivore in Africa. They had all there pups with them and it was amazing amount 1/3 of the entire game reserves wild dog population were in one spot with us! So exciting you cannot believe!
I have to make a video when they all lined up on the road for us.
Wild dogs all over the road video click here.
African Wild dogs and there new litter of puppies on a road during our Safari from Durban
We were running out of Safari time so we headed out of Hluhluwe Imfolozi game reserve to Emdoneni Cat rehabilitation Center for the 10:30 Tour of the 4 endangered Cats the Cheetah, Serval, Caracal and African Wild Cat.
The client loved it and at the end of a great 3 days of Safari from Durban we began to head back to the Airport to drop the clients of for there flight back to Norway.
As Durban Safaris go this had been a brilliant Tour and we had seen lots of different animals but also the quality of the sightings were outstanding. If you would like to join Tim Brown Tours on a Safari near Durban contact us!