Safari tour from Durban to Hluhluwe Imfolozi game reserve 30th November 2014
This was the last day of Spring and really wanted it to be a great Durban Safari tour. 
After collecting my client North of Durban we headed up to Hluhluwe Imfolozi game reserve,the most famous yet unspoken game reserve I know about. It is home to the Big 5, close to Durban, 960 square kilometers, the oldest game reserve in Africa and incredibly scenic!
We got to Hluhluwe Imfolozi game reserve at 9am and began with seeing a few Rhinos near the gate.
It was a great start.
As we continued deeper into the African bush we spotted more animals but it was a quieter day, we did make the most of it though.
Cape Glossy Starling seen on our Durban day safari tour
Moment from the gate we saw a great sighting of a young male Rhino near to the road. It was a good opportunity for my clients to get some good photos.
Rhino on our Durban Safari tour
It is always a great blessing to do my job and show off my beautiful country to clients. We saw some really lovely things on our Durban day safari tour like this Monitor Lizard eating something in the middle of the road. Its small things like this which just make my office side of work so much easier.
Rock Monitor Lizard on the road during our Durban Safari tour
Before we got to the main Umfolozi river crossing we spotted a Buffalo Bull going into the river for  drink of water. We had now already seen 2 of the Big 5, the Rhino and Buffalo.
Buffalo Bull seen in the Hluhluwe Imfolozi game reserve on Safari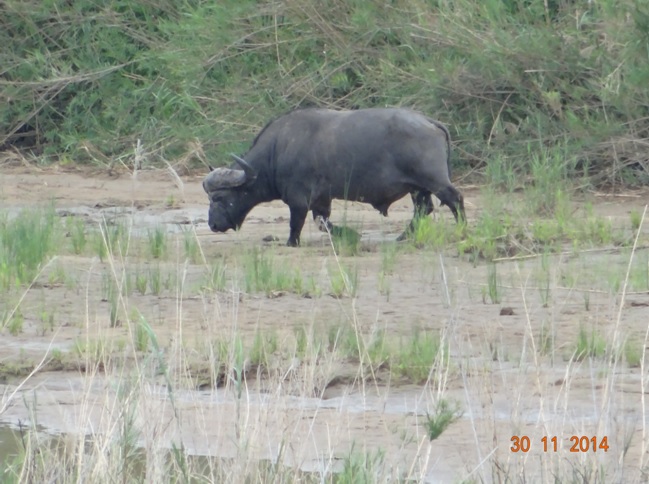 At the main bridge crossing the Umfolozi river we spotted a Bull Elephant down stream but he was very far away so the picture was not that great. As I always say though an Elephant is and Elephant and its was one of the Big 5. At this point in our Durban Safari tour we had seen 3 of the Big 5. The 5 most dangerous animals to hunt on foot.
Giraffe seen resting on our Safari near Durban
We spotted some Vultures in a dead tree which really looked very interesting but this was not because of a kill but rather that the days temperature was cooler so they were not going to waste energy flying as they would have to flap their wings more than if it was a hot day as they would then use the thermals to saw!
Vultures vegetating in a dead tree on our Safari from Durban
A little further down the road we spotted a dazzle of Zebra which was actually the first Zebra we has seen all day, they were nice and close to the road and we also had some Vervet monkeys playing in the trees.
Zebra on our Safari near Durban
A bit later we spotted this Male Baboon near the river. It is always great to see the primates as they are so similar to humans in the way they go about there daily activities and today was no different. Another great Durban Safari tour.
Baboon chilling out during our Durban safari tour
At this point we stopped at a hide to see if we could find any animals coming to drink, the craziest thing was there was almost no water and this was our rainy season! So clearly we did not hang around much before continuing our Safari tour of Hluhluwe Imfolozi game reserve.
It was a short while later and I spotted a herd of Elephant near the river. It was not the best sighting as they were very far away but an Elephant is and Elephant and there were 20 odd Elephants.
Herd of Elephants seen on our Safari tour from Durban
We decided that we had been driving on our Safari for 5 hours and we needed some lunch so we stopped at the Centenary center for a meal and a look around the craft market.
It had been a lovely day so far with 3 of the Big 5 showing up for us. Once we were done with our lunch we headed back out for a short while and were super lucky to spot some Lions! This now meant we had seen 4 of the Big 5 in one drive, in one day!
The Lions I must admit were really far away but Lions are also Lions and we saw them!
Lions seen on our Hluhluwe Imfolozi game reserve safari
At this point it was time to head out of the famous Hluhluwe Imfolozi game reserve and make our way back to Durban.
It had been a great safari tour and my client had enjoyed themselves and the company was great, we chatted most of the way back to Durban.
What a great Durban day Safari.