Shakaland – Zulu Cultural Day Tour from Durban.
I met my clients in Umhlanga(Durban) for there Zulu cultural Day Tour to Shakaland. Its always nice when client show a great interest in the History of Durban, KwaZulu-Natal and the Culture which is so diverse in this province.
I was asked plenty of great questions and spent a lot of time focusing on the Zulu Kingdom and mostly the great King Shaka! Shaka was considered by the Zulu people a the King which formed the Zulu Nation. Although the Zulu nation really began around 1550 with there first King being "Malandela", Shaka's name always resonates through out Zulu history as he was the great inventor and tactician!
King Shaka's Boyhood was very troubled having been chased away from the Zulu nation due to being the bastard son of King Senzangakhona, his father. Shaka as a young man had to fight back at bullies and by a stroke of good fortune ended up with the Mthetwa people which took him in. Shaka with the Mthetwa people grew into a strong man and worked his way up from a foot soldier to the leader of the Mthetwa army. Shaka eventually returned to the Zulu nation to claim his rightful place as the first born son of the ailing King Senzangakhona and upon his death in 1816 King Shaka took over the Zulus!
Anyway our Durban Day Tour to Shakaland where the film "Shaka Zulu" was filmed and which is a fully functional Zulu village began at 11am. We started with a short 12 minute video clip from the moving to set the scene for the day and then looked at the structure of the "umuzi" – The homestead.
Structure of a Zulu Home Stead – Umuzi
After we spat on a stone and threw it onto an Isivivane – Grave covered in Stones, all done out of respect! We moved on to be welcomed into the real Umuzi where we first were shown some of the traditional Zulu pots, strainers and baskets.
Zulu girls demostrate how to balance pots on there heads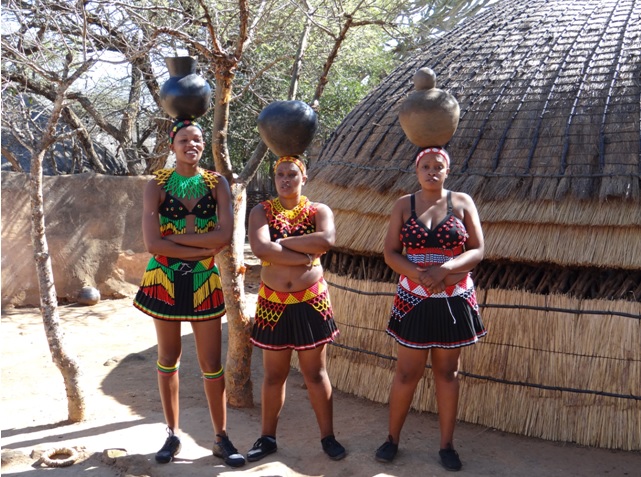 Married Zulu women makes a grass mat
Zulu woman strains the Zulu beer
Our next stop was to watch the Umqomboti  – Zulu Beer, being strained and to look at the different Zulu pots for carrying water, milk, Sour milk and beer.
The chief of the Zulu village then showed us how the Zulus would fight with there shields and Assagais -Short stabbing spears which King Shaka invented, before the clients had an opportunity to pose with him.
Zulu man demonstrates Zulu warfare on our Durban Cultural Tour
We then moved up to the Sangoma (Fortune teller) and Inyangas (Traditional healer) huts to learn more about them and there role in the Zulu nation. Zulu Culture is really interesting and on these Durban Day Tours to Shakaland you will learn things you had no idea existed in the first place.
The Inyanga – Traditional healer and his medicine
Polygamy is one of the interesting parts to Zulu Culture which with our short sighted western minds we judge before thinking about the reasons for it. During the many battles up to 1879 so many Zulu mens lives had been lost that King Cetswayo decided in order to ensure the security of the excess women that men needed to take more than one wife. There was a catch you had to pay for your wife, a brides price a dowry or in Zulu – Lobola! This insured that only the strong successful men could have more than one wife and ensured that women were not left on there own. If a Zulu Impi(Soldier) was killed his brother would also be instructed to take over his wives and children in order to support them! Not so silly when you think about the reason for Polygamy!
We moved on to taste Umqombothi(Traditional Zulu beer) as well as looking at the interesting bead work the ladies had put together. There were also other items like Smoking pipes and necklaces and we also watch how Maize(cheaper version of Corn) is ground up into a powder for use in cooking!
Zulu woman showing us how to grind Maize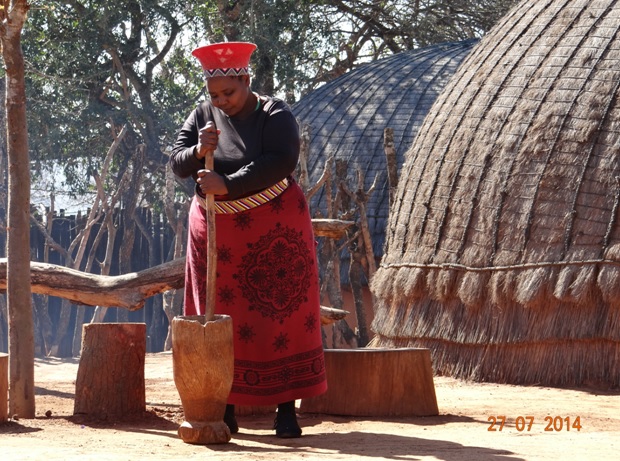 After this it was time to look at curios for sale to support the family before we would watch the Traditional Zulu dancing.
My clients we keen on weaponry much like myself and purchased a few items before we entered into the Dancing hut and had a wonderful cultural experience performed by the Zulu villagers. This you have to see when you come to South Africa.
Traditional Zulu Dancing at Shakaland
When the singing and dancing was over it was time to have some lunch. At Shakaland you will have a buffet but included in the buffet are some Traditional Zulu foods like: Samp and Beans, Phutu, Chakalaka and Sheba, always worth a taste.
After a final look around for some more weaponry we departed and chatted more about the Zulu Cultural on our drive back to Durban.