South African safari to Hluhluwe game reserve.
Our South African safari to Hluhluwe Imfolozi game reserve began in Durban. After collecting my clients we headed into Zululand and our safari began with a visit to a Cat rehabilitation center.
After some amazing interaction with four endangered species of cat we departed for Hluhluwe Imfolozi game reserve where we would try to find as many of the Big 5 animals as we could. We were very luck and the first animal we saw close was 2 Lions about 25 meters off the road.
My photos for them did not come out well but it was no problem as a couple kilometers away we found a Lioness resting!
South African safari; Lioness
We were shocked with our luck and on route to Hilltop camp where we would be staying we spotted Rhino, Buffalo and a few other species!
We then settled in at Hilltop camp for some lunch and then checked in before heading back out with already two Lion sightings under our belt. It wasn't long and we had found four of the Big 5! Elephants were feeding off in the distance but we didn't worry to much about this as I knew we would see them closer.
It wasn't long and our South African safari turned good again and we found Rhino close to the road and one sleeping behind a Marula tree!
South African safari; Rhino sleeping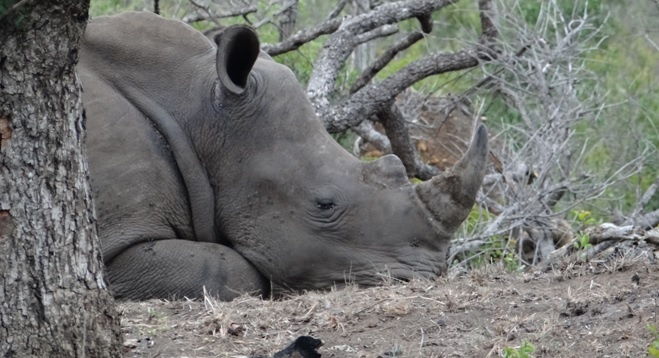 It was getting darker with all the cloud cover but we did spot Buffalo which didn't come out in the camera very well but the best was yet to come as at dusk we spotted a Lioness and had her all to ourselves for 25 minutes!
She fetched a carcass of a baby Buffalo and walked across the road in front of us with it and then lay down 5 meters off the road with it and fed! This was an amazing end to the day and I have videos to show you how awesome this part of our Safari from Durban was!
Video: Hluhluwe game reserve; Lioness carries Buffalo calf across road in front of us 

This was an amazing part of our South African safari and we then filmed her feeding next to us which was just incredible!
Video: Durban safari tours; Lioness eats a Buffalo calf 
At this point we were going to be late and we had accepted that we may have to pay a fine but it would be worth it due to the amazing sighting. We tried to get back to Hilltop camp as quick as we could but another Lioness further up the road almost on the road halted our progress!
South African safari; Lioness at night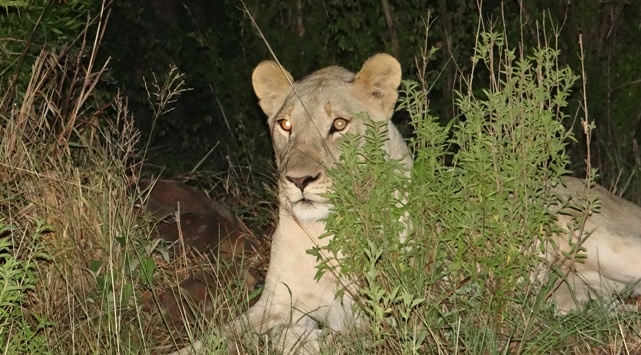 She was so beautiful we had to take a photo of two. we arrived 15 minutes late and were let in with not reprimand but the risk is to high to break rules. It in this case was purely not our fault.
We arrived at Hilltop camp buzzing and settled in for dinner. I knew I would not sleep after all the excitement but at some point during uploading of these videos I feel off to sleep.
The second day would begin at 5am.
Day 2: South African safari
We had another amazing start we found some Elephants in the distance and then some Rhino. The photos were no good and as we continued we had an amazing sighting finding African Wild dogs which is the most endangered carnivore in Africa! I was so stoked! Wow! South African safaris in Hluhluwe Imfolozi game reserve can be amazing.
South African safari; African wild dogs
Video: South Africa safari; African Wild dogs on the hunt
As we continued we found a Leopard tortoise on the road so I had to move it as we always find people not driving properly and hitting them.
South African safari; Leopard Tortoise
As we continued our South African safari we came across a journey of Giraffe and a Dazzle of Zebra. We also had then together on the road drinking from the small puddles of water from the rain in the night.
South African safari; Giraffe and Zebra
Video: Durban Safaris; Zebra kicks gravel to get nutrients from soil 
It was time to get to a rest room break so we headed for the Nyalazi gate. After a short stop we began to make our way back to Hilltop camp and found Rhino closer to the road.
South African safari; Rhino
Things we hotting up again on our South African safari and we found some Elephants next to the road which was amazing. The one male came onto the road for us.
South African safari; Elephant
I had been waiting for the perfect moment to take a good picture of Buffalo and it wasn't long till we got that too!
South African safari; Buffalo
The rain seemed to have softened the animals hearts and they were showing themselves except for that pesky Leopard which I wasn't expecting anyway. We still had time so we would see what happened.
We returned to Hilltop camp and had some Brunch before a rest. We would meet again at 15:45 for another attempt at more amazing animals.
At 16:00 we departed and as usual the African bush was slightly quiet before the later afternoon and evening. We managed to spot Elephant in the distance and had close ups of Rhino and Buffalo.
The rain began to fall and we spotted Baboon all curled up in each others arms trying to stay away from the rain.
South African safari; Baboons in the rain
South African safari; Baboons in the rain
It wasn't long before we had an awesome sighting on our South African safari of Rhino where their was 3 mothers and 3 calves which joined force to play and mud wallow, it was almost like a play group.
Video: Rhinos in Africa play with one another
We were hoping that on our way back we would be able to find some Lions as we had done so well the day before but as nature had it, it can also take it and we did not find Lions!
We did however come across one of my favourite Rhinos which has an abnormal horn which bends the opposite direction to usual.
South African safari; Rhino with wonky horn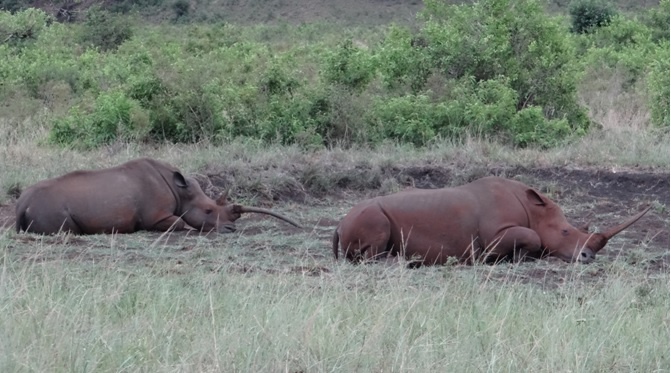 It was time to head back from our South African safari to Hilltop camp our based for the 3 days and have some dinner which well welcomed by us all.
After a great meal we would meet at 7am the following day for luggage collection, breakfast and check out.
Day 3: African safari from Durban
Our African safari from Durban began at 7am and we enjoyed some breakfast and got the formalities out the way before heading out for 3 hours or so to see what else we could find before we departed Hluhluwe Imfolozi game reserve for St Lucia or Isimangaliso Wetland park, South Africas first world heritage site.
It wasn't long and we found Zebra and Giraffe near the road.
South African safari; Giraffe
It was a quiet drive around considering we had basically seen everything most animals we saw we already had better photos so we just enjoyed the ambiance of the South African safari.
It was time to exit the Hluhluwe Imfolozi game reserve and we made our way to St Lucia or Isimangaliso Wetland park which was also established in 1895 and is home to 4 of the Big 5 but most importantly Hippos, Crocodiles and Bull Sharks.
Upon arrival we visited a craft shop and then boarded the boat up the St Lucia estuary to view Hippos and Crocodiles.
South African safari; Hippo
We also got a great photo of a big Nile Crocodile with a Grey Heron and an African spoon bill.
South African safari; Crocodile
The St Lucia boat cruise on the estuary is amazing and we always see lots of Hippos and today we even got a Hippo out the water as it was a cooler day which we do not always get to enjoy.
South African safari; Hippo out the water
It had been an amazing 3 days of Safari from Durban in Zululand and we were all very happy. Each day had its big sightings like the 4 Lion sightings on day one, the Wild Dogs and Rhino playing on day two and the third day was the Hippos!
We had some lunch in St Lucia before making our way back to Durban.
Another amazing South African safari under the belt!