11th November 2014
Durban Day Safaris, Durban Day Tours, Durban Safari Tours, Durban Safaris, Durban Tour Guide, Durban Tours, KwaZulu Natal Tours, Local Guides Durban, one day tours Durban, Sangomas, Tala game reserve, Tala near Durban, Tim Brown Tours, Tours from Durban, Tours near Durban, Valley of 1000 Hills Tour, Zulu Cultural Tour, Zulu Culture
Tala and Valley of 1000 Hills Zulu Cultural Day Safari Tour from Durban 8th November 2014
We began our Durban Day Tour in Durban city where I collected my clients.
It was a lovely day and the weather was just perfect for a Safari and for the tour around the Zulu Cultural village.
We arrived at Tala game reserve after a 45 minute drive from Durban where on route I had chatted about the History of our beautiful country and answered any questions my clients had for me.
One of our first sightings was of Rhino, Zebra and Wildebeest mix with some Blessbok.
These Zebra really posed for me nicely!
Durban Day Tour to Tala game reserve and the Valley of 1000 Hills Zulu Cultural Village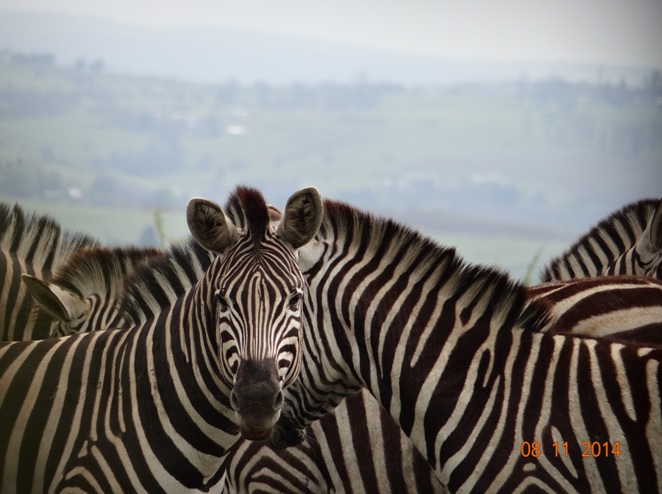 As we continued around the small game reserve of Tala we got a better photo of the Rhinos. Please not one of the Rhinos is missing a Horn from being poached; however the animal survived thanks to the horn not being hacked off at the base.
Dehorned Rhino and calf at Tala game reserve during our Durban Day Safari
We were very lucky as we spotted a Male Ostrich which was heading straight for a female so we watched him. He displayed to the female and even got to mate with her in front of us. He then just walked away!
Ostrich male does the mating dance for us on our Durban Day Tour
We stopped for a rest room break and some shopping. After my clients were done we continued on and found some Giraffe near the road. This really was a great Durban Day Tour.
Giraffe at Tala game reserve on our Day Safari Tour with Tim Brown Tours
We ventured down to the dam and spotted some Hippos there resting in the water before we decided it was time to leave and get to the Valley of 1000 hills for the Zulu Cultural tour and lunch.
We had a lovely lunch and then quickly went around the reptile park before at 2pm visiting the Zulu Cultural village. We got some great entertainment as the Zulus danced for us.
Phezulu Zulu Cultural Village Dancing on our Durban Day Tour
We also got to enter into two of the huts, the meeting hut and the cooking hut. These Sangomas were interesting as well.
Sangomas at Phezulu Cultural village on our Durban Day Tour
It was now time to make our way back to Durban after quite a good day under the African sun and after learning more about the Zulus and there traditions and seeing such amazing animals.
A Durban Day Tour is always better if you hire a local guide as you will learn so much more about the area and what you are seeing.