Tala game reserve and  Valley of 1000 hills tour
We began our Durban safari tour by collecting my clients off the Oceana Insignia in Durban. Here we began our Tala game reserve and valley of 1000 hills tour.
It was a pleasant drive up into the Valley of 1000 hills and before you knew it with all the chat about the history of Durban and KwaZulu Natal we had arrived at Phezulu early so we began with a tour around the Reptile park.
The Valley of 1000 hills is a stunning area and home to the Zulu people who have lived here for a couple hundred years. The Zulus took over many other smaller tribe like the AmaDebe people by chasing them into these hills and starving them to death.
Durban mini safaris; Valley of 1000 Hills
After The reptile park we made our way over to the Zulu cultural village for the tour there. It was great as always and the Zulu dance was brilliant.
Durban mini safaris; PheZulu safari park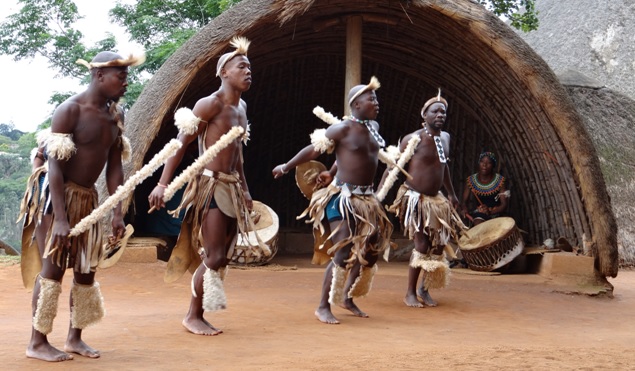 Once we finished enjoying the Zulu cultural village and the traditional huts we did a little craft shopping before a scenic drive through the valley of 1000 hills to Tala game reserve.
At Tala game reserve we began our safari experience and spotted Rhino soon after arriving.
Durban mini safaris; Rhino at Tala
You will notice that the Rhino has a radio transmitter collar on its foot and Tala also has armed guards who will shoot you if you try to attacked the Rhino in any way.
Poaching is a big issue and South Africa is protecting its Rhino!
Further on we spotted a male and female Ostrich near the road.
Durban mini safaris; Ostrich
We also found lots of Blessbok and Zebra before we stopped at the main lodge for a restroom break and a look at the craft shop.
Tala game reserve has a very good craft shop and a lovely lodge environment.
Durban mini safaris; Blessbok
We continued with our Durban safari and the search for the Giraffe which was becoming difficult. In the mean time we spotted some great Zebra.
Durban mini safaris; Zebra
Finally my well trained eyes spotted a Giraffe in the distance. Wow it was actually a relief! Giraffe love the Acacia tree leaves and I had searched every area where there food was but had been battling to find them. Eventually the hard work paid off.
Durban mini safaris; Giraffe
We then headed down to the dam and found the Hippos actually posing very nicely for us which was great! It is always good to have a good sighting of these amazing creatures.
Durban mini safaris; Hippos
It was not time to make our way back to Durban harbour and drop my client off at there cruise ship. It had been a great Durban day safari tour and we had done and seen so much in a short time of this mini safari.
We arrived safely back in Durban after some really bad traffic and then said our goodbyes.
An amazing Safari in KwaZulu Natal!