Tala game reserve and Zulu culture tour
I was collecting my clients of the Ocean Princess cruise ship which was docking in Durban for the Tala game reserve and Zulu culture tour.
As we were expecting some bad weather the ships was more than 2 hours late which meant we would need to adjust the tour slightly to maximize the time for the clients in Tala game reserve and on the Zulu culture tour.
We left Durban harbor at 11:30 and made our way straight to Tala game reserve, it was here we began our Safari part of the tour and tried in 2.5 hours to find as many of the animals as we could.
Tala game reserve being very small has a very high density of animals which made things easier for me to find all the animals the clients wishes to see.
We found Rhino, Giraffe, Zebra, Hippo, Wildebeest, Ostrich, Impala, Nyala, Warthog, Blessbok and much more…
Below is a picture I managed to get of a Zebra with its mouth open showing off his teeth!
Tala game reserve tour; Zebra showing off his teeth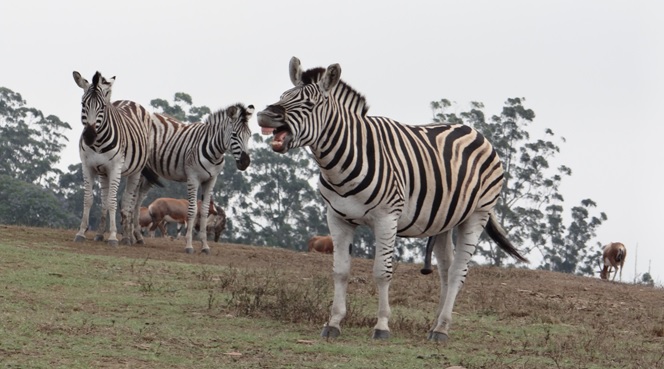 It wasn't to far away that we found our Rhino resting under the supervision of the staunch anti-poaching team which will shoot anyone who attempts to touch the Rhino!
We are having huge issue as I told my clients with poaching of Rhino horn and Tala game reserve is no exception! Tala game reserve has had 3 of its Rhinos taken down by poachers with one surviving!
Tala game reserve tour; Rhino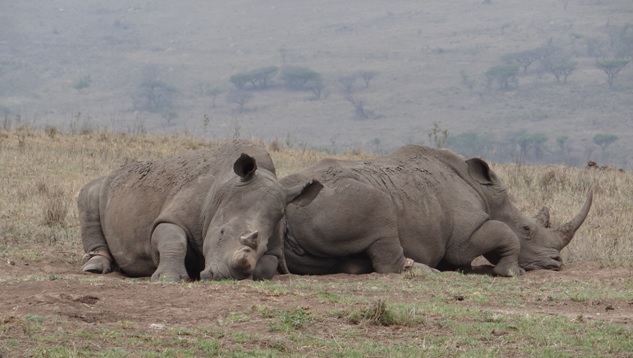 We continued on and stopped to stretch our legs before going in search of Giraffe. It was not easy and we battled but being a small game reserve I knew that we could get them if we kept looking.
In the process we stopped and spotted the Hippo in the dam which we enjoyed for a short while and then we continued looking for Giraffe.
Tala game reserve tour; Hippo
After a little longer we spotted a huge male Giraffe and enjoyed him for 5 minuted before we had to depart to get into the Valley of 1000 Hills for the Zulu culture side of the tour.
Tala game reserve tour; Giraffe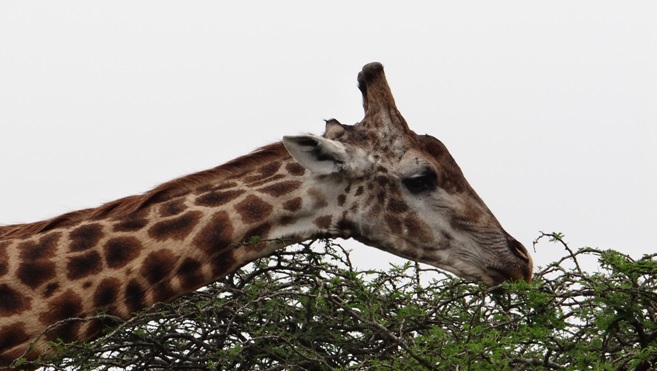 We arrived in the valley of 1000 hills on our Durban day tour and were welcomed with some mist which was rolling in. This did not stop us from enjoying the rest of the day tour as we looked around the craft shop before the Zulu dance and Zulu song.
Zulu culture tour; Zulu dance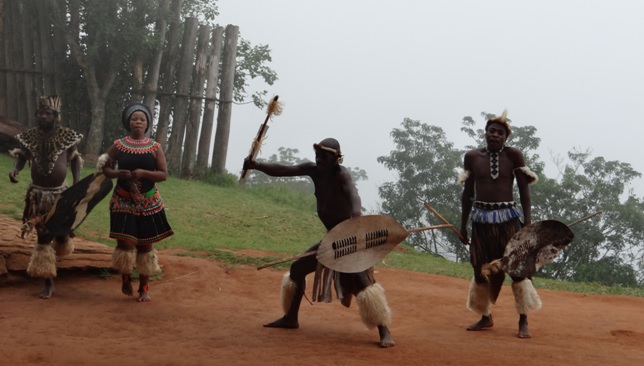 The rain began to fall but the Zulus kept dancing and singing for us and put on a great show. We all enjoyed the way the boys and girls had banter with one another and all enjoyed themselves in the Zulu dance.
We got to learn more about the Zulu culture and met the Songomas which are the fortune tellers and the demonstrated how they would tell a young Zulu mans fortune before his wedding to a girl.
Zulu culture tour; Zulu Sangoma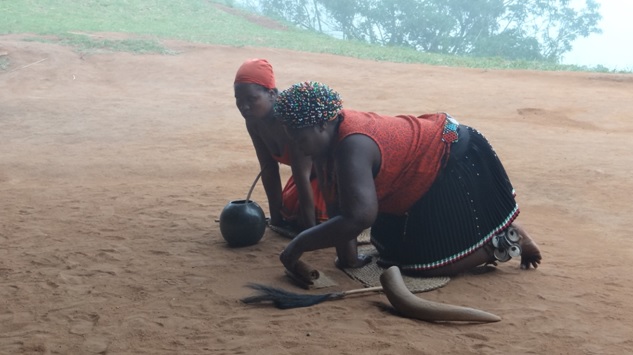 After the amazing Zulu culture experience we entered into two of the Zulus huts for an interpretation of the two huts and to learn more about the Zulu culture.
It was now time to decided what to do as it was drizzling and the mist was thick. We already had the tickets for the Crocodile/Reptile park so two of my six clients came with me while I showed them around the center. The other looked through the shop before we met again and departed for the ship in Durban.
It had been a great day and we had managed to fit everything in with out cutting the tour short.
Join us for a Tala game reserve tour and/or Zulu Culture tour, click the link below: