30th March 2015
3 Day Durban Safari Tour, 3 day safari to Hluhluwe, Big 5, Big 5 Safaris Durban, Cat rehab tour', Durban Safari, Durban Safari Tour, Durban Safaris, Durban Tour, Durban Tours, Hluhluwe Imfolozi, Hluhluwe Imfolozi game reserve, Hluhluwe Imfolozi Safari Tour, Hluhluwe Safari, Hluhluwe Safari tour, Hluhluwe Tour, Isimangeliso Wetland Park, Safari from Durban, Safari to Hluhluwe, Safari to Hluhluwe Imfolozi, St Lucia
Durban safaris and Tours – Safari to Hluhluwe Imfolozi game reserve 26-28 March 2015
We began our 3 day safari to Hluhluwe Imfolozi game reserve in Umhlanga and then met my other clients in the Canelands area outside of Durban. It was a humid day and only got hotter as we headed onward to the cat rehab center outside Hluhluwe. Durban safaris and tours are the best was to see KwaZulu Natal this amazing province that we live in and taking a tour with Tim Brown Tours is the best choice you can make if you have limited time.
As usual I covered the History of KwaZulu Natal and Durban on route up to the Hluhluwe Imfolozi game reserve and before you knew it we were already at the Cat rehabilitation center in Hluhluwe.
We began our tour of the cat rehabilitation center and started with the African wild cats which look most similar to the domestic cats. Moving on we entered the Caracal enclosure where we got a very active cat to watch but not touch.
Durban Safaris and Tours; Caracal licks its nose
It was then time for some interaction and we headed into the Cheetah camp to interact with two hand reared brothers. It was here that my clients got to sit with the Cheetah and have their picture taken.
I got one in of two of my four clients and I hope they don't mind me using their picture.
Durban Safaris and Tours; Clients with Cheetah
Video of Cheetah walking towards me on our Durban safari tour.
After this amazing experience we entered into and enclosure with a 6 month of Cheetah which will be used for breeding in the future with her sister which happens to be at the vet at the moment.
We all interacted with her before moving onto the Serval which are cats that are easily domesticated which means these hand reared cats and be more playful than some of the other bigger cats we saw.
Durban Safaris and Tours; Serval yawns
Wow! What an amazing experience! How can you visit Durban and not come on a Durban safari or Durban tour when their are so many amazing things to see and do on a cultural, historical and natural level.
We had completed the tour of the cat rehab center and made our way to Hluhluwe Imfolozi game reserve for our Big 5 safari tour. It is always special to visit the oldest game reserve in Africa which is also home to the Big 5 animals, Lions, Leopard, Rhino, Buffalo and Elephant. These are the 5 most dangerous animals to hunt on foot, not that hunting takes place here anymore as it is a national park and used for eco-tourism.
Upon entering we spotted some Buffalo, Zebra and Impala within a few minutes. We then had a great sighting of 2 Rhino which crossed the road in front of us!
Durban Safaris and Tours; Rhino
As we continued our Durban safari we got a bachelor herd of Buffalo and they we close to the road but they were mud wallowing. They were not to keen to have us around and ran off down the road and onto the other side parallel to us. We drove next to then and realised they we running at almost 40 km per hour!
At this point I noticed they wanted to cross back over to a watering hole to drink so I stopped they came across into the watering hole to drink.
 Video of Buffalo drinking on our Durban safari tour.
After watching this amazing show on our Durban safari tour we also managed to get a great photo of one of these Buffaloes licking his nose clean after the drink he had. This really was a special moment.
Durban Safaris and Tours; Buffalo licks his nose
We now were all getting a little hungry so we headed off to Hilltop camp for some lunch and we also checked into our rooms so we could have 45 minuted of rest to recover from all the excitement.
Our Safari from Durban really had started well.
At 15:30 we headed back out and it was still hot and humid so we had the air-conditioner on. We stopped at a few view points and spotted some Baboon on the road at one point.
Durban Safaris and Tours; foot and mouth Baboon!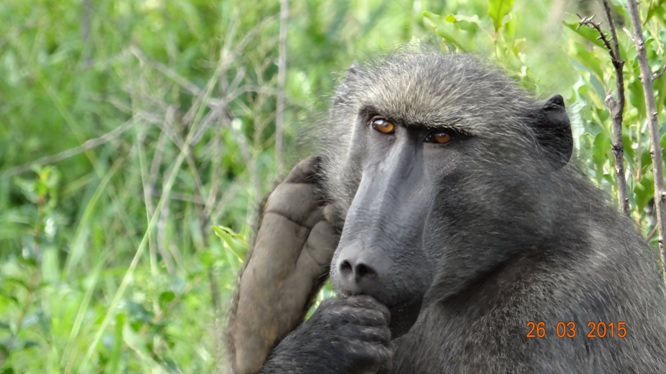 This Baboon seemed to have so issue with his foot and mouth in sure it wasn't the disease though! It was a great picture as the light caught his eyes and the hand to mouth and foot to head just made it such a winner!
We continued and found Nyala and Rhino in the distance before spotting some Giraffe near to the road.
Durban Safaris and Tours; Giraffe
After checking for Elephants everywhere I felt a little deflated having not seen any on day one but I also knew we had 2 more days. So after a long day in lovely Africa we headed back to Hilltop camp for the night and so great Buffet dinner. One of the meats was Eland the largest Southern African antelope which is not hunted on Hluhluwe Imfolozi game reserve I will have you know!
We wanted to do some Star gazing but the clouds came over so we could not. We would have a not so early start the next morning at 7am when we met for breakfast and then headed down south in Hluhluwe Imfolozi game reserve.
Day 2: Durban safaris and Tours – Safari to Hluhluwe Imfolozi game reserve
Day 2 was a very important day for us to try and knock some of the big things on the head. It was a little stressful as I was sure we would find Elephant but was not so positive on the Lion front. They always say that hard work pays off and we worked very hard on day 2 to find the Big 5 and even the little Dung beetle.
After a quiet 30 minutes I was frustrated but then I spotted these Elephants! What a relief!
Durban Safaris and Tours; Elephant
We had 3 or 4 Bull Elephants together and watched then in a dry river bed before they moved out into the open for a good picture! Wow it was great! It is such a relief, I don't think anyone really realizes how stressful my job can be. It a constant effort to find these animals for my clients and sometimes no matter how hard I try it doesn't come off. Most of the time it does though!
Next was a Leopard Tortoise which was on the main road so we waited for it to move off the road so it didn't get squashed and enjoyed it walking around, Wow what a great sighting on our Safari from Durban in Hluhluwe Imfolozi game reserve.
Durban Safaris and Tours; Leopard Tortoise
It was now time for the Big 5 and not the little 5 so we continued down south and crossed the Black Umfolozi river it was here I made the best all of the day. I said, "lets check back on that little road" I did and bang we got a pack of Wild dogs for 2 minutes as a mud wallow all to ourselves!
Durban Safaris and Tours; African wild dogs
This was really the cherry on the top but more amazing sightings would follow, we just had to keep working hard and we would find more amazing animals.
Just in case you didn't know this is the most endangered carnivore in Africa and their are only 60 odd in Hluhluwe Imfolozi game reserve, we saw about 13 of them! It was amazing! What a safari from Durban.
Next was a male Wildebeest which we spotted in an open area we 4 Rhino one of which made his way to the mud Wallow and lay down for a while.
Durban Safaris and Tours; Wildebeest
After all the worry of the morning the day was really turning out very well. Our Safari from Durban was about to take another great spin as we finally found Lions, 15 meters off the road laying in the thickets.
This was really amazing and such a relief, we ended up watching these Lions for 20 odd minutes and one of the Lionesses got up and wondered around which was great to see.
Durban Safaris and Tours; Lions
Video of Lioness walking:
The above video was very interesting as you will see in the video the Lioness was branded with the number 13. For some people this is a lucky number and other it is not, for us it seemed to be lucky.
As we moved on we found some Zebra right next to the road and they were resting their heads on each others backs which was amazing for my client to see. There is an explanation for this but you will have to take as Durban safari tour with Tim Brown Tours to find out!
Durban Safaris and Tours; Zebra pose
Right across the road from the Zebra was a Rhino in a mud wallow and this was a crazy sighting as he was only 2 meters from the road which made it hard to drive up and not disturb him. We managed it though by turning of the engine and rolling up top him.
Durban Safaris and Tours; Rhino in the mud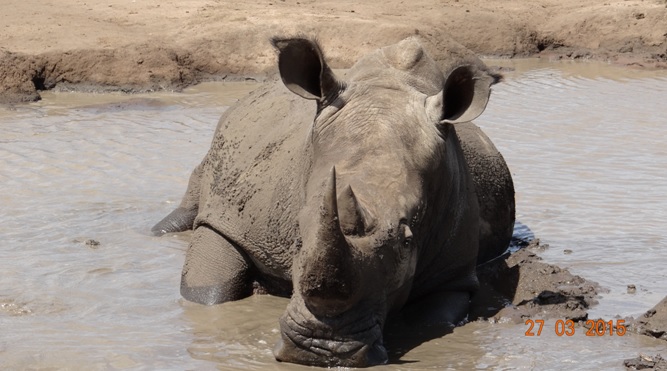 This was a very special sighting and you really had to be there to feel what it was like. I made a short video which I hope can help you feel what the experience was like for us and mostly my clients on this Hluhluwe Imfolozi safari tour.
Video of Rhino in Mud wallow on our Durban safari.
We really had now be incredibly lucky and seen so much that we could only smile and laugh at how nervous I had been in trying to find good sightings for my clients.
We didn't have to go much further before we spotted a Giraffe male feeding off the trees.
Durban Safaris and Tours; Giraffe feeding
We were all getting hungry again after all the concentration and made our way back up to the Centenary center home of operation Rhino which brought back the White Rhinos in South Africa from extinction and also restocked Kruger national park with the population they have today.
Lunch was great and a look around the museum and curio shop was on the cards before we began the hour long drive back to Hilltop camp.
On route we spotted another Elephant right next to the road feeding.
Durban Safaris and Tours; Elephant feeding
Our day could not have been any better and as we arrived back at Hilltop camp we only had 45 minutes before the open vehicle game drive which my clients chose to do for the experience.
We met again at 8pm upon there return to see if they stars would be visible so I could do some star gazing before dinner. Sadly it was very cloudy and we had no chance. Even after another half hour no luck for us!
We went off to bed still very satisfied with our Hluhluwe Imfolozi safari tour and looking forward to the last day which would contain 3 hours of Safari and a 2 hour boat cruise on Lake St Lucia at Isimangeliso wetland park.
Day 3: Durban safaris and Tours – Safari to Hluhluwe Imfolozi game reserve
We began which packing the luggage into the car and a 7am start then breakfast. It was a great buffet again and then we got work the another pack of Wild Dogs were on a Nyala male kill not far from the camp. We rushed off and found what was left of the Nyala which was 1 leg and some horns! That was exciting enough but the smell of the Dogs was still in the area and we drove through a thicket which lead us to the dogs in an open area. They were up to there normal behavior after  a kill of defecating and resting in the grass. A couple of the dogs including the Alfa male and a sub Adult male showed off a bit to us which was great to watch.
Durban Safaris and Tours; African wild dog
Video of Wild Dog scratching.
After this we found an African Harrier Hawk in a tree near to the road. My clients seemed to be interested in birds so this was great for us to see and watch as he flew from branch to branch. As Safaris from Durban go this was really one of the better one!
Durban Safaris and Tours; African harrier hawk
We didn't have to go much further and at a bridge crossing we spotted a Crocodile resting in the water. These are amazing creatures to see also like the Rhino so prehistoric to look at yet their simple body is so effective.
Durban Safaris and Tours; Crocodile
We continued and did a loop which was not really that lucrative but after what we had already seen it didn't seem to matter as we had some general chatter. We did spot some Rhino and Buffalo but all pretty far off except for one.
I again got word the Lions were in another area further south in the reserve of Hluhluwe Imfolozi so we made our way down their before exiting the reserve and came across some very sleepy lions. At this point the rain also came down but the Lions just lay in the open not to worried.
Durban Safaris and Tours; Lions sleeping
We now had just the cherry on the top and this way great as it was one of my clients birthdays and to now seen Lions and African Wild dogs twice in 3 days was amazing for us all. Durban safaris never seem to let you down even when things are quiet their is always something that shows up for us.
It was not time to head to St Lucia – Isimangeliso Wetland park and it was here that we would do a 2 hour boat cruise on lake St Lucia to view Hippos and crocodiles. This area of St Lucia estuary is the largest estuary or lake system in Southern Africa.
Durban Safaris and Tours; Hippo at St Lucia
We managed to capture these two Hippo having a little argument in the Estuary. It was great to see their mouths open and having a full on conversation over something which I couldn't hear.
We also spotted lots of King Fishers and even this amazing African Fish eagle.
Durban Safaris and Tours; African Fish eagle
To catch these birds in flight is a real challenge but I got it! I was pretty happy with the picture I must say.
We headed into St Lucia town for some lunch and enjoyed the meal before we headed all the way back to Durban to return the client to their respective hotels.
I know we all had a good time and the sightings were so special so I have to thank nature for showing up for us and making our Hluhluwe Imfolozi safari tour that much more special.