One Day Tour/Safari from Durban 15/10/2014
I met my Client in Umhlanga and we headed out to the Hluhluwe Imfolozi game reserve, Africa's Oldest protected area. On route I got chatting about the History of the area and the National park. It is always interesting to cover some of the basics to set the scene for you clients so they are aware of where they are and how special the place really is!
This One day Tour from Durban was really a good showing on the animal front with a huge variety all we missed was the cats which is very usual for a one day Tour from Durban.
As we entered the main gate into the reserve we were greeted by a Bull Elephant next to the road so we stopped for a minute to enjoy his company.
Elephant seen on our Durban Day Tour
We spotted Herds of Buffalo and Rhino on the hills in the distance during the first few minutes so expected the day to be a good one!
The next major sighting was some White Backed Vultures sitting on a nest near the gate.
White Backed Vultures seen on our one Day Safari from Durban
We continued on and kept getting lucky with animals all over the hills but just a bit to far for a good photograph. It didn't take long for that to change and we spotted some Rhinos near the road on our one Day Tour from Durban.
Rhino seen on our Durban Day Tour to Hluhluwe Imfolozi game reserve
Our Day Safari from Durban continued for a very short time before we spotted more animals including : Wildebeest, Impala and Zebra. The next best thing was a couple of Baby Giraffe with there mother far in the distance.
Giraffe seen on our Durban day Safari Tour
As we crossed over the Umfolozi river there was not to much activity and we did spot some Buffalo Bulls and Warthogs even Impala before we got down to a lovely view point over the river. It was here we stretched the legs and enjoyed the view and also spotted a lovely White Fronted Bee Eater.
White fronted bee eater seen on our Durban day Tour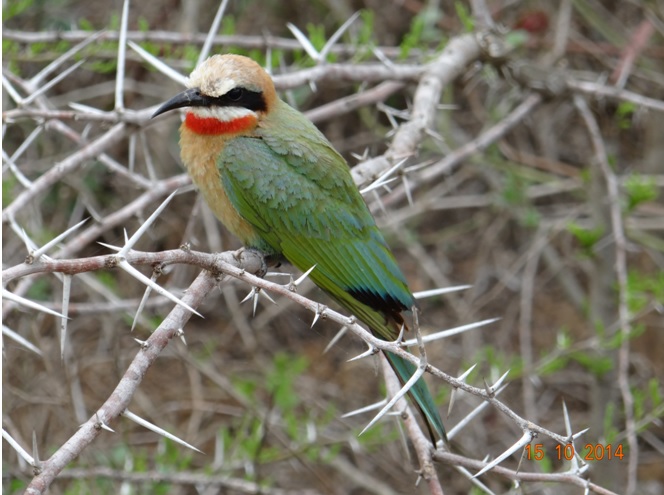 We continued past an old Giraffe Kill from 2 weeks ago and kept seeing more Rhino and Impala. We eventually spotted some Nyala and got a picture with the 2 species together. This was turning out to be a great Day Safari from Durban.
3 Nyala and 1 Impala seen on our Safari near Durban
We were seeing such a variety of animals on our one day safari from Durban but were just missing out on Cats. As we continued we spotted more Rhino and got this lovely shot of a Vervet Monkey and her baby fast asleep while suckling milk.
Vervet Monkey with small baby seen on our Durban Day Safari
The animals were not the only things we saw out in the National park of Hluhluwe Imfolozi. We also spotted lots of Snake Lillys and Ground Lillys. Over the past couple weeks these Bulbous plants have begun to bloom and they are beautiful and lighting up the floor of the grasslands.
Snake Lilly seen on our Durban one day Tour
We then stopped at a view site where they have Toilet facilities and had a look over the Umfolozi river. There was no animals visible but this is normal when the weather is cooler and there has been rain which means that the animals don't need to stay around permanent water due to the puddles in there game reserve.
Our One day Durban Safari Tour continued and we found more animals!
Herd of Buffalo seen during our Safari from Durban
This was a lovely large herd of Buffalo and I only took a picture of a small group of them. At this point we were heading up to the Centenary center for some lunch before the final stretch before exiting the game reserve.
We got back for some lunch and a look around the Curio/Craft Shop and then continued our one day Durban Tour.
Next on the list was a Zebra close to the road an worth a photograph!
Zebra seen on our Durban Tour to Hluhluwe Imfolozi game reserve
As we continued our Durban Day Safari Tour we spotted more Buffalo, Rhino and Warthog. We did then get a great photo of an Elephant bull just after the luncheon. He was with a friend and he came out onto the road and we let him get nice and close before he crossed the road and took a toilet break in front of us! 
Elephant Bull seen on our day Tour from Durban
At this point we had had such a great Durban Day Safari Tour that we could hardly have bettered it unless we saw a Cat. We did not but we saw a Slender Mongoose and some Baboons before finding a Leopard Tortoise on the road!
Leopard Tortoise seen on our Durban Day Safari
This little guy was luck not to get hit by and cars so we waited for him to cross the road safely before heading out to the gate and made the 3 hour drive back to Durban.
Overall this had been a great one day Tour from Durban!