Durban day safari – 10th July 2015
Our Durban day safari began in Durban where I collected some of my clients for this African safari near Durban. We continued to Umhlanga to collect Nick and then headed up to Hluhluwe Imfolozi Big 5 game reserve.
I was a little concerned as I had been up a few days in the week already and it had been a little quiet on the Cat front so decided to play it safe and enter a gate I knew we would have more chance at finding animals.
After covering some of the interesting History of Durban, KwaZulu Natal we arrived at the gate and entered into the Hluhluwe Section of the game reserve.
We were in luck as the African Wild dogs the most endangered carnivore in Africa were in the area the only problem was they were hunting in the thickets so we couldn't see them. We waited a bit then went to look at some Zebra before returning. Upon returning we got one African wild dog running down the road towards the den site so he could regurgitate meat for either the puppies or the mother.
It was great as we had the dog to ourselves. Once he disappeared we found the others and followed them as they ran straight past two old Buffalo bulls who just watched them run by!
Durban day safari; African Wild dogs
This had been an amazing sighting and I tried to explain this to my clients about how special and endangered the African Wild dogs are which is never easy as they are dogs.
We stopped back at the Buffalo to enjoy them and one old male gave me the stare which says "You owe me money!"
Durban day safari; Buffalo
On our way round to a dirt road loop we found a dazzle of Zebra near the road and they we closer that the others we had seen earlier. Wow, what a great start to our Durban day safari in Hluhluwe Imfolozi game reserve.
Durban day safari; Zebra
On the loop we managed to find Baboons and a red Duiker feeding off the fruits that the Vervet Monkeys were dropping from the Sycamore fig tree.
I got a great shot of one female with the baby Baboon on her back! Baboons are always interesting to see on our Durban safaris as they are so much like humans.
Durban day safari; Baboons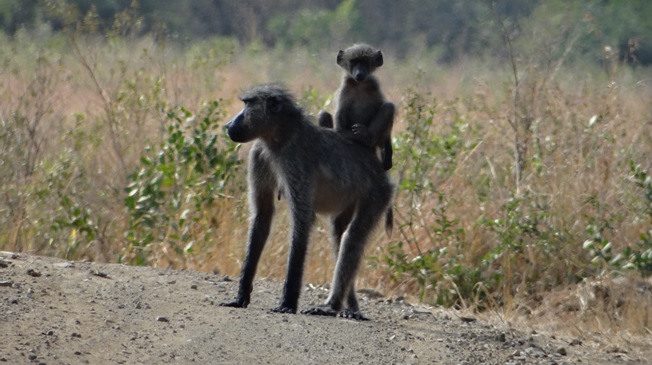 As we continued our Durban day safari we found some Warthogs which were so red which is obviously from the soil that they sleep in when they are in their burrows and the colour of the mud the wallow in.
One actually rubbed her bum on a little bank of an old dry mud wallow.
Durban day safari; Warthog scratching
We made our way toward the Hluhluwe river and spotted a herd of Buffalo and a Crocodile in the river as well as some Nyala which were far away. As we continued we got some Elephants but the pictures were not good so I omitted them from this post as we saw more later in the day.
We finally spotted a Rhino but he was very far away so we decided to continue on with our Durban day safari.
It was time to stop for lunch and enjoy the view from Hilltop camp.
Lunch with a view is always amazing although it is busier at the lodge so lunch takes a little longer.
Once lunch was done we headed South and found a Black Rhino on a hill which was amazing as there numbers are so low. It was very exciting for me.
Durban day safari; Black Rhino browsing
One of the interesting things is the susceptibility the Black Rhinos have to parasitic issues on their sides of the body and in the soft areas of tissue. They spend a lot of time in thick areas like riverine forest as they eat leaves and twigs not grass. You will see the wounds on this Rhinos side.
Video – African safari; Black Rhino browsing on a hill
We continued on very hopeful for the rest of the day and it wasn't that long before we found a White Rhino male nearer to the road. He was very relaxed and feeding away so we could enjoy him for a while.
Durban day safari; White Rhino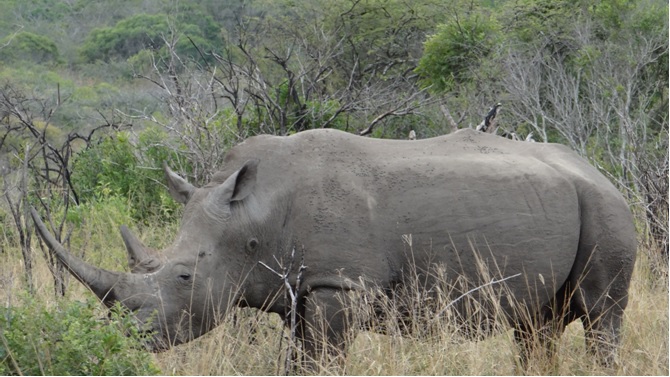 Moving on with our day safari from Durban we came across not much else so we stopped to check the hills and enjoy the views.
Then we managed to finally find Giraffe which was a huge relief for me…. a bit later on near the exit we would also find Elephants and more Giraffe.
Durban day safari; Elephants
The Elephants were moving on a ridge not that far from the road and parallel to us. This really did complete our safari from Durban! The best was as we were about to exit Hluhluwe Imfolozi game reserve we spotted a number of Giraffe very close to the road which was the Cherry on the top!
Durban day safari; Giraffe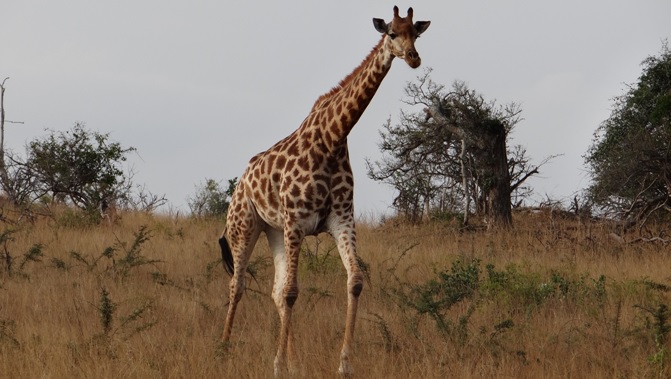 It was time to head on back to Durban and remember what a great Durban day safari we had had.
On route we just had general chats and any questions were floored before we reached Durban and Umhlanga to return the clients.