Hluhluwe game reserve safari 15th October 2015
After having a few days off from being on the road I began another Hluhluwe game reserve safari. This time for a couple from America who were out in South Africa for a holiday.
An African safari is always the best way to see the best that Africa has to offer. And Hluhluwe game reserve – which is a Big 5 reserve –  is the best place to visit if you are in the Durban, KwaZulu Natal area.
Hluhluwe Boasts the BIG 5
Hluhluwe game reserve is the oldest protected reserve in Africa. It is home to the Big 5, the 5 most dangerous animals to hunt on foot. The Lion, Leopard, Buffalo, Elephant and Rhino. We are very fortunate to have the Hluhluwe game reserve on the door step of Durban.
Hluhluwe game reserve is a mere 2.5 hours away from Durban city. And one of the best choices for a one day safari.
We began this amazing day in Durban where I met my clients. On route to the Hluhluwe game reserve I covered the history of Durban, KwaZulu Natal and South Africa. As South Africa and particularly Durban is a melting pot of difference cultures. There is just so much to talk about before we even get to experience the Hluhluwe game reserve.
We arrived earlier than I expected. And I had an idea where Lions could be from discussions with some guides the day before. We went straight there but the Lions were no where near where I had been told. I figured I would try another 5 km up the road just to be sure. And just as I was about to turn back we spotted them feeding on a Buffalo about 100 meter off the main highway. This road cuts through the middle of the Hluhluwe game reserve in the North and the Umfolozi game reserve in the South.
Hluhluwe Lions on a kill
It is a bit of a misconception that Vultures always circle when there is a kill. They circle and drop down waiting in the near by trees and on the group for the predators to finish. A lot of the time you can see vultures circling and you assume they have found a carcass. Most of the time it is just them catching the thermals. After leaving their roosting spot they use the thermals to conserve energy circling upwards before heading off to find a carcass.
These Lions had killed this Buffalo a couple days before and we got to see 5 Lions in total. There were two big males and 3 Lioness.
Hluhluwe game reserve; Lions feeding on a Buffalo
We spent approximately 45 minutes with these Lions, watching them feed and move around. We then decided we better head into the gate of the Hluhluwe game reserve and investigate roads that we can only use by paying the entrance.
What was so funny was that on this one stretch of road we had seen 3 of the Big 5, Buffalo, Lions and Elephant.
We entered the Hluhluwe game reserve and had some luck. We spotted a dazzle of Zebra walking down the road towards us.
Hluhluwe game reserve safari Zebra walking down road
We had a great sighting of these Zebra and we made our way further north in Hluhluwe game reserve to and area where Lions had been seen. Sadly for us we were 10 minutes too late. And the Lions had moved away with all the vehicle pressure so we only saw them far off. All was not lost as I spotted some Giraffe and Rhino followed by Elephant. It really was turning out to be a great safari in Hluhluwe game reserve.
We headed back south out of the Hluhluwe game reserve in the Umfolozi game reserve. It was here we spotted Rhino and one was marking his territory.
Rhino marks his territory in the Hluhluwe game reserve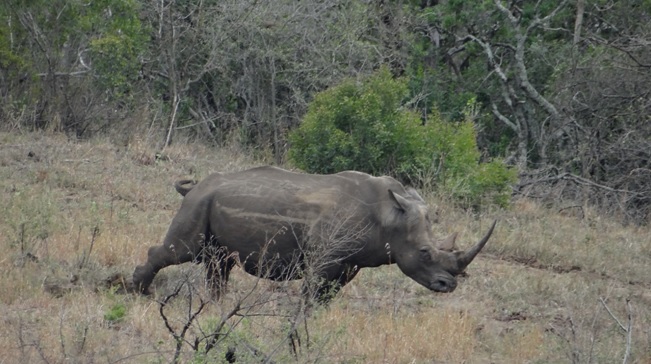 What is a Midden?
The male Rhinos kick their dung and scatter it out in what we call a midden. This is a regular spot within their territory that they use to mark out their boundaries. The scattering gets their scent into their feet as well and they can then walk putting more scent down as they go.
We were trying to get ourselves down to the Umfolozi river but kept seeing things like Giraffe and Impala so it took longer than we expected.
At one of the view points over the Umfolozi river we spotted Lions far down stream. As well as Buffalo and Rhino together laying in a small patch of water on the sand.
Hluhluwe game reserve; Buffalo and Rhino in the riverbed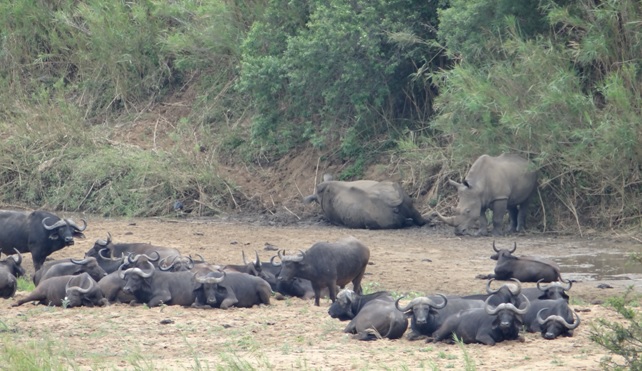 We enjoyed the fresh air and stretching of our legs before continuing on to the actual river crossing. As we began we all gasped as literally 15 meters from the bridge was two big bull Elephants. They had dug a hole in the sand and were drinking the fresher water below.
It was a great sighting as there was about 6 more Elephants further down stream as well. We mostly enjoyed the two nearest to us and spent a lot of time with them.
Elephant in the riverbed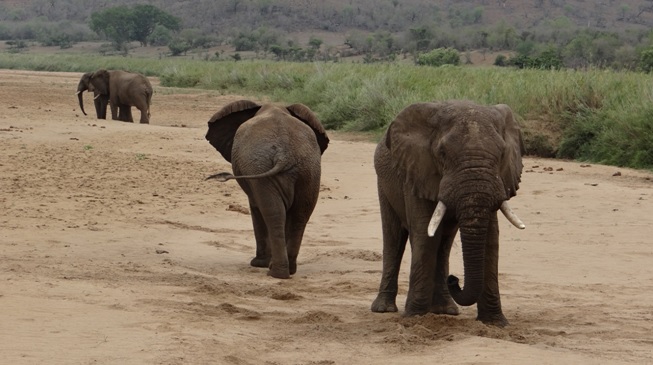 It was now already 13:30 and we still had to get back to the luncheon stop but none of us were complaining. There had been so many amazing animals in Hluhluwe game reserve on our African safari.
Leaving the Elephants we continued our African Safari and with another stoke of good fortune spotted a male Giraffe near the road. We waited as I felt he would cross in front of us and we were lucky as he did!
Giraffe crosses road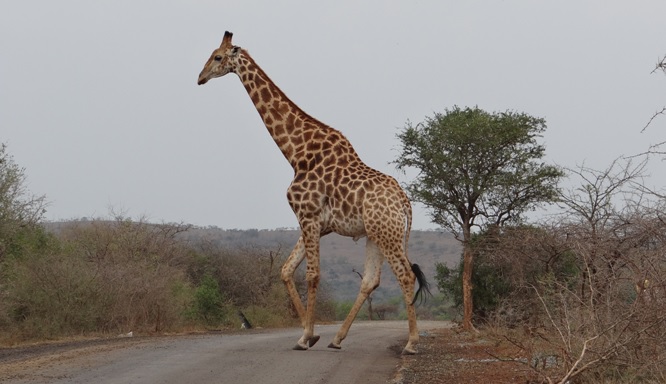 This was now the Cherry on the top on our day. Time to get some lunch, look at the craft market and make our way back to the Lions we had originally seen. … To see what was happening.
We had a great lunch and then re-visited the Lions. They had left the carcass to the Vultures and between the three of us we managed to eventually spot where they were resting under a tree very far away.
I was lucky to have some great eyes in the car. The things I missed my clients spotted which was great and made the day that much more fun and exciting.
We departed for Durban and chatted about the amazing day and any other questions that my clients wished to ask.
Thank you to my clients for joining me on this African safari to Hluhluwe game reserve I hope you enjoyed the blog post just as much a I enjoyed seeing all those amazing animals with you.
Drop us an email or have a look through our website and see if there is a Durban Safari that suits your needs. If not we can always customise a tour for you encompassing your interests.
Tim Brown Tours – with numerous awards and a long history of great reviews on TripAdvisor, can help you. So look at our alternatives to visiting the Kruger National Park. And join us for your South African Safari experience! We look forward to hosting you in the near future! Book Now and get an experience of a lifetime.
You can also find us at  Tourist Guides and Trip Advisor
Tim Brown Tours and Safari's : Follow Us
You can follow us on the below links or visit our Website www.timbrowntours.com
Interested in Nature and Travel in South Africa? Then head on over to our Tours and book your very own Safari today – You know you want to![vc_row 0=""][vc_column width="1/3″][vc_toggle title="One Day Tours and Safaris"]Battlefields of Kwa-Zulu Natal
Hluhluwe Imfolozi Big 5 Game Reserve Day Safari
St Lucia iSimangaliso Wetland Park Safari & Tour
Tala Game Reserve PheZulu and Zulu Cultural Experience[/vc_toggle][/vc_column][vc_column width="1/3″][vc_toggle title="Two Day Tours and Safaris"]Battlefields of Kwa-Zulu Natal – Isandlwana and Rorkes DriftNatal
Hluhluwe Imfolozi Big 5 Game Reserve – Cat Rehabilitation & St Lucia iSimangaliso Wetland Park
[/vc_toggle][/vc_column][vc_column][vc_toggle title="Three Day Tours and Safaris"]Battlefields of Kwa-Zulu Natal – Anglo Zulu , Rorkes Drift, Isandlwana & Blood River
Hluhluwe Imfolozi Big 5 Game Reserve – Cat Rehabilitation & St Lucia iSimangaliso Wetland Park – Budget Package
Hluhluwe Imfolozi Big 5 Game Reserve – Cat Rehabilitation & St Lucia iSimangaliso Wetland Park – Standard Package
uKhahlamba Drakensberg Hiking & Sightseeing Tour[/vc_toggle][/vc_column][/vc_row][vc_column 0="" width="1/3″ css=".vc_custom_1533621301485{margin-left: 10px !important;}"][/vc_column]