Durban Safari Tour – 29 September to 1st October 2015
I was blessed with a repeat client. They brought a friend out from Australia to experience our Durban 3 day safari tour. We departed from Umhlanga and we were able to cover the history and some new facts. It wasn't long before we stopped for coffee and then onto the Cat rehabilitation center. This is always an amazing experience.
My clients loved it. And after interacting with the Cheetah hands on the day was set up to be legendary!
I knew that Julie loved Elephants. And I had to tell her we were battling with Elephant sightings over the past three weeks. It is always good to cover yourself as you cannot control nature.
Disturbing Rhino News – 9 Killed in 2 nights
We were greeted at the gate with some very disturbing news that 9 Rhinos had been killed in the past two nights by poachers. They are killed for their horns which are sold for medicine in China. I was gutted! We made our way into Hluhluwe Imfolozi game reserve. Fortunately we found two Rhinos and Buffalo in the distance before I had to make the shock discovery of one of the Rhino carcasses! I hardly knew what to say and it wouldn't surprise me if I actually swore out loud which I apologized for. The unnatural death of a symbolic animal like the Rhino is very hard to stomach. With no head and a bloated body even the vultures had not yet arrived.
Durban Safari Poachers kill a Rhino
I am sorry to have posted the above picture. But I believe it is important for you all to see how horrible the human race can be! We are the apex predator and we have the ability to love and give but we so often just take away and its always from nature and each other! We will be judged eventually!
Anyway on a better note we moved on to try find Elephants. And it was a great feeling of joy when we did find a few small breeding herds of Elephant. To our delight they fed next to the road. They then crossed the road and stood in the shade interacting with each other. What a great start to our Durban safari tour.
Elephants in the shade
We were so happy and spent so much time – almost an hour – with the Elephants that we almost forgot about lunch. We decided to leave the Elephants to themselves. And made our way slowly to the camp. Managing to find some Buffalo and even Rhino that were living as well! Yay.
Rhino on tour
We arrived at Hilltop camp with a lovely view and a cool breeze where we could  enjoy some lunch and check in. Once we were done I got my clients to their room and then arranged to meet them later for the afternoon safari.
Our Durban overnight safari tour would just get better as we managed to find a huge herd of Buffalo on the road.
Durban safari tour; Head of Buffalo
After these Buffalo we spotted 2 young male Lions up on a hill a million miles away but Lions are Lions! As it was only 5pm we decided to return again later in the hope they would have come down from the hill it. But it was not to be! They were all in the open but as flat as cats can be!
Lion on Safari 
When we returned and we actually had an amazing sighting! A Black Rhino mother and calf poking their heads above the thickets. We were hoping they would come into the open but then a staff vehicle came flying by and the Rhinos ran away. We still could see our Lions but they were sleeping even though the Buffalo were walking towards them.
Durban safari tour; Black Rhino
We now were loosing light and had to make our way back to Hilltop camp for the night and of course dinner. We arrived back having big smiles as we had seen 4 of the big 5 in one day and Black Rhino! This helped with the sadness of the Rhinos that had been killed but we will never forget them. Also just before Hilltop camp we spotted a bull Elephant which was making his way to below the rooms to feed.
Dinner was a buffet of lovely foods and we tucked into the meal before we went off to bed. When I was walking to my room I could hear the Elephant we had spotted on our way back to camp feeding on the trees.
During the night I heard Hyena and Lions at 4am vocalizing wow it was amazing.
Day 2:  Durban overnight safari tour
We began at 6am after a great night of animal sounds which made me feel like we would really do well in the morning. Within 2 minutes we found some Kudu crossing the road.
5 minutes later we spotted a herd of about 10-15 Elephants. They were moving fast so I asked if the clients would be happy to wait to see if they crossed the road and they did. It was really exciting to get this as they had such lovely babies with them.
Durban safari; Elephant herd with babies
In our quest to find the Lions we managed to find Warthogs, Baboons and a range of other amazing creatures. The Giraffe was one of the highlights but it was great to have the variety.
Sadly we missed the Lions as did everyone else and talking to others that went past we were lucky to have seen the Elephants!
Giraffe on tour
After enjoying the Giraffe we made our way round to check the Rhino carcasses to see if there was any predator or scavenger activity. Before we could get there we spotted some Zebra next to the road and then a huge herd of Buffalo.
Durban safari tour; Zebra
Next was the big herd of Buffalo on the road which meant we were stuck in a real road block much better than the ones the people in the cities talk about! This big male just gave us a stare as we made our way past them.
Buffalo bull Road Block
Finally on our Durban safari tour we got back to the Rhino carcasses and there were lots of vultures but no Lions or Hyenas. It was still an amazing sight and we didn't stay too long as the reality was a little hard to swallow. But it did again feel more natural then the previous day.
Durban safari tour; Vultures on dead Rhino
After a great morning safari on Hluhluwe Imfolozi game reserve we headed back to Hilltop camp for breakfast and then a rest before lunch.
After lunch we headed back out and temperatures got up to 39 degrees! It was very hot…
We made our way down to the Umfolozi river and found a pride of 13 Lions resting in the river bed. It was an incredible sight.
Durban safari tour; Pride of Lions resting
We spent a lot of time with them and got to watch Elephants walking out onto the riverbed as well with the Lions paying no heed!
Lions and Elephants
As we watched we found another Lioness coming out of the bushes. It was clear by looking at some of the faces of the other Lions that they had been feeding.Wow this really was a treat on our Durban 3 day safari tour.
Durban safari tour; Lioness
It was still 38 degrees so we made our way back to camp. As we also had to catch the evening open vehicle safari for the clients from 5pm -8pm. After the 3 hours I met my clients and we had some dinner before a well deserved nights rest.
Day 3: Durban 3 day safari tour
A 6am start with an early morning safari drive to make the most of the day. Near the camp we spotted a Rhino and then further on some more not too far away.
We were again on the mission to try find these Lions but without success. We did find Baboon which was good to see. As well as Nyala, Elephant, Buffalo, Zebra, Warthog, Impala and a couple other species in our time out in the bush.
Durban safari tour; Baboon
Life is always about timing and so is a Durban safari tour. We had many vehicles ask us had we seen Elephants and no one else except us had found Elephants. We were lucky and found a bull Elephant walking in a dry river bed and sniffing where the females had been the day before. He then also stopped for a drink of water.
Elephant bull in a River Bed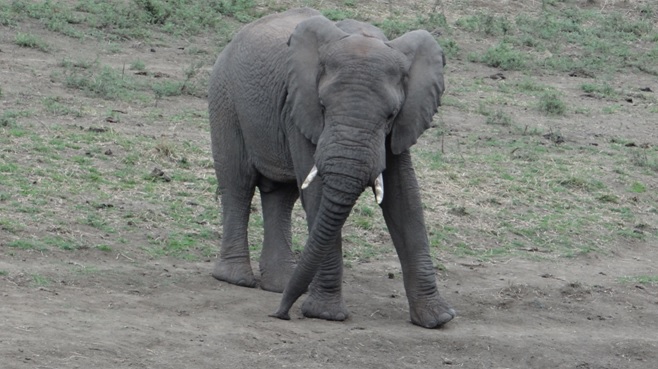 We then made our way back to camp for some breakfast and coffee before we checked out and went on a final safari drive to see what we could find before heading out to St Lucia.
We were lucky again and found Giraffe right next to the road.
Durban safari tour; Giraffe
We then arrived at the gate and departed to St Lucia – Isimangaliso wetland park which is South Africa's first world heritage site.
It would be here that we would begin a 2 hour boat cruise viewing Hippos and Crocodiles as well as Mangrove swamps and bird life.
Durban safari tour; Crocodile
This Crocodile was feeding on a fish he had caught near the shoreline. There is a wide range of fish in the estuary and we even spotted a fin of a Bull Shark.
As we continued we spotted lots of Hippos and this male was on his own with a few cuts from a recent fight probably with a dominant male.
Durban safari tour; Hippo
After a wonderful boat cruise we stopped in the town of St Lucia and had some lunch, nothing like fish and chips on a cold day to make you feel warm inside.
It was then time to make our way back towards Durban. We chatted along the way about how lucky we had been and possibly another visit with more family of my repeat guests.
Thank you again to my guests Julie who was on her second Durban safari tour and Kris on her first. It was great to have seen as much as we did and the quality as well was amazing! Look forward to welcoming you back and thanks for the Tim Tams!
Drop us an email or have a look through our website and see if there is a Durban Safari that suits your needs. If not we can always customise a tour for you encompassing your interests.
Tim Brown Tours – with numerous awards and a long history of great reviews on TripAdvisor, can help you. So look at our alternatives to visiting the Kruger National Park. And join us for your South African Safari experience! We look forward to hosting you in the near future! Book Now and get an experience of a lifetime.
You can also find us at  Tourist Guides and Trip Advisor
Tim Brown Tours and Safari's : Follow Us
You can follow us on the below links or visit our Website www.timbrowntours.com
Interested in Nature and Travel in South Africa? Then head on over to our Tours and book your very own Safari today – You know you want to![vc_row 0=""][vc_column width="1/3″][vc_toggle title="One Day Tours and Safaris"]Battlefields of Kwa-Zulu Natal
Hluhluwe Imfolozi Big 5 Game Reserve Day Safari
St Lucia iSimangaliso Wetland Park Safari & Tour
Tala Game Reserve PheZulu and Zulu Cultural Experience[/vc_toggle][/vc_column][vc_column width="1/3″][vc_toggle title="Two Day Tours and Safaris"]Battlefields of Kwa-Zulu Natal – Isandlwana and Rorkes DriftNatal
Hluhluwe Imfolozi Big 5 Game Reserve – Cat Rehabilitation & St Lucia iSimangaliso Wetland Park
[/vc_toggle][/vc_column][vc_column][vc_toggle title="Three Day Tours and Safaris"]Battlefields of Kwa-Zulu Natal – Anglo Zulu , Rorkes Drift, Isandlwana & Blood River
Hluhluwe Imfolozi Big 5 Game Reserve – Cat Rehabilitation & St Lucia iSimangaliso Wetland Park – Budget Package
Hluhluwe Imfolozi Big 5 Game Reserve – Cat Rehabilitation & St Lucia iSimangaliso Wetland Park – Standard Package
uKhahlamba Drakensberg Hiking & Sightseeing Tour[/vc_toggle][/vc_column][/vc_row][vc_column 0="" width="1/3″ css=".vc_custom_1533621301485{margin-left: 10px !important;}"][/vc_column]