Durban safari to remember
I met my clients for their "Durban safari to remember "off the Ocean Nautica ship that docked in Durban. We were to visit Tala game reserve and Phezulu safari park.  The plan …
Phezulu Cultural Village
Entertainment by Zulu Dancers & Singers
Experience more of the Zulu Culture by entering their huts.
 I also took my clients for a tour around the reptile park before the Zulu cultural village tour.
Phezulu Cultural Experience inside a Zulu hut
After enjoying the great Zulu dancers and the Zulu culture we made our way onward through the valley of 1000 hills. What spectacular views! The valley of 1000 hills is indeed a beautiful area!
Then we headed off to Tala game reserve for our safari part of the tour.
We entered at the gate and some of the clients decided they wanted an open vehicle game drive so we tried to make a last minute plan without success. 
This turned out to be a good thing as the weather clouded over and it got very cold ~ 15 degrees ~ and later it rained.
We were very lucky as later we also spotted a Black Backed Jackal which is a rare sighting at Tala game reserve!
A rare sighting of the Black backed Jackal at Tala Game Reserve
We continued with our Durban safari tour and spotted a lot of animals including; Ostrich, Blessbok, Kudu, Warthogs and many more.
Spotting an Ostrich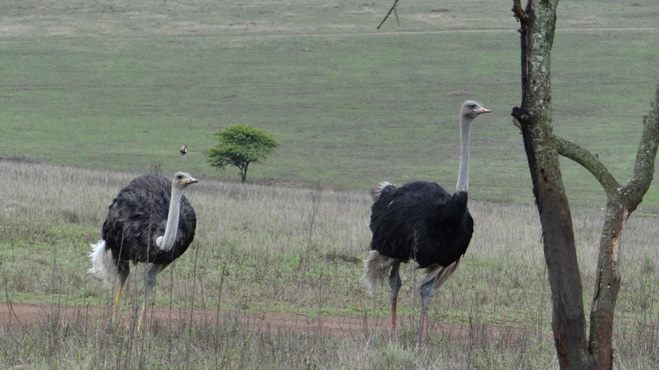 It was not long before we found the Rhino that we had been looking for!
Rhinos have their own guards these days!
These days at Tala game reserve after incidents of poaching, the Rhinos have guards which monitor them through the day and with radio transmitter collars.
Rhino on Durban Safari to remember
Our Durban safari continued on and we found some great looking Zebra which were close to the road. And later even some that crossed the road in front of us. A real Zebra crossing! 
Durban safari: A real Zebra Crossing!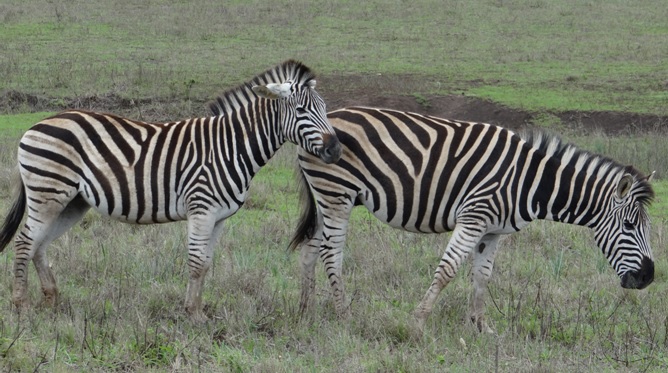 It was not long before we made our way down to the dam and found some Hippos resting in the water. The best part of this was that the big male was mating! You don't see this every day on a Durban safari tour.
Hippo mating – truly a rare sighting on Safari
Moving along with our Durban safari we eventually spotted some Giraffe and first it was a couple of males and then later a Journey of Giraffe with some youngsters.
A Journey of Giraffe
So this was now the end of another great African safari tour. We were caught in a torrential down pour of rain so we made our way out of the Tala game reserve carefully. And in just under an hour were back at the ship to drop the clients off.
If you would like to join one of these Durban safari tours click the link below:
Drop us an email or have a look through our website and see if there is a Durban Safari that suits your needs. If not we can always customise a tour for you encompassing your interests.
Tim Brown Tours – with numerous awards and a long history of great reviews on TripAdvisor, can help you. So look at our alternatives to visiting the Kruger National Park. And join us for your South African Safari experience! We look forward to hosting you in the near future! Book Now and get an experience of a lifetime.
You can also find us at  Tourist Guides and Trip Advisor
Tim Brown Tours and Safari's : Follow Us
You can follow us on the below links or visit our Website www.timbrowntours.com
Interested in Nature and Travel in South Africa? Then head on over to our Tours and book your very own Safari today – You know you want to![vc_row 0=""][vc_column width="1/3″][vc_toggle title="One Day Tours and Safaris"]Battlefields of Kwa-Zulu Natal
Hluhluwe Imfolozi Big 5 Game Reserve Day Safari
St Lucia iSimangaliso Wetland Park Safari & Tour
Tala Game Reserve PheZulu and Zulu Cultural Experience[/vc_toggle][/vc_column][vc_column width="1/3″][vc_toggle title="Two Day Tours and Safaris"]Battlefields of Kwa-Zulu Natal – Isandlwana and Rorkes DriftNatal
Hluhluwe Imfolozi Big 5 Game Reserve – Cat Rehabilitation & St Lucia iSimangaliso Wetland Park
[/vc_toggle][/vc_column][vc_column][vc_toggle title="Three Day Tours and Safaris"]Battlefields of Kwa-Zulu Natal – Anglo Zulu , Rorkes Drift, Isandlwana & Blood River
Hluhluwe Imfolozi Big 5 Game Reserve – Cat Rehabilitation & St Lucia iSimangaliso Wetland Park – Budget Package
Hluhluwe Imfolozi Big 5 Game Reserve – Cat Rehabilitation & St Lucia iSimangaliso Wetland Park – Standard Package
uKhahlamba Drakensberg Hiking & Sightseeing Tour[/vc_toggle][/vc_column][/vc_row][vc_column 0="" width="1/3″ css=".vc_custom_1533621301485{margin-left: 10px !important;}"][/vc_column]