Hluhluwe game reserve 4 day safari
We began our 4 day Hluhluwe Imfolozi game reserve safari in Durban on the 23rd November 2015. And made our way to a Cat rehabilitation center to interact with Cheetah hands on.
This project releases and breeds endangered wild cats. This is in order to increase the numbers in the wild in game reserves like Hluhluwe Imfolozi.
I covered the usual history of Durban and KwaZulu Natal before we arrived in Hluhluwe and our tour began.
After the Cat tour my client and myself headed off into the Hluhluwe game reserve. Now for the big part of our tour the 3 nights and 4 days of Safari!
It is always a pleasure showing off my country to clients from all over the world and this tour would be no exception.
As we entered the gates of Hluhluwe Imfolozi game reserve we got lucky and spotted lots of great animals from Rhino to the Warthogs.
Hluhluwe game reserve 4 day safari; Rhino on the road
After we enjoyed this amazing sighting we also had saw some Rhino wallowing in mud which was amazing! We watched them as well as the Wildebeest we spotted for some time before moving on with our Durban safari tour.
Rhino rolling on his back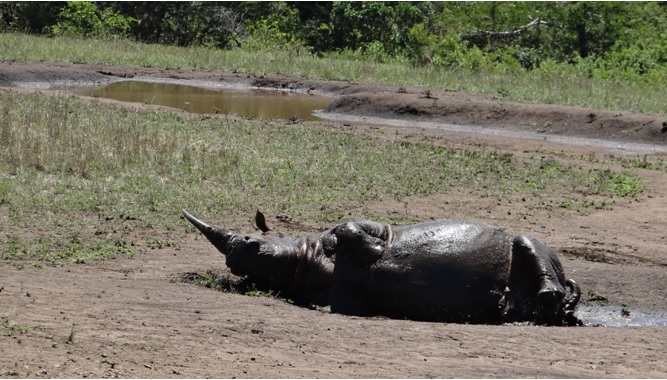 It had been an amazing start to our safari in Hluhluwe game reserve and it would only get better. As we continued we found a herd of Elephant and more Rhino.
We would see them later in the afternoon so I will only put one picture.
It was time to make our way to Hilltop camp in Hluhluwe game reserve for some lunch and to check in.
After a great lunch we headed back out and went to the Hluhluwe river which for the first time in 6 months had water in it. It was a great sight after the heavy rains 2 days before.
Hluhluwe river after a long dry period
We made our way back to where the Elephants were and got word of Lions hunting in one of the valleys so we changed plan and made our way there. It was well worth it as we located them again although far away it was still amazing to watch them hunting the Buffalo. We got one also drinking from a pool of water.
Lion drinking on our
4 day
Hluhluwe 
safari;
Our Hluhluwe game reserve safari began again and we went back to the Elephants and also found a Giraffe! This was great as we could enjoy both while the sun went down.
Elephants in Hluhluwe
It was time to get back to Hilltop camp and get some dinner before some well deserved sleep and a very early 5 am start.
Dinner was amazing and Julius and his team looked after us as usual, even making us breakfast packs at very short notice!
Day 2: Hluhluwe game reserve 4 day safari
Our second day of safari in Hluhluwe Imfolozi game reserve began quietly as we tried to check on the Lions but with no luck. It was one of those days when no one found Lions but we just had to do our best and find what we could.
The temperature picked up to 32 degrees during the day and we had many great sightings but our first special one was a new born Impala with its mother. This was the first birth of the season for me to see so I was pretty happy.
Impala new born
We got onto some tracks of Elephants. We tracked them for about 20 minutes and eventually found a small breeding herd which then took a mud bath right near the road. It was amazing as they got into some great positions.
Elephants mud wallowing
After this amazing sighting we eventually got a Giraffe in the some good light and not far away from us! He was a lovely young male Giraffe and this really was great to see on our Durban safari tour.
Giraffe
We continued with our safari in the Hluhluwe Imfolozi game reserve and came across a lot of other animals from Kudu, Nyala, Warthog, Buffalo and eventually got the Zebra closer to us.
Hluhluwe game reserve 4 day safari; Zebra
It was getting very hot and although we were finding Elephants and other animals we really did want to see a cat and we were in luck. Quite far off the road was a Cheetah mother and cub which was resting up in the shade of the trees and we were able to enjoy here for a while before moving on with our Durban safari tour.
Cheetah mom and cub on Safari
It was now time to head back to get some lunch via the Umfolozi river loop. We didn't see much as it was almost midday and the animals were resting. We eventually got back to the Centenary center with was so busy it was like a shopping center! We ordered some lunch and then my clients enjoyed the craft market. I had to interrupt them as there was two bull Elephants in one of the parking lots and this was very exciting. My camera was in the car so I just enjoyed them.
We then left and continued our safari back into the Hluhluwe game reserve before arriving back at camp at 3 pm a full 10 hours of safari and we were all exhausted and had to have a rest before dinner at 7pm.
After a good dinner at Hilltop camp it was bed time.
Day 3: on Safari and a Crash of Rhino
We headed out early at 5am and had some immediate luck as we found a crash of Rhino on the road. It took us some time to get past them but when we did we were able to line up an amazing photo. This was a great start to our Hluhluwe game reserve safari on day 3.
Yes! A Crash of Rhino
We came across a herd of Buffalo crossing the road this took about 6 minutes for them to do this and I filmed it! Wow it was amazing!
We didn't need to continue much further for the next exciting sighting of an endangered bird the Southern Ground Hornbill. It is one of my favorite birds and I haven't seen one in months so a breeding pair was a real treat. Our safari from Durban was really living up to expectations.
Southern Ground Hornbill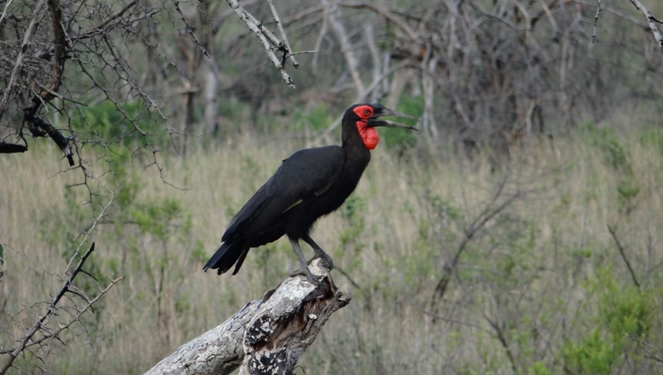 It was now time to spot some Giraffe a mother with a baby and shortly after we found a herd of Elephants on the road which were not to happy so we kept our distance until they calmed down and then we enjoyed them.
Elephants
It was time to get onto some dirt road loops and check the hills again for the Lions. We stopped at a view site with no luck but did have a great sighting of Zebras running down the road.
Hluhluwe game reserve 4 day safari; Zebra
After the Zebra it was time for the new born Impalas and we found two mothers with two new born babies away from the herd. Our safari in Hluhluwe Imfolozi game reserve really had some good timing with the arrival of new life and the rain.
mpala new born
It was time to head back for a late breakfast and a rest in the middle of the day before we headed back out after lunch to see what else we could find. I managed to get some work done and fell asleep doing it before our afternoon safari began.
An African safari tour is really something that you can only experience, it is not something you can tell people about as they will have no idea what you are talking about. Africa has something which draws you and never lets you go!
We headed out on our African safari tour and found many animals resting as it was still hot. We found Rhino, Buffalo, Zebra, Wildebeest and Giraffe.
Giraffe
The Giraffe were amazing and before you knew it we had to head back to Hilltop camp as my clients were doing the evening game drive. We still found some amazing Buffalo on the road and we got ourselves surrounded on purpose to experience the sighting.
Surrounded by Buffalo
We left the Buffalo to cross the road and continued with our African safari tour. We then had more luck as we spotted two Leopard tortoises one crossing the road.
This was great and as close to a Leopard as we would probably come!
Leopard tortoise on route to cross the road
We got back to camp and changed over for the open vehicle game drive as a storm brewed. We had a little rain and then it stopped. My clients got back at 8pm for dinner which was great and then it was time for bed.
Day 4: an early start
We began day four again at 04:30 am and right at the lodge entrance was a large herd of Buffalo which were resting with the sunrise behind them. This made for a great silhouettet of them.
Hluhluwe Silhouette
We continued and it was rather a quiet morning, we did have a great sighting of two male Nyala doing what we call Philo Erection. This is where the hair stands up on the back the tail is lifted and it is all about making yourself look bigger than the other male for dominance.
Nyala Philo Erection
We continued on with our Hluhluwe game reserve safari tour and found Rhino and Giraffe before we spotted a lovely bull Elephant near the road. We were lucky as he came onto the road for a better photo.
Elephant bull
We made our way back to Hilltop camp so we could have some breakfast and pack before heading out of the Hluhluwe game reserve onward to St Lucia -Isimangaliso Wetland park.
It took us just over an hour to get to St Lucia and we were a little early so we did some of the board walk to the St Lucia estuary mouth. It was amazing to spot Crocodile, Hippo and a Bull shark!
We them got onto a boat and did a tour of the St Lucia estuary to see these Hippos, Crocodile and birds closer. We had great luck as we even spotted about 4 different Bull Sharks.
Spotting Bull Sharks
The Mangrove swamps are also a big attraction to this world heritage site in South Africa but the Hippos seem to always over shadow the Mangroves during a South African safari tour.
Hippo
We must have seem about 100 Hippos from the boat and the bird life was amazing too. We found the illusive African Finfoot and some Greater Flamingos which are rare in St Lucia.
Greater Flamingos
Time to end our St Lucia estuary cruise and make our way into St Lucia town for some lunch. We stopped at John Dorys for some seafood and after a great lunch began the drive back to Durban.
It had been a great 4 days of Safari from Durban in South Africa and we all enjoyed it!
If you would like to join one of these South African safari tours click the link below:
For more information visit our home page. www.timbrowntours.com
Drop us an email or have a look through our website and see if there is a Durban Safari that suits your needs. If not we can always customise a tour for you encompassing your interests.
Tim Brown Tours – with numerous awards and a long history of great reviews on TripAdvisor, can help you. So look at our alternatives to visiting the Kruger National Park. And join us for your South African Safari experience! We look forward to hosting you in the near future! Book Now and get an experience of a lifetime.
You can also find us at  Tourist Guides and Trip Advisor
Tim Brown Tours and Safari's : Follow Us
You can follow us on the below links or visit our Website www.timbrowntours.com
Interested in Nature and Travel in South Africa? Then head on over to our Tours and book your very own Safari today – You know you want to![/vc_column_text][/vc_column][/vc_row][vc_row 0=""][vc_column width="1/3″][vc_toggle title="One Day Tours and Safaris"]Battlefields of Kwa-Zulu Natal
Hluhluwe Imfolozi Big 5 Game Reserve Day Safari
St Lucia iSimangaliso Wetland Park Safari & Tour
Tala Game Reserve PheZulu and Zulu Cultural Experience[/vc_toggle][/vc_column][vc_column width="1/3″][vc_toggle title="Two Day Tours and Safaris"]Battlefields of Kwa-Zulu Natal – Isandlwana and Rorkes DriftNatal
Hluhluwe Imfolozi Big 5 Game Reserve – Cat Rehabilitation & St Lucia iSimangaliso Wetland Park
[/vc_toggle][/vc_column][vc_column][vc_toggle title="One Day Tours and Safaris"]Battlefields of Kwa-Zulu Natal – Anglo Zulu , Rorkes Drift, Isandlwana & Blood River
Hluhluwe Imfolozi Big 5 Game Reserve – Cat Rehabilitation & St Lucia iSimangaliso Wetland Park – Budget Package
Hluhluwe Imfolozi Big 5 Game Reserve – Cat Rehabilitation & St Lucia iSimangaliso Wetland Park – Standard Package
uKhahlamba Drakensberg Hiking & Sightseeing Tour[/vc_toggle][/vc_column][/vc_row][vc_column 0="" width="1/3″ css=".vc_custom_1533621301485{margin-left: 10px !important;}"][/vc_column]