Durban safari tour with Tim Brown Tours : 9-11th December 2015
Our Durban safari tour with Tim Brown Tours began in Durban city where I collected my clients for their safari experience.. We headed up to Hluhluwe Imfolozi game reserve. Stopping at a Cat rehabilitation center for a hands on interaction with Cheetah, Serval, Caracal and African Wild!
There is no point in coming to Africa and not experiencing an African safari! South Africa is a great safari destination as we are home to the oldest game reserve in Africa, Hluhluwe Imfolozi game reserve established in 1895.
On route to this majestic national park home to the Big 5, I always cover this history of South Africa as it ties in so well to our Safari experience.
After the Cat interaction we arrived at Hluhluwe Imfolozi game reserve and began our South African safari. It was one of those days when you just try to see what you can find and you have such success in doing it!
We had Zebra on the road, Warthog, Buffalo, Rhino and Elephants all within the first 1,5 hours.
Road Zebra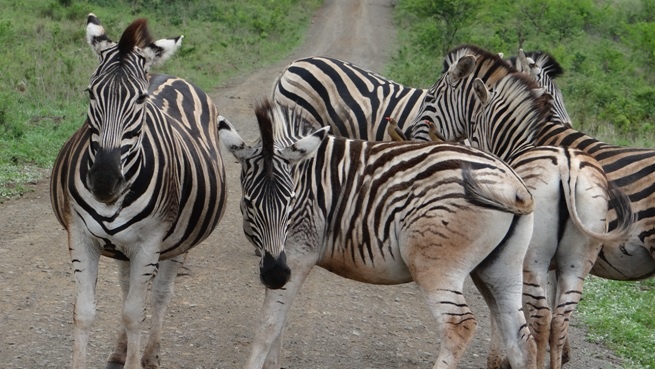 After we enjoyed these Zebra we found some Rhino and then a massive herd of Elephant the size of which we do not see often. So it was really exciting! TimBrowns Durban safari tour moved on as we positioned ourselves in the best place to watch these amazing creatures.
Elephant Herd : Durban Safari Tours with Tim Brown Tours
After enjoying this safari with the Elephants we moved on and spotted Nyala as well as more Buffalo in the valleys and on the hills. We then stumbled across a lovely Rhino mother and her calf which got up and raced across the road and then posed for us. Wow our South African safari was really hotting up!
Rhino and calf
We made our way up to Hilltop camp where we would be spending the 2 nights. Had some lunch before getting some rest. At 16:45 it was time for the open vehicle game drive which my clients would enjoy and then returned at 8pm for some dinner.
After dinner we went to sleep to rest the body and mind and our Durban safari tour with Tim Brown Tours would continue the next day at 7am.
Day 2: Durban safari tour 9-11th December 2015
We began day 2 with a great breakfast at Hilltop camp and then headed out with two things on our minds, Giraffe and cats!
It would be a tall order for our Hluhluwe game reserve safari but we made the best of the pressure and got really lucky at times.
Our first major sighting knocked the Giraffe on the head!
Giraffe
On any African safari there is never a guarantee of the animals you want to see especially the cats – as the Lions and Leopard are nocturnal.
On two occasions we actually located blood markings and drag marks which looked clearly to be Leopard but we could not spot the animal in the thick bush so far off the road.
Our Durban safari tour with Tim Brown Tours continued and we made our way further south finding more and more Elephants and Rhinos which was excellent.
Durban safari tours; Rhino
We were lucky to find two bull Elephants on the road and later a big male Elephant sleeping next to the road. He was so relaxed he broke wind a few times and hardly moved when we drove away. South Africa is really an amazing country!
Durban safari tours with Tim Brown Tours; Elephant sleeping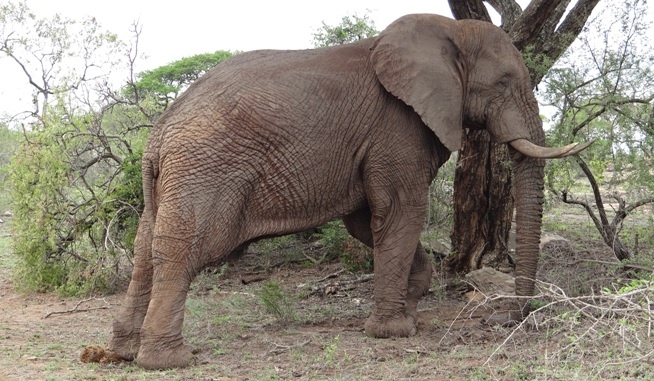 We had great luck with Rhinos and the one male we found in a mud wallow during our South African safari was in the cutest position looking like a puppy the way his feet were close to his face!
Cute Rhino
We made our way back up to the Centenary center for some lunch and then I got reports that the pride of Lions in the north were out in full view near the main road and close to the Memorial gate.
At this stage we were about 1.25 hours drive way which I managed in 1 hour I think and we arrived to a brilliant sighting with no other vehicles except us! It was pure safari magic!
Lions just chilling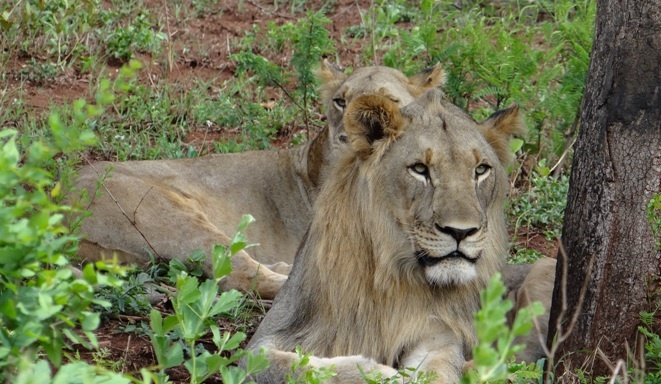 To find Lions out in the middle of the day was amazing and even more so as they were with their heads up most of the time! Our Durban safari tour was really becoming a special one and these Lions really made our day.
It is time now that these two young males and young female of the pride move on to prevent fights and in breeding so it is possible that today was an indication of this change. Always so exciting to see change on an African safari.
Lion resting against a tree on Safari tour with Tim Brown Tours in Durban
I was probably more relieved than my clients to have seen Lions! Every one thinks a guides job is so glamorous but at the end of the day there are pressures which we feel to deliver the best that a safari can offer. Its our job!
We headed back to Hilltop camp and it was almost 16:00 so we had been out over 8 hours on safari in Africa.
We then would have dinner later and some rest before day three would begin!
Day 3: Durban safari tour 9-11th December 2015
The third day of our 3 day Durban safari tour began later at 8am and we enjoyed some breakfast before putting the finishing touches on our Hluhluwe game reserve safari before heading to St Lucia for a 2 hour Hippos and crocodile tour.
We had some lovely sightings before we left of Buffalo, Zebra and Rhino!
Buffalo on our Durban Safari Tours with Tim Brown Tours
It was not 10:30 and time to head to St Lucia – Isimangaliso Wetland park for the boat cruise. We almost had the boat to ourselves at this world heritage site and enjoyed some great sightings of Hippos, Bull Sharks, 1 Crocodile and lots of Bird life.
Flamingos :Durban Safari Tour with Tim Brown Tours
The Flamingos are a real treat in St Lucia estuary now as we only see them if the water level is low.This time it was very low … and we saw two flocks!
Durban safari tours with Tim Brown Tours; Hippos
The Hippos were very sleepy today and we only had one opportunity for a Hippo yawn and I missed it! Having said that it is always an amazing experience and a great tour being around 2.5 hours from Durban and a great additive on our Durban safari tours.
It was then time to have some lunch in the town of St Lucia and then head back to Durban. We arrived as the sun was beginning to set and were pretty happy with the 3 days we had spent together on our African safari.
If you would like to join a tour of this nature please click the link below:
For more information visit our home page. www.timbrowntours.com
Drop us an email or have a look through our website and see if there is a Durban Safari that suits your needs. If not we can always customise a tour for you encompassing your interests.
Tim Brown Tours – with numerous awards and a long history of great reviews on TripAdvisor, can help you. So look at our alternatives to visiting the Kruger National Park. And join us for your South African Safari experience! We look forward to hosting you in the near future! Book Now and get an experience of a lifetime.
You can also find us at  Tourist Guides and Trip Advisor
Tim Brown Tours and Safari's : Follow Us
You can follow us on the below links or visit our Website www.timbrowntours.com
Interested in Nature and Travel in South Africa? Then head on over to our Tours and book your very own Safari today – You know you want to![/vc_column_text][/vc_column][/vc_row][vc_row 0=""][vc_column width="1/3″][vc_toggle title="One Day Tours and Safaris"]Battlefields of Kwa-Zulu Natal
Hluhluwe Imfolozi Big 5 Game Reserve Day Safari
St Lucia iSimangaliso Wetland Park Safari & Tour
Tala Game Reserve PheZulu and Zulu Cultural Experience[/vc_toggle][/vc_column][vc_column width="1/3″][vc_toggle title="Two Day Tours and Safaris"]Battlefields of Kwa-Zulu Natal – Isandlwana and Rorkes DriftNatal
Hluhluwe Imfolozi Big 5 Game Reserve – Cat Rehabilitation & St Lucia iSimangaliso Wetland Park
[/vc_toggle][/vc_column][vc_column][vc_toggle title="One Day Tours and Safaris"]Battlefields of Kwa-Zulu Natal – Anglo Zulu , Rorkes Drift, Isandlwana & Blood River
Hluhluwe Imfolozi Big 5 Game Reserve – Cat Rehabilitation & St Lucia iSimangaliso Wetland Park – Budget Package
Hluhluwe Imfolozi Big 5 Game Reserve – Cat Rehabilitation & St Lucia iSimangaliso Wetland Park – Standard Package
uKhahlamba Drakensberg Hiking & Sightseeing Tour[/vc_toggle][/vc_column][/vc_row][vc_column 0="" width="1/3″ css=".vc_custom_1533621301485{margin-left: 10px !important;}"][/vc_column]