African Safari Tour – 13-16th December 2015
Your African Safari Tour can be done from Durban with Tim Brown Tours.And it was here that I collected my clients for this 4 day safari.
We could begin by visiting the Fort Nongqayi Museum in Eshowe which features the Wheel chair of King Mpande a half brother to the famous King Shaka of the Zulu Nation. It also features John Dunn's furniture, Zulu crafts and a Church showing off the missionary work of the Norwegians in the area!
African safari tour; Fort Nongqayi museum in Eshowe
We continued along and come across a huge herd of Buffalo on the road as well on either side of us! This was a great beginning to our African safari tour.
Buffalo on our African Safari Tour
We finally arrived at Hilltop camp and quickly checked in and then after a short break of 10 minutes in the rooms we headed out to see what else we could find. I got word of Lions so we made our way around into the area they had been seen in But before we could get there we found some Rhino!
Rhino on Tour
We finally arrived at the Lions and they were far down in the valley and had recently killed a Buffalo which they were feeding on. The issues were the distance and the fact the rain began to fall… Well what can you do! A Lion is a Lion! We could consider ourselves very lucky!
Lions on our African Safari Tour
We left the Lions and went to find Elephants and it was not long and we nailed it! We located a lovely breeding herd of Elephants and even though the rain was falling it was great to see them so near to us and crossing in front of us during our African safari tour.
Elephants in the bush
After enjoying a great time our on safari we headed back to Hilltop camp and we settled in for some dinner before an early nights sleep as we would be going back out at 5am the next day.
Day 2: African safari tour – 13-16th December 2015
Our second day began. We were the first to leave camp and we quickly got back into it with sightings of Giraffe, Zebra, Rhino and Elephants down at the Hluhluwe river.
We had to wait for the great quality sightings but they say good things come to those who wait!
Finally we got a great sighting of an Elephant bull coming down the road and we let him go past us, he was lovely and relaxed.
Elephant Bull relaxed on road
It was now time for a good Zebra sighting as well and it happened for us! We go them right next to the road and you could say that now our tour was hotting up!
African safari tour; Zebra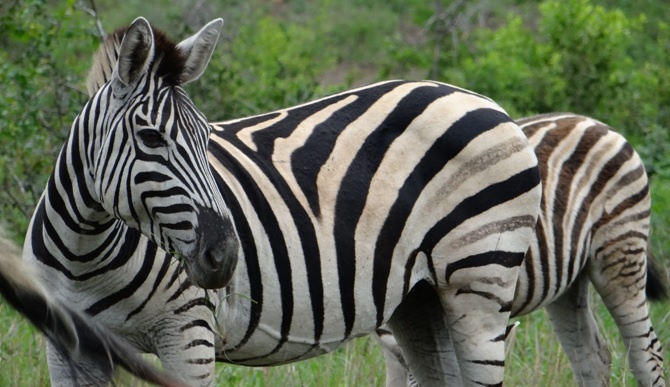 Time to find the Lions which should be easy as we knew a Buffalo was big enough to last a few days. We were successful and got the Lions at the same place.  They had only dragged the carcass under a tree. The best part of this sighting was that some Rhino chased a Lioness. She then went to the toilet and began to play with something perhaps a tortoise of lizard!
Lions in the African Bushveld
It was now time to head back for some coffee and breakfast before a rest. We would head out again after lunch to the Cheetah project for some interaction with the majestic cats!
Well out luck change as at 2pm the rain began to come down and we could not go to the Cat rehab center today so waiting for a gap in the weather, it was no good so we settled in and had some dinner before bed.
Day 3: African safari tour – 13-16th December 2015
Our third day of our African safari tour began with a bush walk mostly to look for birds in the forest. We did very well before heading down for some breakfast.
The safari after breakfast was amazing and we saw 3 of the Big 5 very close to the road an so much more. First it was the Giraffe.
Giraffe Close to the Road on Safari
After the Giraffe we managed to spot Zebras. They had been forced to drink water out of a puddle on the road.
Zebra drinking water from road puddle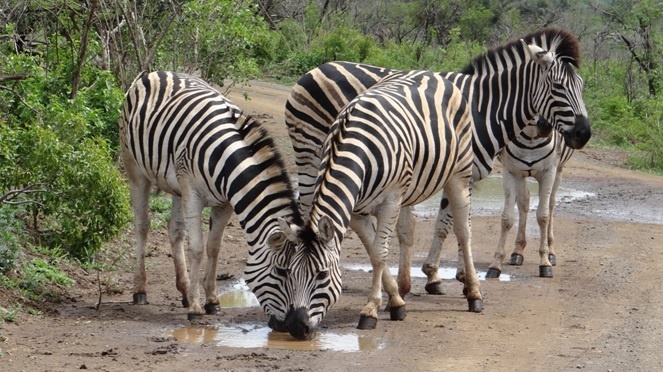 We now had a big day on the cards and we did 1.5 hours of Safari before heading to the Cat rehabilitation center which was very good. We then continued to St Lucia – Isimangaliso Wetland Park where we had lunch and then took the 2pm Hippo and Crocodile boat cruise.
Crocodile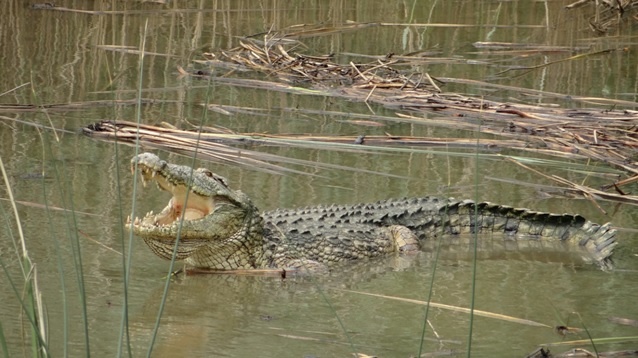 After this great sighting of a Crocodile with his mouth open to regulate his body temperature. We got lots of Hippos and finally one opened its mouth for us!
Hippo with Big Open Mouth 
We finally completed what was an amazing St Lucia boat cruise and we were all very happy. The ladies got into the craft shop and after they were done we headed back to the gate of the Hluhluwe Imfolozi game reserve and had more luck with the animals spotting Elephants close up!
African safari tour; Elephants
We had one more surprise sighting as I took a dirt road loop we hadn't covered yet and we spotted one of the best sightings of African Wild Dogs I have ever had! They were amazing, Playful and just beautiful. The most endangered carnivore in Africa shared its time with us and it was a real privilege to have spent just under an hour with them.
African safari tour; Playful African Wild Dogs
This was such a special day on our African safari tour that I don't think we could really take it all in as we were all so tired and ended up getting back, having dinner and heading to bed. I must say I did stay up to write this part of the Blog post but it's always hard to get these things to sink in even when you see them more often than most.
Day 4: African safari tour – 13-16th December 2015
We began at 5am with the safari and tried to see what animals we could find before breakfast.
It was a day we would not forget! We only needed to find Lions closer than the two other sightings we had had. And this was all that was on my mind so I got us into the area where I hoped the Lions would move to.
It was a purly blissful sighting as we first spotted them on a hill far off and then this happened!
Our African safari tour just got crazy from here in every possible way. We could see a Lion meters away from us! It started with the hunt of Zebra and all the 7 Lions then walking onto the road and drinking water next to us.
African safari tour; Lions on road and drinking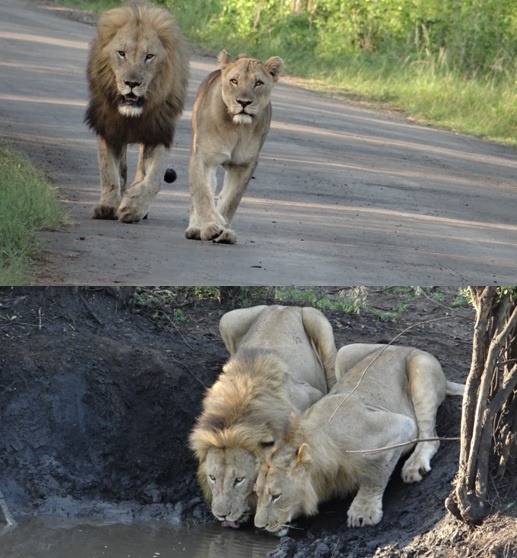 You would normally expect that it would end here and you would have to continue driving but it did not. The Lions scent marked, played with sticks and road work equipment before climbing into a Marula tree!
African safari tour; Lions on road and playing with road work markings
African safari tour; Lion plays with stick and Lions in tree
This has to be one – if not the best  – Lion sighting I have ever had! It was amazing and one I will never be able to comprehend and take in properly. I hope my clients realize what a miracle this sighting was and I am sure they will never forget it.
We even had a Lioness call the other!
This whole 1 and half hours that we spent with these Lions made the entire trip worth it and even though our adrenaline was pumping I personally felt exhausted afterwards. This could have been the emotion of what we witnessed but it was just amazing, really. Even now words cannot describe it properly.
We returned to Hilltop camp for breakfast and check out before heading back out which really felt like a waste of time. How were we to top what we saw! Every animal from that point on got very little attention and we left Hluhluwe Imfolozi game reserve after lunch.
We returned to the big city very happy with what had been an unbelievable 4 days on our African safari tour!
Join us on our journey from our Blog Page and stay in touch.
For more information visit our home page. www.timbrowntours.com
Drop us an email or have a look through our website and see if there is a Durban Safari that suits your needs. If not we can always customise a tour for you encompassing your interests.
Tim Brown Tours – with numerous awards and a long history of great reviews on TripAdvisor, can help you. So look at our alternatives to visiting the Kruger National Park. And join us for your South African Safari experience! We look forward to hosting you in the near future! Book Now and get an experience of a lifetime.
You can also find us at  Tourist Guides and Trip Advisor
Tim Brown Tours and Safari's : Follow Us
You can follow us on the below links or visit our Website www.timbrowntours.com
Interested in Nature and Travel in South Africa? Then head on over to our Tours and book your very own Safari today – You know you want to![/vc_column_text][/vc_column][/vc_row][vc_row 0=""][vc_column width="1/3″][vc_toggle title="One Day Tours and Safaris"]Battlefields of Kwa-Zulu Natal
Hluhluwe Imfolozi Big 5 Game Reserve Day Safari
St Lucia iSimangaliso Wetland Park Safari & Tour
Tala Game Reserve PheZulu and Zulu Cultural Experience[/vc_toggle][/vc_column][vc_column width="1/3″][vc_toggle title="Two Day Tours and Safaris"]Battlefields of Kwa-Zulu Natal – Isandlwana and Rorkes DriftNatal
Hluhluwe Imfolozi Big 5 Game Reserve – Cat Rehabilitation & St Lucia iSimangaliso Wetland Park
[/vc_toggle][/vc_column][vc_column][vc_toggle title="One Day Tours and Safaris"]Battlefields of Kwa-Zulu Natal – Anglo Zulu , Rorkes Drift, Isandlwana & Blood River
Hluhluwe Imfolozi Big 5 Game Reserve – Cat Rehabilitation & St Lucia iSimangaliso Wetland Park – Budget Package
Hluhluwe Imfolozi Big 5 Game Reserve – Cat Rehabilitation & St Lucia iSimangaliso Wetland Park – Standard Package
uKhahlamba Drakensberg Hiking & Sightseeing Tour[/vc_toggle][/vc_column][/vc_row][vc_column 0="" width="1/3″ css=".vc_custom_1533621301485{margin-left: 10px !important;}"][/vc_column]