South Africa Safari Durban
Our South African safari began in Durban where I collected my clients and we began the drive to Hluhluwe Imfolozi game reserve which is malaria free and home to the big 5.
It would be a South African safari that we would not forget!
We began with Cheetah interaction in Hluhluwe and then made our way into the Hluhluwe game reserve. It was not long and our African safari tour began to unfold before us.
Our first sighting was of Zebra inside of 2 minutes. These two : one a male and the other a female were resting their head on each others backs.
South Africa safari; Zebra
Seriously if you are looking for the best African Safari Tour with value for money this is the one you need to choose! If you read on with this post you will see why I say that. Hluhluwe Imfolozi game reserve being the oldest game reserve in Africa had amazing sighting of animals but it is always safer and better to go with a South African safari guide who is registered and qualified to take you on safari.
Next we saw Buffalo which were far away as well as some Elephant so already we had seen 3 of the Big 5! There was nothing really worth photographing I felt so we continued on to the Hilltop camp for some lunch. We enjoyed such good service from the manager of the restaurant before checking in. 
At 4pm we headed back out on our South African Safari in Durban and managed to find Rhinos. We waited 20 minutes for them to make their way to the road and then got them crossing near us.
Rhino on our South African Safari Durban
Next on the agenda was Elephants – and we got them on the road! Wow what a start to our 'South African safari tour Durban'. The Elephants were coming from the river and were chilled out so we could enjoy them before moving on to check the Hluhluwe river ourselves.
South Africa safari; Elephant
We moved along with our South African safari in Durban and located some Giraffe crossing the road, we positioned ourselves and enjoyed them moving along through the thicket feeding on the Acacia trees.
Giraffe
Our South African safari just got better as we went along. And it was about to get a whole lot more amazing as we located the Lions that had been resting in the shade. This sighting was the best African safari tour sighting you could ever wish for and we were spoiled!
Lion grimace
One of the Sub Adult males got up and walked over to his sister and did a Grimace! This is typical to what you would want to see on an African safari tour! We waited for over an hour and this is what the documentaries never show you but eventually 3 of the 5 Lions crossed the road. We now had seen clearly 4 of the Big 5!
Lion on road
The Lioness that had already crossed the road spotted some Impala and sadly for her they spotted her and the male Impala came running out towards the Lions, another thing documentaries don't show you!
A prey item always wants to see where the predators are. The Lions lay down and waited and then the Best African safari experience we could have ever wishes for took place.
Lion and Rhino stand off on our South African Safari
The Rhino with a calf of only a few months walked past a young male Lion and didn't see or smell him. He then got up and walked after the Rhino before charging and grabbing the baby Rhino which he quickly let go once mother Rhino turned around with her big horn!
We could not believe our luck at this point I was feeling like this was the best African safari tour ever!
It was now time to depart and head back to Hilltop camp for dinner and share our story!
Dinner was great and we were all so tired we went to bed early but we would have a 5 am start the next day.
Day 2: South Africa safari
We began the second day of our South Africa safari at 5am and we made our way down south to try and find the most difficult of the big 5, the Leopard.
We started really well with a Porcupine which is nocturnal near the road which was super special for me as I have not seen one in this game reserve.
I scuttled off to quick to get a picture but is was not long until we spotted Rhinos on the road sleeping.
Rhino
I realized that I had used up so much battery with the Lions and stupidly had forgotten my charger at home so I have to conserve my battery.
We did see Giraffe around the next bend and Nyala but we had already great shots of them. Our African safari tour continued and we found a lovely herd of Buffalo near the road,
This one female look at me as if I owed her money!
Buffalo on Safari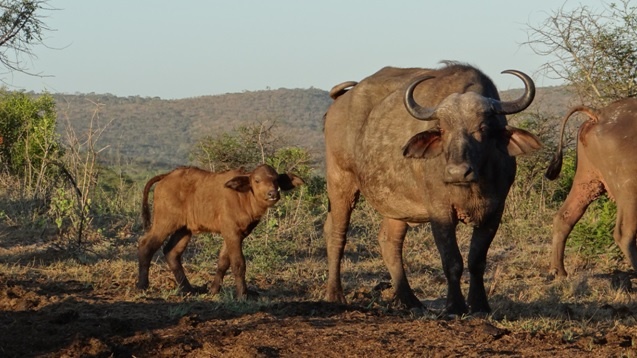 Continuing on in the malaria free Hluhluwe Imfolozi game reserve and made our way down to the Umfolozi river it was near here that we found Wildebeest with new born babies and Rhino. We also spotted Kudu which was new for us on this trip.
Eventually we turned back after not finding the Leopard and made our way back to Hilltop camp after what was a very successful African safari tour.
After breakfast we took some time out during the heat of the day and met again later for another South African safari.
We headed to an area we had not yet visited and it was so hot all we saw was warthogs.
Once it finally cooled down we spotted some Rhino and then the Cherry on the top, the Black Rhino!
South Africa safari; Black Rhino mother and calf
After this great sighting we spotted a huge bull Elephant and some Buffalo which were resting near the road. This really was turning out to be an amazing African safari and one of the Best African safaris I have done.
Bull Elephant
We then spotted the African Lions resting in the distance and watched them get chased by Elephants into the drainage. After 15 minutes of waiting they emerged on the other side closer to us and we got a great look as 3 of the 4 Lions that were there.
Lions in Africa
This young Lioness who is the sister to the young male then presented herself to her brother and he attempted to mate with her. Thankfully he missed the spot and only made himself look silly.
It had been one an amazing ride and our South Africa safari really had taken great shape and we were all very happy. We returned to Hilltop camp for some dinner and then went off to bed before another 5 am start.
Day 3: South Africa safari
Our third day began where we left off with the second day as we relocated the Lions and watched then get chased by Elephants before they reappeared. The best part was that today the Big male had joined the Lions so we had most of the pride together again.
This really was one of the best African safari tours – with us having seen Lions on all three days of this safari to Hluhluwe Imfolozi game reserve.
Lion in bush
 After this amazing sighting and after 2 days of brilliant game viewing on our South African safari we really didn't have any need for more pictures even though we saw Elephant, Buffalo, Rhino and a lot more on this morning.
We headed back for breakfast and checked out before heading to Isimangaliso Wetland park or the St Lucia estuary where we would be taking a 2 hour boat cruise to watch Hippos, Crocodile, Bull sharks and some wonderful bird life.
Hippo at Isimangaliso Wetland Park
Our first sighting of Hippo happened before we could even leave the Jetty! They were resting and playing all at the same time in the St Lucia estuary.
It wasn't long and I spotted a bull shark hunting fish in the St Lucia estuary. This is always amazing and never an animal you are likely to see.
Of course it happened so fast I did not have time for a picture that was any good. Next was more Hippos and then more! We spotted two feeding on the reeds which is rare in the middle of the day at 38 degrees!
Hippo feeding on Reeds

After an amazing time out on the St Lucia estuary we went into St Lucia town for some lunch and then headed back to Durban.
This truly had been one of the best African safari tours I have conducted with the highlight being the sighting of the Lion attacking the Rhino calf on the first evening!
For more information visit our home page. www.timbrowntours.com
Drop us an email or have a look through our website and see if there is a Durban Safari that suits your needs. If not we can always customise a tour for you encompassing your interests.
Tim Brown Tours – with numerous awards and a long history of great reviews on TripAdvisor, can help you. So look at our alternatives to visiting the Kruger National Park. And join us for your South African Safari experience! We look forward to hosting you in the near future! Book Now and get an experience of a lifetime.
You can also find us at  Tourist Guides and Trip Advisor
Tim Brown Tours and Safari's : Follow Us
You can follow us on the below links or visit our Website www.timbrowntours.com
Interested in Nature and Travel in South Africa? Then head on over to our Tours and book your very own Safari today – You know you want to![/vc_column_text][/vc_column][/vc_row][vc_row 0=""][vc_column width="1/3″][vc_toggle title="One Day Tours and Safaris"]Battlefields of Kwa-Zulu Natal
Hluhluwe Imfolozi Big 5 Game Reserve Day Safari
St Lucia iSimangaliso Wetland Park Safari & Tour
Tala Game Reserve PheZulu and Zulu Cultural Experience[/vc_toggle][/vc_column][vc_column width="1/3″][vc_toggle title="Two Day Tours and Safaris"]Battlefields of Kwa-Zulu Natal – Isandlwana and Rorkes DriftNatal
Hluhluwe Imfolozi Big 5 Game Reserve – Cat Rehabilitation & St Lucia iSimangaliso Wetland Park
[/vc_toggle][/vc_column][vc_column][vc_toggle title="One Day Tours and Safaris"]Battlefields of Kwa-Zulu Natal – Anglo Zulu , Rorkes Drift, Isandlwana & Blood River
Hluhluwe Imfolozi Big 5 Game Reserve – Cat Rehabilitation & St Lucia iSimangaliso Wetland Park – Budget Package
Hluhluwe Imfolozi Big 5 Game Reserve – Cat Rehabilitation & St Lucia iSimangaliso Wetland Park – Standard Package
uKhahlamba Drakensberg Hiking & Sightseeing Tour[/vc_toggle][/vc_column][/vc_row][vc_column 0="" width="1/3″ css=".vc_custom_1533621301485{margin-left: 10px !important;}"][/vc_column]