African safari from Durban
Our African safari from Durban began near to the big city and we began our journey to Hluhluwe Imfolozi game reserve , Africa's Oldest protected area!
I covered the history of this famous national park and the history of the Durban and surrounding areas before we arrived at Hluhluwe game reserve.
We tried our best in the heat to find Lions but it was to no avail as they were resting in a riverbed.
We had great other sightings of 3 of the Big 5, Rhino, Buffalo and Elephants.
First though we spotted some Zebra.
African safari from Durban; Zebra
We continued on this hot day in Africa with our African safari tour from Durban and found some Baboons up the trees and on the ground. They were not alarm calling which was a sure sign that the Lions were well hidden.
Baboon during our African Safari From Durban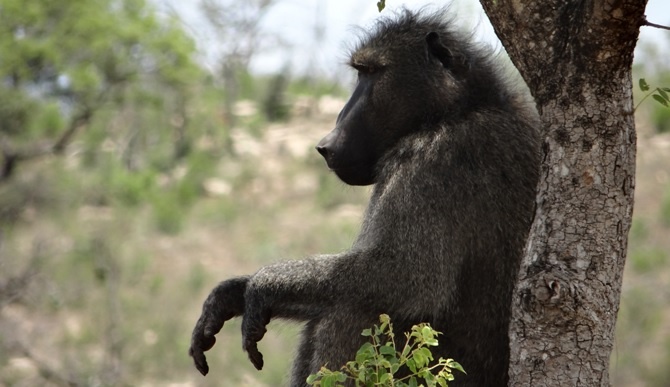 Continuing on we found some Elephants in the distance so we made our way around to them and located a lovely young bull near to the road. We waited with him until he decided to cross the road and we could enjoy this at close range.
What a find! … A herd of Elephants – and as we looped around near the main gate we found a huge old bull Elephant with a lovely set of tusks. This really was turning out to be a great African safari from Durban.
Old Bull Elephant with Amazing Tusks
We decided to loop around to the Hluhluwe river where we spotted a huge herd of Buffalo drinking and resting in the mud, The best part was that a herd of Elephant we spotted earlier on our African safari came over the hill and went down to the river to drink water with them.
African safari from Durban; Buffalo and Elephant share water
Our African safari from Durban continued on and we located some Nyala and Water buck before spotting some Buffalo up close which were looking to relocate their herd. 
Buffalo mother and calf on Safari
We stopped at Hilltop camp for some lunch and it was a long wait for food as it was so busy. We eventually got fed and watered before we made our way out again and headed into the Umfolozi section of the game reserve.
It was a wish that we could see Giraffe a bit closer so that was the aim and we eventually achieved it!
Giraffe on our
African Safari From Durban
After a great sighting of a journey of Giraffe we continued with our African safari from Durban and found a lovely Rhino bull which was close to the road. Up to this point we had only seen Rhino further away so one 4 meters from the road was a real treat!
Rhino up close and Personal
This Rhino you can see is two toned as he had been in the mud somewhere wallowing to help remove ticks off his body. 
It had been a great day in Hluhluwe Imfolozi game reserve and we needed to head back to Durban so we exited the reserve and ended our African safari from Durban.
We arrived back very happy after what had been a great day in the African bush!
For more information visit our home page. www.timbrowntours.com
Drop us an email or have a look through our website and see if there is a Durban Safari that suits your needs. If not we can always customise a tour for you encompassing your interests.
Tim Brown Tours – with numerous awards and a long history of great reviews on TripAdvisor, can help you. So look at our alternatives to visiting the Kruger National Park. And join us for your South African Safari experience! We look forward to hosting you in the near future! Book Now and get an experience of a lifetime.
You can also find us at  Tourist Guides and Trip Advisor
Tim Brown Tours and Safari's : Follow Us
You can follow us on the below links or visit our Website www.timbrowntours.com
Interested in Nature and Travel in South Africa? Then head on over to our Tours and book your very own Safari today – You know you want to![/vc_column_text][/vc_column][/vc_row][vc_row 0=""][vc_column width="1/3″][vc_toggle title="One Day Tours and Safaris"]Battlefields of Kwa-Zulu Natal
Hluhluwe Imfolozi Big 5 Game Reserve Day Safari
St Lucia iSimangaliso Wetland Park Safari & Tour
Tala Game Reserve PheZulu and Zulu Cultural Experience[/vc_toggle][/vc_column][vc_column width="1/3″][vc_toggle title="Two Day Tours and Safaris"]Battlefields of Kwa-Zulu Natal – Isandlwana and Rorkes DriftNatal
Hluhluwe Imfolozi Big 5 Game Reserve – Cat Rehabilitation & St Lucia iSimangaliso Wetland Park
[/vc_toggle][/vc_column][vc_column][vc_toggle title="One Day Tours and Safaris"]Battlefields of Kwa-Zulu Natal – Anglo Zulu , Rorkes Drift, Isandlwana & Blood River
Hluhluwe Imfolozi Big 5 Game Reserve – Cat Rehabilitation & St Lucia iSimangaliso Wetland Park – Budget Package
Hluhluwe Imfolozi Big 5 Game Reserve – Cat Rehabilitation & St Lucia iSimangaliso Wetland Park – Standard Package
uKhahlamba Drakensberg Hiking & Sightseeing Tour[/vc_toggle][/vc_column][/vc_row][vc_column 0="" width="1/3″ css=".vc_custom_1533621301485{margin-left: 10px !important;}"][/vc_column]