Umdlebe Tree The story of …
aka the Ultimatum Tree – Durban, Kwa-Zulu Natal
The Umdlebe Tree and its Story …
Situated about 10 km above the mouth are two historic forts, Fort Pearson and Fort Tenedos, built by the British in 1879 during the Anglo-Zulu War, to guard the passage of the river.
Near Fort Pearson is also a fig tree, the so-called Ultimatum Tree, Also known as the Umdlebe Tree. The Tree is now protected in the Harold Johnson Nature Reserve. It was here the British delivered an ultimatum to Cetshwayo's chiefs as an excuse for the war. The Ultimatum basically requested that the Zulus remove themselves off the land in Northern Natal as it was then known or the British would invade on the 18th January 1879 and forcefully take over the land.
Amazingly the Zulus did not respond but Cetshwayo rallied up his Impis and got them ready for battle! This all culminated in the major battles of Isandlwana and Rorkes drift fought on the 22nd January 1879. 
It turned out to be a waste of life as the British won Rorkes drift( 11 Victorian crosses were handed out) and the Zulus won Isandlwana. (The British's worst defeat at the hands of a native force in their history!)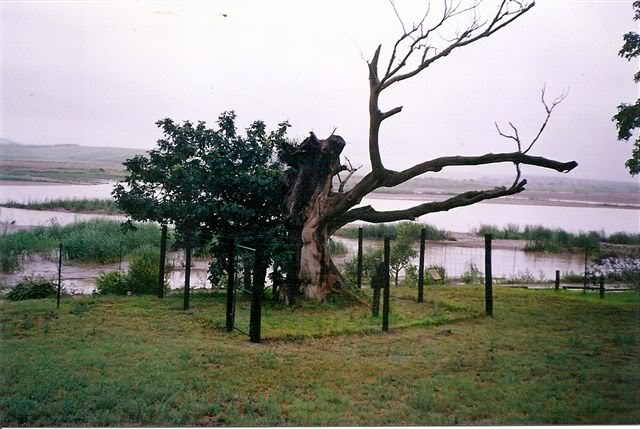 The Umdlebe Tree aka Ultimatum Tree – damaged by Vandals
Vandals have destroyed one of Africa's most historic trees: the Ultimatum Tree.
Under the Sycamore Fig!
The British delivered an ultimatum to the Zulus in the 19th Century under this Sycamore Fig. Situated beside the Tugela river this became an important historic site. Sadly this national heritage & popular tourist attraction was burned to a blackened stump.
Some History Behind the Umdlebe Tree
Beneath the tree's shady branches, J W Shepstone, the British secretary of native affairs, handed what was later acknowledged to be an unfairly harsh ultimatum to Zulu delegates sent by King Cetshwayo in the summer of 1878.
The conditions were rejected, leading to the Anglo-Zulu wars, British defeat at Isandlwana, the heroism at Rorke's Drift and British victory at Ulundi.
James van Vuuren, of the Amafa heritage group, said: "Some people desecrate the graves of British soldiers in the mistaken belief that they contain valuables but this is senseless vandalism."
To join us on a tour of the battlefields click these links to learn more:
Tim Brown Tours - with numerous awards and a long history of great reviews on TripAdvisor, can help you. So look at our alternatives to visiting the Kruger National Park. And join us for your South African Safari experience! We look forward to hosting you in the near future! Book Now and get an experience of a lifetime.
You can also find us at  Tourist Guides and Trip Advisor
Tim Brown Tours and Safari's : Follow Us
You can follow us on the below links or visit our Website www.timbrowntours.com
Interested in Nature and Travel in South Africa? Then head on over to our Tours and book your very own Safari today - You know you want to!