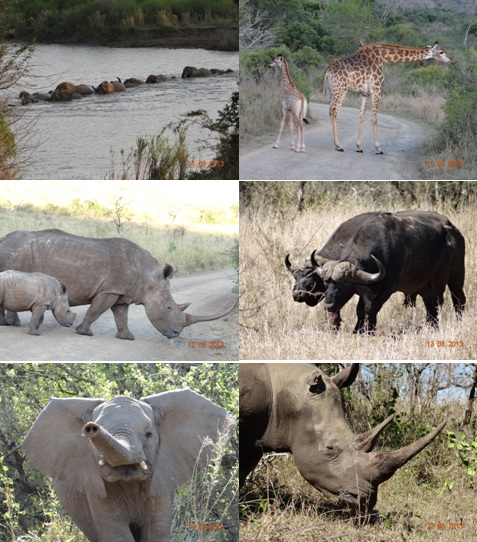 Hluhluwe Umfolozi, Cat Rehab and St Lucia 4 Day Safari Tour 11-14 August 2013
This was a great tour with some weird things happening
After collecting my client from a Durban hotel we headed off to the Cat rehab center Emdoneni. Unfortunately I had what I thought was Sinusitis which later turned out to be Tonsillitis which was fine until I lost my voice for a day and had to whisper.. Thankfully I had some really nice clients which were happy to hear my whispers and see my written dialogue.
Later on day One: We entered into Hluhluwe section of the game reserve and had some really great sighting mostly of Elephants crossing the Hluhluwe river in the afternoon which really made our day!
After Dinner we tried a bit of star gazing as the clients were interested to know where the Southern cross was and how to use it to find South. Sadly if was a little hazy so we did our best and decided the 2nd night would be better.
Day 2: We Traveled around the Seme, Maqanda area which was a little frustrating as it had just been burned so we had very little luck with good sightings. Later that afternoon we looped from Isivivane back around to Gontshi flats were Lions had made a kill a couple days prior but they were to far in the drainage for any visual.
Dinner was great and then came the amazing stars. Scorpios was out above our head and the Southern cross was a clear a day. So star gazing worked a charm that night.
Day 3; We decided to do a 6.5 hour marathon safari to try find Lions, we such great sightings of everything that didnt resemble a Cat and sadly did not have the good fortune of seeing them. However it was consolation when nobody else had any luck either.
Dinner was lovely and my voice had been back all day so no complaints at all.
Day 4; We had breakfast and checked out before we started our final game drive. This was the next weird thing lol. After some amazing sightings again we came across a lovely herd of Elephants, in fact 3 herds. 2 herds to our southern side and one on the road dust bathing and standing there looking pretty.
After 15 minutes of great viewing and the gate in sight we needed to part the "red Sea" so to speak and get out to st lucia for our boat cruise. They was also one car which became two cars stuck on the otherside, one longer than us.
So I gently coaxed then to give us a gap and they obliged without any displays which was great.
However, on our passing through a British Family decided they thought it was "very naughty" – me helping them out. hum very strange as Ive been guiding for almost 9 years, a few of those spent in top lodges in Africa. But you get all sorts…
Onward to St Lucia and we got there with some time not continue with our plans of curio shopping before the cruise.
Then it was 2 hours of cold bliss on the Santa Lucia boat where we viewed Hippos and crocodiles very nicely.
Lunch in St Lucia and Back to Durban.
A quick farewell and some well wishes to my great guests and I was on the road home to see my wife.
Tim Brown Tours
Big 5 Safaris Durban, Big 5 Safaris Kwa-Zulu Natal, Big 5 Tours Kwa-Zulu Natal, Black Rhino, Bush experience,Bush Safaris, bush tours,Bushman paintings,Drakensberg Hiking Tours,drakensberg tours, Durban Big 5 Safari, Durban Big 5 Safaris, Durban Bush Safaris, Durban Bush Tours,Durban City Tours, Durban Cultural Tours, Durban experiences, Durban Safaris,Durban Shark Cage Diving,Durban Tours, Durban Township Tour, Guiding Ethics, Hluhluwe Umfolozi Tours, Imfolozi Game reserve, Individual Tours Durban, Kruger Park Safari Tour, Kwa-Zulu Natal Battlefield Tours, Kwa-Zulu Natal Bush Tours, Kwa-Zulu Natal Cultural Tours, Kwa-Zulu Natal Safaris, Mountain Tours, Personalised Tours Durban, Private Tours Durban, Private Tours Kwa-Zulu Natal, Private Tours South Africa, Shakaland, St Lucia, St Lucia Tours, Tala game reserve Tours, things to do Durban, Tours Durban,Tours South Africa, White Rhino